How To Shampoo Car Seats (Wow! Like Factory New.)
Car seats and carpets take a lot of abuse over years worth of driving, they can collect all sorts of stains and bacteria that can cause nasty odors and also be harmful to passengers. Despite warm water/hot water with dish soap and steam cleaners being good, we recommend shampooing your seats and carpets with cleaning products to avoid these types of issues and keep the inside of your car looking and smelling fresh while avoiding going to the car wash.
What Are The Best Products And Tools To Shampoo Car Seats and Carpets? (Best Car Seat Shampoo)?
A Car Seat Shampoo of Your Choice
DIY CERAMIC COATING - 1yr of Protection
The Two-Step Interior Kit That Works
★★★★★ "I have a 2020 Cadillac XT6 with pearl white exterior and light oyster color interior your new interior kit is fantastic it is easy to work and the results are incredible. This product is just like all your other products I purchased from you to keep my car looking better than new.." - Lillian M.
SHOP NOW
Car seat shampoos come in many different scents, bottles, and delivery methods like aerosol foam or your traditional spray bottle mist, have a browse on amazon for more ideas. Luckily most cloth car seat shampoos are pretty effective and consist of similar cleaning detergents and odor eliminators. Another great thing is these car seat shampoos are pretty universal for multiple types of upholstery and fabrics around your car like your carpets. If you have leather seating you have to make sure you also pick up a leather cleaner, sadly car seat shampoo can not be used on leather and vinyl, it can dry out leather and possibly cause damage. So make sure to purchase a quality leather and vinyl cleaner if your car has those types of materials.
An Appropriate Restoration Product
Bring neglected leather back to life
Restore Leather To Factory New
★★★★★ "Have always used Lexol in past with good results but Torque product much better and works on all interior pieces ..have a 93 Corvette and seats are in good condition but now really nice look..can't attach pic but take my word.
.actually you can't go wrong with any of Torque Products" - Gary G.
SHOP NOW
If you have leather or vinyl seating we also recommend purchasing a restoration product to recondition the surface after cleaning. We recommend checking out Torque Details leather restore for leather seats or plastic restore for vinyl seats. These two products will provide the leather and vinyl the moisture and UV protection they need to avoid further ware and cracking all while giving the surface a nice matte finish that reduces friction and stays cleaner longer.
If you have extremely faded or torn car seats, floor mats, or car carpets we recommend to get them reupholstered by a professional. Sadly most car upholstery cleaners & leather repair kits on the market provide underwhelming results and sometimes look even worse after they are used on a repair. Professional leather repair and reupholstering provide your interior car seats and carpets new car results that last.
An enzyme cleaner may also be needed for super stubborn stains and odors in your car's interior fabrics. In a nutshell enzymes break down different types of stains, for example Lipolases work on fats or oil-based stains, proteases break down protein-based stains, and amylases tackle carbohydrates and starches.
If you know what type of stain you're trying to remove, for example milk which is a protein stain, we recommend purchasing an enzyme cleaner dedicated to protein stains. You could also purchase an all purpose enzyme cleaner that works on multiple types of stains, but please keep in mind it might not be as effective as an enzyme cleaner that is purpose built for the stain you're trying to remove.
A good vacuum cleaner is always a go to for every interior detail including seat shampooing. We'll be using the vacuum to prep the area by removing loose dirt and trash prior to using our enzyme cleaners and shampoos. If you spray your cleaner or shampoos on loose dirt it can break it down and stain your seat further making you work backwards. The shop vacuum will also be used to extract left over stains and shampoo from carpets and car seats giving us better and dryer results.
We don't recommend using a regular house vacuum, they are typically not strong enough for car detailing and also not moisture proof. Because I will be using shampoos and liquid cleaners throughout the process a regular house vacuum can be damaged when it's time to extract the moisture from car seats and carpets.
Gloves, Eye, and Breathing Protection
Because we are working on the interior of a car we want to make sure we're wearing gloves, eye and breathing protection. There could be years of bacteria and viruses trapped in the fabrics of your car seats and carpets and as we start the shampooing process all that dirt and grime is brought up to the surface making you vulnerable. So make sure to wear proper protective equipment at all times while shampooing or detailing your car's interior.
Medium Bristle Upholstery Cleaning Brush
A medium bristle upholstery scrub brush works wonders for loosening dirt and stains from both carpets and upholstery seating. You want these bristles to be medium to hard stiffness to properly get in the fabrics and upholstery giving you a quality lather with your shampoo. You can also use a toothbrush for those areas difficult to reach.
We recommend getting a dedicated leather cleaning brush because the bristles are just stiff enough to get into the pores of the leather while gentle enough not to scratch the leather. It also keeps you from cross contaminating for example dragging dirt and grime from your carpet cleaning to your leather and vice versa.
Interior Detailing Brushes
Detailing stiff brushes are great for getting into the tight areas of your seats like stitching and seams. We recommend a few sizes just in case your bigger upholstery cleaning brush can get into.
Step 1.) Vacuuming Car Seats & Carpets
It's always best to vacuum your seats and carpets before shampooing them, the reason being is that we want to remove any loose dirt to avoid getting it wet, making it more difficult to remove, or even worse creating more stains. So make sure to thoroughly vacuum around your car seats, carpets and any other area of the vehicle that will be exposed to any type of purpose cleaner or shampoo.
Pressurized air is also a great tool to loosen up dirt and grime stuck inside fabric or the crevices of upholstery. If you don't have pressurized air you can also brush your carpets after you have finished your first stage of vacuuming to loosen up any leftover dirt.
Step 2.) Spray Enzyme Cleaner
Depending on the stain we recommend to spray Enzyme cleaner and then let it sit for a minute or two. During this time the enzymes are breaking down the stains and odors caused by common items like coffee, milk, food, and grease stains. This will help car seat shampoo do its job more efficiently and provide you better overall results.
Spray enough enzyme cleaner/upholstery cleaner to get complete coverage on your vehicle's carpets and upholstery seating, if you have leather seats avoid getting the enzyme cleaner on the seats. You want the fabric and upholstery to stay moist so every few minutes spray the enzyme cleaner until the cleaning solution has been sitting on the fabric and upholstery for 3 to 5 minutes. During this time the enzymes are breaking up stain molecules and killing odor causing bacteria, this will make the shampooing process much easier and get you better results.
Step 3.) Shampooing and Scrubbing
After the enzyme cleaner/upholstery shampoo has done its job, you want to then spray your fabric or leather shampoo one seat and carpet at a time, making sure not to move on to the next seat or section of the carpet until you have completed this step. You want to spray just enough shampoo to build a fine lather, If you spray too much shampoo it will become difficult to remove the excess and also take a very long time to dry. After you evenly cover your seat with shampoo, start scrubbing with your carpet, leather and/or detailing brushes where needed. Up and down crosshatch motions are best for upholstery and fabrics, while circular motions are best for leather.
After you have scrubbed the seat then take your microfiber towel and scrub the seat again, this will absorb the dirt, stains and most of your excess shampoo. Again make sure to use separate clean microfiber towels for separate surfaces like leather, upholstery and fabric carpets to reduce the chance of cross contamination. Repeat this step until you have finished the whole car, please keep in mind more stubborn stains or super neglected seats might need a few rotations of enzyme cleaner and shampooing. Now you will have clean carpets!
Finishing Up The Job: Restoring Faded Seats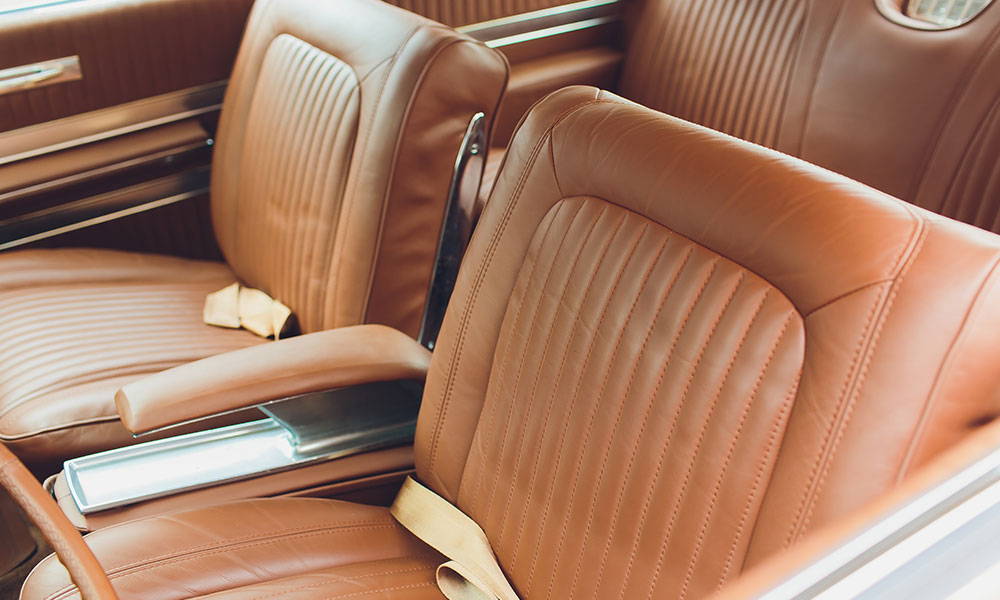 If you have older leather or vinyl seating you'll notice that they might feel a bit rough after shampooing or might even be fading. We recommend using Torque Details Leather or plastic restore to bring back the like new look and feel of your seats. Apply a good amount to a clean microfiber towel or applicator pad then evenly spread around the leather or vinyl and move on to the next seat making sure to reapply to your applicator as needed. After you have finished applying Leather or plastic restore to all your seats, go back to where you started and buff off any excess product to a nice matte finish.
Bonus: Pro Shampooing Car Seats Tips
Here are just a few pro tips that will help you with cleaning and maintaining your car seats
Tip #1: Vacuum Extraction
Carpet and upholstery extractors can cost hundreds of dollars to purchase, but luckily a regular shop vacuum can give you similar results. After shampooing your seats, grab your shop vacuum and create a suction effect with the nozzle, you'll notice as you move slowly over your seat it effectively removes excess shampoo all while removing deeper dirt and stains.
Sometimes it takes forever for car seats to dry after shampooing especially on a colder day. We recommend putting your windows down and turning on the heat, this will help the wet seats dry faster and let the shampoo evaporate out of the car. Just make sure your car is in a well ventilated area and away from people while running.
Tip #3: Extremely Dry Leather or Vinyl Seats
If you have older or neglected leather they might be extremely dry and faded. We like to apply a thick layer of leather restorer and let the car sit outside in the sun. The heat from the sun will help open up the pores of the leather allowing the restorer soak in. You're more than welcome to repeat this process as needed, but sometimes leather might be far too neglected for restoration to the point where you might need to replace or reupholster the seat.
Tip #4: Clean Leather Steering Wheels & Arm Rests
While you're cleaning your leather seats it's also a great idea to clean your steering wheel and arm rests too. Over the years heavily trafficked areas like your steering wheel can look glossy, that's caused by an accumulation of acidic body oils and dirt that can permanently damage leather. All the leather and Vinyl surfaces in your car should be a nice supple matte finish. If it looks glossy it's probably dirty and needs a quality cleaning.
DIY CERAMIC COATING - 1yr of Protection
The Two-Step Interior Kit That Works
★★★★★ "I have a 2020 Cadillac XT6 with pearl white exterior and light oyster color interior your new interior kit is fantastic it is easy to work and the results are incredible. This product is just like all your other products I purchased from you to keep my car looking better than new.." - Lillian M.
SHOP NOW
Summary - What You Need To Know About Shampooing Car Seats
Now we know how to properly shampoo upholstery, leather car seats and fabric carpets for optimum car care with lots of super cleaner suggestions! Remember shampooing your car seats is not just about removing stains, but also removing harmful odor causing bacteria. We recommend shampooing your seats as needed along with a full interior detail as well, feel free to check out our complete interior detailing article here…. This will insure a safe and enjoyable driving environment for you and your passengers.
Related Car Interior Cleaning Articles:
Published on

Jun 23, 2021