How Long Does It Take To Detail a Car (Accurate Estimates)
To determine how long it takes to detail a car, we must first define car detailing. Car detailing is an intricate, labor-intensive process that restores the surfaces and materials of a car to mint condition.  
The time it takes to detail a car depends on many things. If you're going to do it yourself, it's likely to take longer than if you got a professional car detailer to do so because professionals are more experienced and better equipped. Size is also a key factor. It takes longer to detail trucks and large SUVs than it does to detail compact cars.
It also depends on the detailing services you wish to undertake, as car detailing services may vary from detailer to detailer. Once you have determined the services you wish to have done on your car, you'll be closer to determining how long the process will take.
Over 3,300 5-Star Reviews
Best Wax Spray for Your Car, Your Time...and Your Wallet!
★★★★★ "Saw this being promoted on a big YouTube channel and thought why not try it. Was a bit skeptical but WOW. Super easy to apply and car is shining. Water still pelts off 3 weeks later! Gonna ditch the wax and will continue to use." - Josh S. 
BUY NOW
Washing A Car Vs. Car Detailing
Car detailing is often confused with regular car washing, but it goes way beyond that. It includes all the cleaning and restoration processes required to restore your car to how it looked the first time it rolled out of a showroom. While car washing can be made into an automated process, car detailing is done by hand, and includes both exterior and interior detailing.
Estimated Completion Time: 5-8 hours
Car interiors usually don't get as much attention as exteriors when general cleaning is being done. Interior detailing helps to rectify that; it addresses things that are often ignored in everyday cleaning and restores the condition of the materials in a car to how they were initially. The first step is usually to remove all collectible contaminants in the car's cabin. After that, thorough cleaning and restoration is done.
Special care is given to the interior materials in the car, meaning that plastics, leather, windows, carbon fiber, vinyl, and natural fibers are each cleaned differently, using different products. The products used in interior detailing may include (but are not limited to) detergents, polishes, stain removers, air fresheners, glass cleaners, carpet extractors, and leather liniments/conditioners.
If the interior is brand new, a quick vacuum and basic cleaning can get the job done. However, if the vehicle has seen a lot of wear, a full clean will take 5-8 hours to bring it back to new. There are other factors to take into consideration as well, such as how deep the stains are, whether or not it's a smoker vehicle, and the age of the vehicle.
Estimated time to complete: 2-5 hours
Similarly, exterior detailing ensures that every square inch of a car's exterior is thoroughly cleaned and enhanced, even the hard-to-reach places like grille inserts, door jambs, and gas caps. The products used in exterior detailing may include (but are not limited to) detergents, wax, polishes, and degreasers. When a car has damaged or chipped paint, paint correction procedures may also be included.
Just like with interior detailing, there are endless variables that make it hard to estimate how long the job will take. A professional detailer will spend many hours on just the paint correction phase if the vehicle is in dire need of it. It all depends on the condition of the vehicle and the quality of results you're after.
How Long Does Waterless Detailing Take?
Waterless detailing saves time and water and requires less energy. It enables you to clean the entire car without using any water - you simply spray the waterless detailer onto your car and then wipe off the dirt and grime.
For this purpose, we have Turbo Waterless Detailer - a detailing spray that washes your car while also enhancing any wax or ceramic coating layers you have on the vehicle.
It shouldn't take you more than 30 minutes to give your car a quick waterless detail, although we do still recommend doing a full wash when your vehicle gets REALLY dirty. Waterless detailing is perfect for black car owners, as black cars show dirt easily. It offers a quick way to keep them looking shiny.
How Long Does Exterior Detailing Take?
A full exterior detailing includes decontamination (using decontamination soap and clay bar), paint correction, and the application of a wax, sealant, or ceramic coating.
It all depends on the quality of results you're looking for. A beginner can get satisfactory results in a Saturday. However, a high-paid professional who's working on a client's supercar can spend weeks taking into account every minor detail on the vehicle.
How Long Does Interior Detailing Take?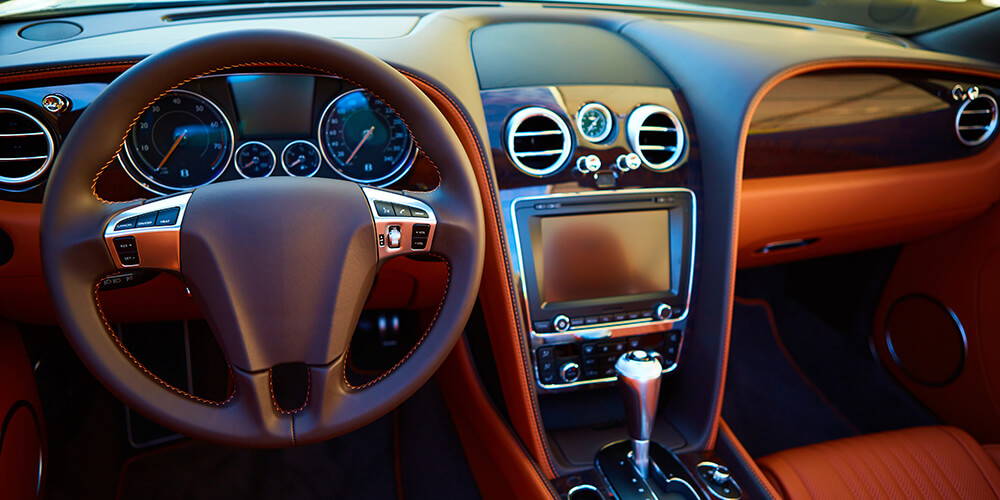 It all depends on the condition of the interior and the age of the car. In the worst-case scenario, a smoking construction worker's vehicle, it's going to take a whole weekend vacuuming, another weekend removing stains, and a third weekend getting rid of the smoke smell.
For most people's vehicles, expect it to take one weekend.
A shop vacuum

An interior shampoo of choice

An assortment of interior detailing brushes
Understanding The Process: A Routine Wash And Interior Cleaning
The detailing process starts with a routine cleaning of your car's exterior and interior. If you'll be doing the detailing yourself, ensure that you get the right supplies for the job, e.g. stick to microfiber towels for the outside and alcohol-free cleaning products for the inside.
On the outside, start with a pre-wash and then do the main wash. Also avoid washing the car in direct sunlight. You should work your way from the top to the bottom, and you would do well to get a lubrication product for the paint. On the inside, start with a thorough inspection of the cabin and then continue with the cleaning process, going section by section.
A Quick Guide To Routine Washing
The purpose of a basic wash is to loosen and remove dirt and grime from the car before you do the main wash. This goes a long way in helping to prevent scratches and swirl marks. First, spray your pre-wash cleaner onto the surface of the car and let it sit for a few minutes as it softens up and emulsifies the dirt. After that, use a pressure washer to hose your car down.
Step 2) Clean the wheels and tires
When commencing with the main exterior cleaning process, start with the wheels and tires because they are the dirtiest. It's more economical to use a spray-on cleaner when cleaning the wheels and tires. Spray them with the cleaner and then use a sponge (this should only be used on the wheels) to rub off dirt and grime. Use a scrubbing brush to get to hard-to-reach areas. You then rinse the wheels and tires with plenty of water.
Recommended: How to Clean Aluminum Wheels

Step 3) Clean the rest of the exterior
Use the two-bucket system - one bucket should be filled with the car wash soap while the other should have clean water. Using high-quality wash mitts and car wash soap, gently wash the car, working your way down from the top. For the best results, make two passes over the car with the wash mitts. After that, rinse the car down with plenty of water, again working your way down from the top.
Using several microfiber towels, gently dry off the surface of the car, again working your way down from the top. Microfiber towels are most effective as drying aids when they're damp, so pour some water over them and then wring them out before you start. Fold the towels twice and make gentle strokes, going section by section. When one side of the microfiber towels gets saturated, switch to another side or get another towel. Continue the process until the entire car is dry.
Step 5) Protect and shine
The final step is to apply a car wax, sealant, or a ceramic coating. We recommend Mirror Shine.
How To Clean Your Vehicle Interior
Step 1) Remove clutter and trash
When cleaning the interior, start by removing all clutter, e.g. water bottles, books, children's toys, gym bags, magazines, etc. You then remove trash, e.g. used receipts, gum wrappers, bits of food, etc. from within the storage bins, under the seats, in the cargo area, and everywhere else that trash may be.
Step 2) Clean the carpets and floor mats
Remove the carpets and floor mats from the car, being careful not to spill bits of dirt and debris. For plastic floor mats, you first shake the dirt off and then hose them down to remove more of the dirt. You then spray them with your interior car cleaning product or a general cleaning product and scrub them well using a scrubbing brush. After that, rinse them with plenty of water. For carpet mats, you first vacuum them and then apply an approved carpet cleaning product. Use a soft brush to gently scrub the carpets. After that, rinse them well with plenty of water and put them in the sun to dry.
Vacuum the footwells to pick up bits of dirt and debris that may have collected under or around the floor mats. Also vacuum under the front seats and in the door pockets, storage trays, and cargo area.  
Take a microfiber towel, fold it over once or twice, and spray some window cleaner onto it. Do not use any ammonia-based window cleaners. Using the dampened microfiber towel, gently rub the inside of your windshield, making circular motions to help dislodge dirt and grime. When one side of the towel gets saturated, switch to another side.
Once you're done doing that, take a fresh microfiber towel and use the box method to wipe the windshield again. With the box method, you wipe along the four sides of the window, then wipe up to down from one end to the other, and finally from side to side as you move from top to bottom. Repeat this process for each of the windows, using fresh microfiber towels each time.
Step 5) Clean the doors, dashboard, and center console
Take a fresh towel, spray it with your spray-on interior cleaning product, and wipe the doors, steering wheel, instrument cluster, center console, and rest of the dashboard area. Be sure to clean around the buttons, knobs, cup holders, and shifter, as these areas all tend to collect dirt and grime. When one towel gets saturated, get a fresh one and continue. Once you're done, wipe these areas again with microfiber towels to wipe off the dislodged dirt.
Using a soft detailing brush, brush the seats to remove dust, bits of dirt, and other contaminants in the seams of the seats. If you have fabric-upholstered seats, spray the seats with an approved fabric upholstery cleaner and then rub it in with a clean microfiber towel. Use another towel to remove the dirt and excess cleaner fluid from the seats.
If you have leather seats, spray them with an approved leather upholstery cleaner. Torque Detail offers a Leather Restore Ceramic Conditioner that works both as a cleaner and a conditioner. Just spray the solution onto your seats and then use a detailing brush to gently scrub the leather upholstery. After that, use a fresh towel to wipe off the dislodged dirt and any leftover cleaning solution.
So… How Long Does It Take to Detail a Car?
While considering the time estimations given above, it's also important to remember that the condition of the car will affect the time it takes to detail it. Older cars often require more attention because they usually have more things to fix and restore. Dirtier cars also require more work, hence more time. If you're short on time and have a limited budget, opt for waterless detailing. However, if you want the very best results, go for a full exterior and interior waterless detail, and for that, you'll need to set aside several hours.
Mirror Shine - Over 3,300 5-Star Reviews
Super Gloss Hybrid Car Wax Spray & Sealant
★★★★★ "This is good stuff! I have used other products and I believe that you folks have the best on the market. It is easy to apply and easily removed, and the shin is unmatched. Water beads up,and dust and bugs come right off on the next wash. I use your Turbo waterless wash, in 15 to 20 minutes I am done. 2019 Malibu looks like I took it to a pro" - Paul W. K.
BUY NOW
Related Car Detailing Articles:
Published on

Nov 16, 2020