How to Clean Car Headliner to Factory New in One Weekend
When it comes to cleaning your car's interior, it's easy to become overwhelmed by the stains, markings, excess moisture and filth that buildup on your upholstery and trim. In fact, washing your car's headliner is usually the last thing that springs to mind when thinking about car maintenance.
If you are not a car enthusiast, you may not even be aware of the existence or location of your headliner. For those who are unfamiliar with the term, your automobile headliner is essentially the interior car-ceiling of your vehicle.
★★★★★ "I have a 2020 Cadillac XT6 with pearl white exterior and light oyster color interior your new interior kit is fantastic it is easy to work and the results are incredible. This product is just like all your other products I purchased from you to keep my car looking better than new.." - Lillian M.
SHOP NOW
Despite the fact that you may not consider your headliner to be dirty, odors and smoke can infiltrate through the layers of your headliner and create an unpleasant odor in your vehicle. The misery of having a toddler squeeze their Capri sun too hard and spray it all over the car's interior will be familiar to anyone who has experienced it.
Damage to your car's inside, such as scratches and stains, might make it appear older than it actually is. When it comes to pet or tobacco odors, it's easy to gather them. Stains and odors must be removed with care by using the Torque Scratch Remover & Swirl Repair because of the way the headliner is built.
There are normally three layers to a headliner's construction which gives it form and beauty but also makes it delicate. Molded pressboard, usually made of wood fibers or fiberglass, serves as the base layer of the board. A thin layer of foam is frequently glued to the foundation of the sculpture. This layer is commonly cloth, vinyl, or some other textile, and it is attached to the foam. As well as perforations for the dome light, sunroof, and overhead consoles, the headliner also features holes for the overhead console.
The most critical component of cleaning your headliner is to be gentle. Replacement of the headliner may be necessary if it is damaged during cleaning or if stains are simply too difficult to remove.
Knowing how to wash your car both inside and out would save you a lot of money on the amount of money you would spend on an auto detailing.
It's been a while since you glanced at your car's headliner, right? The fact that it exists may have escaped your notice because you may not have given it a thorough examination, let alone a thorough cleaning. It can take years before a headliner is cleaned, and by that time, the harm has already been done. When you understand how to clean a car headliner, you'll discover that it isn't difficult. Cleaning your headliner should be part of your annual or semi-annual car detailing just like cleaning your car windows.
Why Is It Important To Clean A Car Headliner?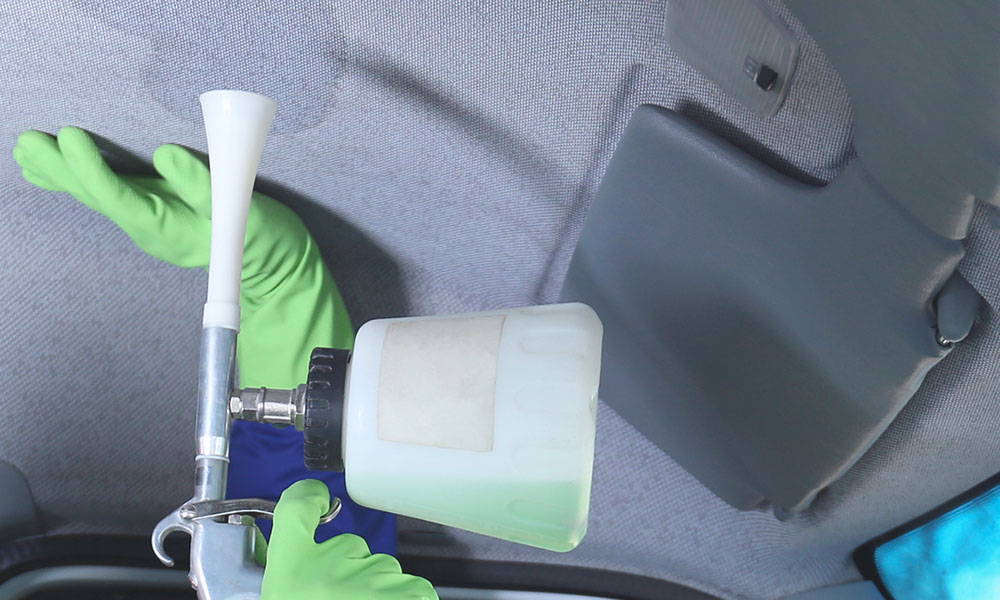 Even if you don't believe it, the headliner of your car has a role beyond just looking good. Insulating the interior of your vehicle with a headliner might help your air conditioner or heater perform more efficiently by keeping cold or hot air in.
Modern headliners have a foam backing. With the use of this foam insulation, your vehicle's interior will be quieter and vibrations will be reduced. "Quiet ride" is often a selling element for vehicles, but the headliner is a major factor.
Your vehicle's appearance will be completed off with the addition of a headliner. Without one, you'd be left with a naked metal roof, which is far from attractive. Automobile manufacturers have used headliners in their vehicles for nearly a century.
Leather and fabric upholstery are used in the construction of the headliners, and as with any item constructed from these materials, keeping them clean can increase their longevity. Unfortunately, when it comes to cleaning, headliners are generally the most neglected portion of your car.
It's possible that filth and scents can accumulate on your headliner.
Headliners: How Are They Made?
Three layers of material make up most headliner material. Starting with a layer of foam, which will be applied to the metal top of your vehicle to help with insulation and noise reduction.
The backing material is the next step. Most often constructed of fiberglass or cardboard, this layer will be molded into the roof's shape.
This layer might be made of cloth, vinyl or leather.
It's becoming less typical to see vinyl and leather headliners. To clean it, use leather cleaning products and procedures intended exclusively for cleaning such materials if you're lucky enough to have one.
And use a soft brush instead of a rough one to prevent harm to your headliner fibers. Using the right cleaner and a delicate brush, you can remove even the toughest stains.
How To Clean A Car's Headliner
To clean your vehicle's headliner, the cleaning method you choose relies on how dirty it is, to begin with. While one method will be enough to clear up a few places, if you're in for some serious cleaning, you'll want to bring out all the heavy weapons.
Steps to follow for each scenario are listed below: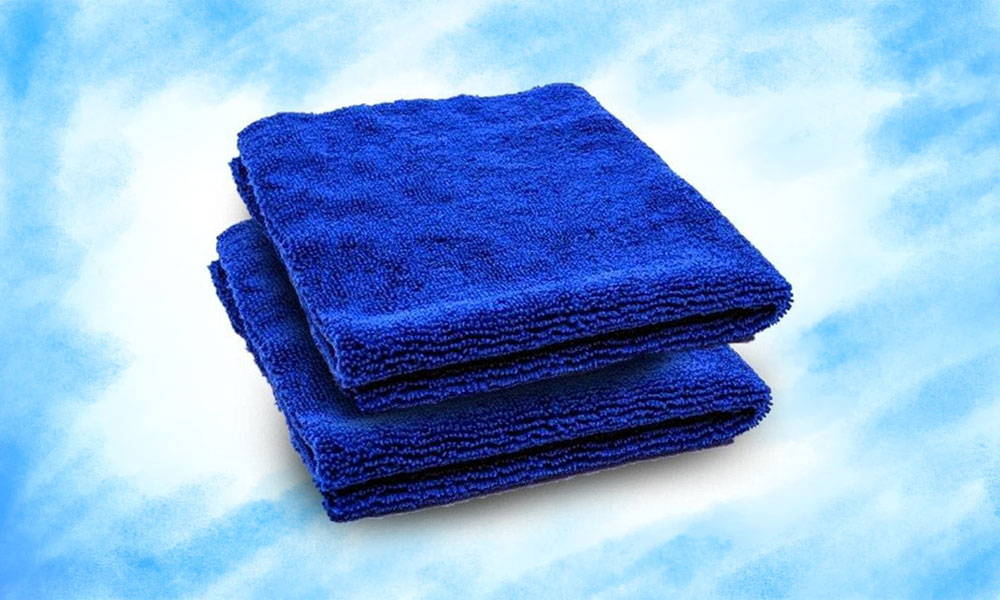 However careful you are, you're going to accidentally touch your headliner with unclean fingers or some other item at some point in time. Your headliner will get smudged from time to time.
To make matters even better, it's not difficult to correct these little imperfections.
Using a clean Torque Detail Microfiber Towel, gently wipe away any large dirt particles. Keeping the particles from grinding further into the fabric is crucial here! There is only one thing you want to do: knock out the huge pieces.
To remove the remaining dirt, spray a very small amount of fabric cleaner on the place or on a clean corner of your microfiber cloth. Next dab and gently wipe the filth away.
A fabric cleanser should permeate the cloth but not so far as to soak up all of the foam. Then, using a clean section of the towel, remove the suds.
Make sure you use a foaming cleaner. As it penetrates deep into the headliner cloth, it removes the stubborn stains with ease. As for upholstery cleaner, make sure the product is unbeatable, but it'll also clean plastic and vinyl. An aerosol upholstery cleaner is a good option because it has a foaming action that helps dissolve trapped dirt particles.
A cheap method is to place a can in your trunk to keep your interior clean.
This is the following stage if spot cleaning hasn't worked, or if you need to clean a wider area.
As with spot cleaning, the beginning procedures for surface cleaning your headliner are the same. You might begin by spraying a quality car interior cleaner (such as Intra - the 2-step Interior Cleaning Kit) on an 18-inch by 18-inch square portion of your ceiling's ceiling. As long as the product's directions say to let the cleaner sit for a few minutes, follow them.
Use a soft-bristled brush to gently scrub the fabric on your 18-inch section, and then wipe away the excess with a clean microfiber towel. Replicate the process on a new 18-inch section, slightly overlapping the one you just cleaned. You may need to apply a second application of cleaning if your stains are really tenacious.
You should use a carpet and upholstery shampoo like the Torque Detail Ceramic Car wash if you're going to be cleaning the entire headliner.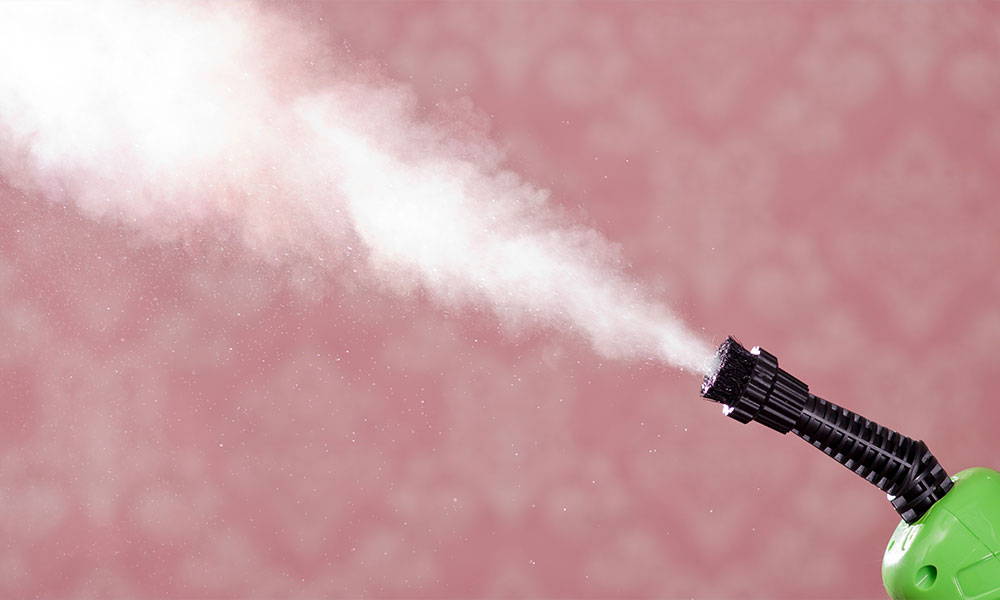 A 12-pack of grape Fanta erupted on my car's backseat and nothing else will remove the stains, so I'm going to have to resort to deep cleaning. This is because severe cleaning can damage the glue that holds your headliner in place.
When your headliner starts falling down and sagging, you'll need to discover a whole new article on how to use headliner adhesive to fix it back in place!
As a last resort, if your headliner is beyond repair, here's how to give it a deep clean.
To begin with, you'll need to get a steam cleaner. It's possible to hire a steam cleaning machine. If you decide to use a steam machine, attach a narrow fitting to one end of the hose and begin washing your headliner the same way you would with the surface cleaning approach, using overlapping strokes and working around 18 inches of fabric at a time.
Aim for a speed of 2 inches per second when moving the fitting. In addition, the longer you stay in one place, the more likely you are to steam, melt glue and have your headliner sag in the future. Keep going until you've read the whole headline.
Wait until everything has dried before moving on. Consider parking your car in the garage with all windows down and a few fans set up to assist everything dries up more quickly.
With the steamer, you may have left a few "tracks" in your headliner's fabric. It should be possible to buff out those lines by running your (clean!) hand over it once it's been dried.
★★★★★ "I have a 2020 Cadillac XT6 with pearl white exterior and light oyster color interior your new interior kit is fantastic it is easy to work and the results are incredible. This product is just like all your other products I purchased from you to keep my car looking better than new.." - Lillian M.
SHOP NOW
How To Clean A Car Headliner Of Water Stains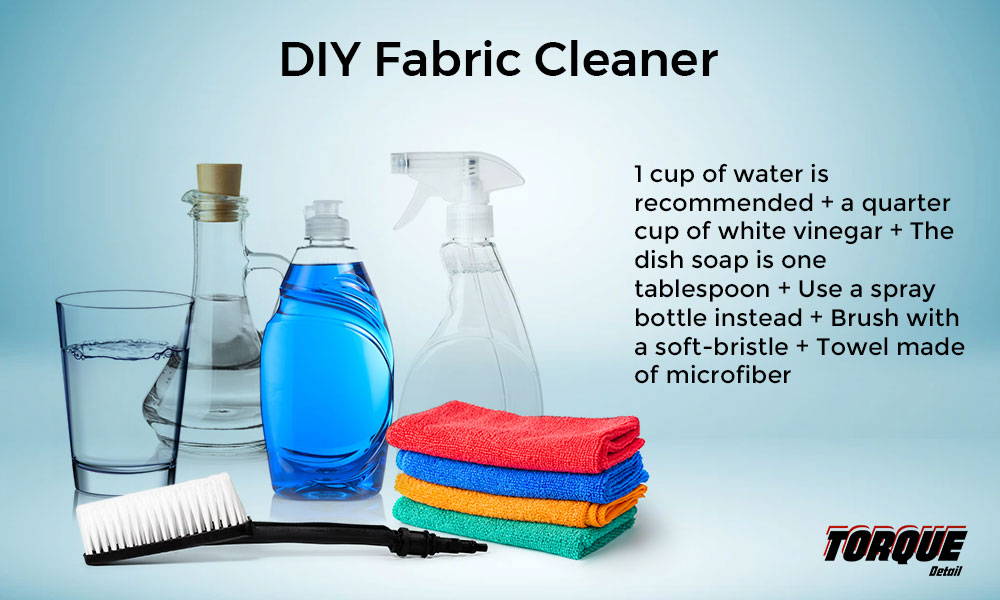 Your automobile may have water stains if you've ever made the mistake of leaving the windows open immediately before a thunderstorm. How to remove water stains from a car headliner is described in the following technique. If you want to clean your car's inside, you can use this solution as a fabric cleaner.
1 cup of water is recommended.

a quarter cup of white vinegar

The dish soap is one tablespoon

Use a spray bottle instead.

Brush with a soft-bristle
Dispose of the mixture in a spray bottle and shake. Saturate a soft bristle brush with the solution, then gently scrub the water-stained regions in circular motions, using the solution.
To avoid harming the fabric adhesive, do not use excessive amounts of cleaning solution or pressure. A dry towel can be used to absorb any excess moisture.
If you have stains on your car's upholstery or carpet, you can use this remedy. These places don't have any adhesive, so you can use a little extra cleaning.
How To Remove Bad Odors From A Car's Headlining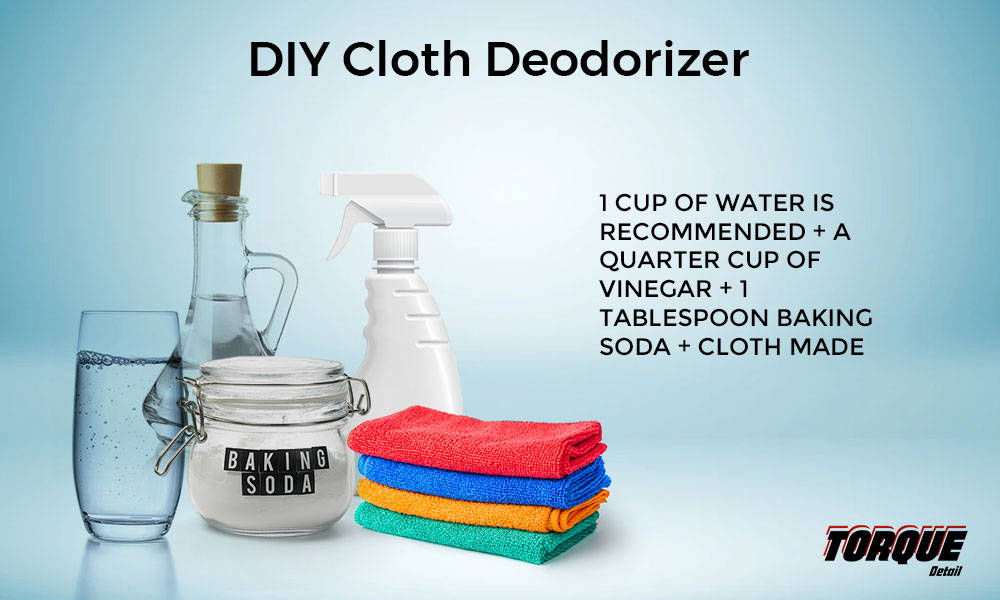 While cleaning the interior of your car, you may have noticed that the overhead liner has a foul odor. This DIY cloth deodorizer makes it easy to get rid of odors from your car's headlining.
1 cup of water is recommended.

a quarter cup of white vinegar

1 tablespoon baking soda

Cloth made of microfiber
Mix water, household vinegar, and baking soda in a spray bottle and shake well to remove cigarette odor from car headliner or other interior surfaces. Be careful not to over-saturate the headliner with the solution. In order to prevent mildew from forming, never spray the headliner directly.
Working one section at a time, work your way through the headliner. Once the liner has dried, use a vacuum cleaner with an upholstery attachment to remove any baking soda residue and foul odors.
This solution can be made into a spray bottle if you don't like the scent of vinegar. Keep an essential oil spray in the console to deodorize the car whenever it starts to smell bad. It's that simple.
It's rare to see the interior roof of a car when you're driving. If you thought cleaning your car was limited to vacuuming out the seats and carpets, you were mistaken. It's important to maintain your car looking and smelling good by regularly cleaning the headliner while you're doing other car maintenance
★★★★★ "I have a 2020 Cadillac XT6 with pearl white exterior and light oyster color interior your new interior kit is fantastic it is easy to work and the results are incredible. This product is just like all your other products I purchased from you to keep my car looking better than new.." - Lillian M.
SHOP NOW
If you clean the headliner of your car, it will not only look beautiful but will also let you enjoy fresh air inside the car without additional odors. Any stains or odors you may have picked up in your automobile can hopefully be removed using one of the ways we've provided.
As it turns out, even the best over-the-counter cleaners and home remedies can't remove some stains from clothing. This is when taking your automobile to a professional car detailer might be worth it.
After reading this, it's safe to say that cleaning a car's headliner is possible, only with a few simple steps. The first time you wash it, you'll realize that doing this wasn't that difficult.
However, if you're still unsure, or worried about damaging your headliner, I recommend visiting a local car wash or detailing business. For you, they'll do a fantastic job. It is highly recommended that you try our approaches first. Your car, as well as your bank account, will be grateful to you!
I hope that I was able to provide you with some useful knowledge. Congratulations on your first cleaning of your headlining!
Get instant ceramic & UV protection today by using Intra Intra Clean & Shield 2-step Interior Cleaning KIt. Click for discount!
Related Car Interior Cleaning Articles:
Published on

May 02, 2022