Pressure Washing an RV In Half The Time Guaranteed
You've spent a lot of time and bucks on your RV, and now it's time to make sure it looks good for the next trip. So, how do you go about cleaning it? Most RVers use a pressure washer to get rid of road grime. But others choose not to because they believe that it could cause damage to the vehicle.
While pressure washing isn't exactly a big no, there are a few other factors to think about using this tool. Here, we have gathered some tips and precautions so you can decide if pressure washing is the right choice for your needs.
Slow Down There! Can You Even Safely Pressure Wash an RV?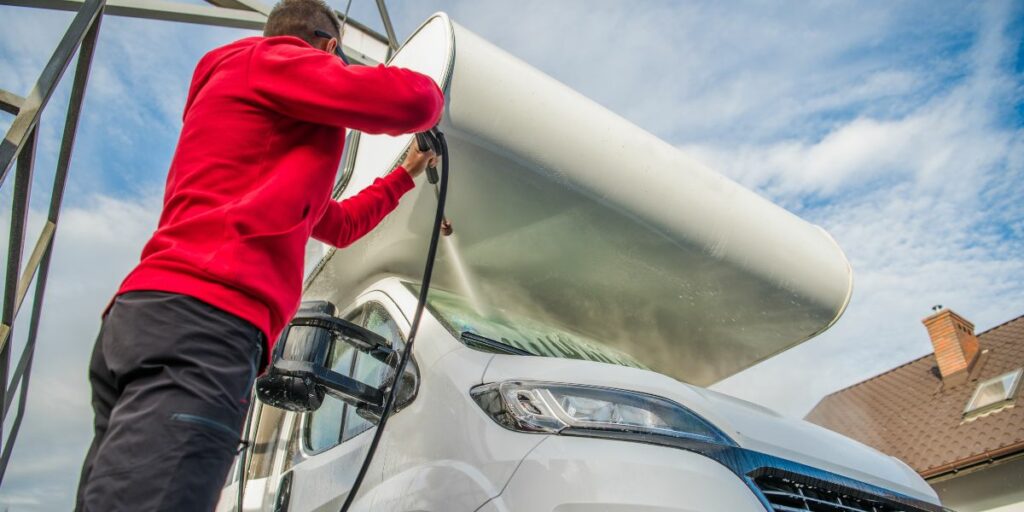 A lot of people think it's fun to pressure wash their RV, but the question is whether or not it's safe to do so. The answer is that it depends.
There are a few considerations before you decide to pressure wash your RV. The first thing is what kind of surface your RV has. If you have a metal RV, you can safely pressure wash it without any issues. However, if you have a fiberglass surface, you must be careful about how much pressure you're using.
Too much pressure will strip away the protective coating on the fiberglass and leave it exposed to the elements. This can lead to rusting and corrosion in a very short amount of time. Secondly, pressure washing also has a lot to do with your skill set, as some parts of your RV might be more prone to damage than others.
Always follow the necessary safety tips, and remember that professional assistance is available! A professional will have experience using these tools and can help guide you through safely.
Handwashing vs. Investing in a Pressure Washer – What's Best for Your RV?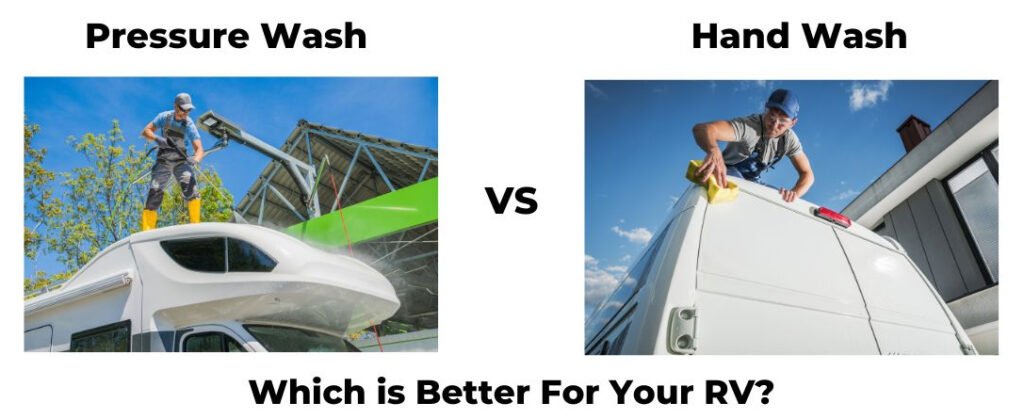 You've probably heard the phrase, "cleanliness is next to godliness." But if that's true, then you shouldn't settle for anything less than godly when it comes to keeping your RV clean.
And honestly, there's nothing like the feeling of getting your RV or camper van clean. But how do you find out if a cleaning job is best done with a hand wash or with an investment in a pressure washer?
The first thing while deciding whether to use a hand wash or invest in a pressure washer is the size of your vehicle. If it's small enough, then a good scrubbing with soap and water will do the trick. But if it's large and has lots of nooks and crannies that are easy to reach with some heavy equipment.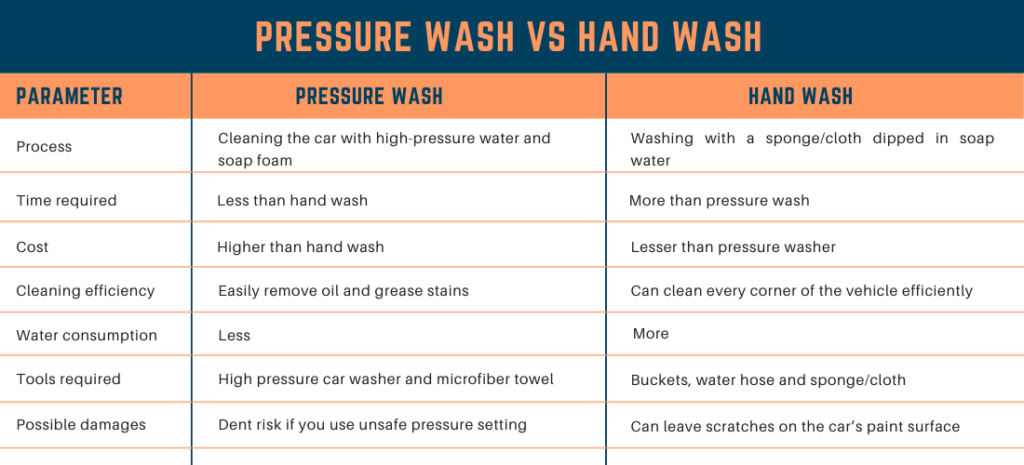 In that case, a pressure washer with a foam cannon is worth investing in. So you can get your entire vehicle clean all at once without spending hours scrubbing every inch by hand.
Pressure washing an RV is also better for the environment than using soap or chemicals in buckets or spray bottles. Wondering why? Because it reduces wastewater runoff into local waterways, which can pollute our rivers and oceans.
RV Safe Washing 101: Knowing Your Delicate Areas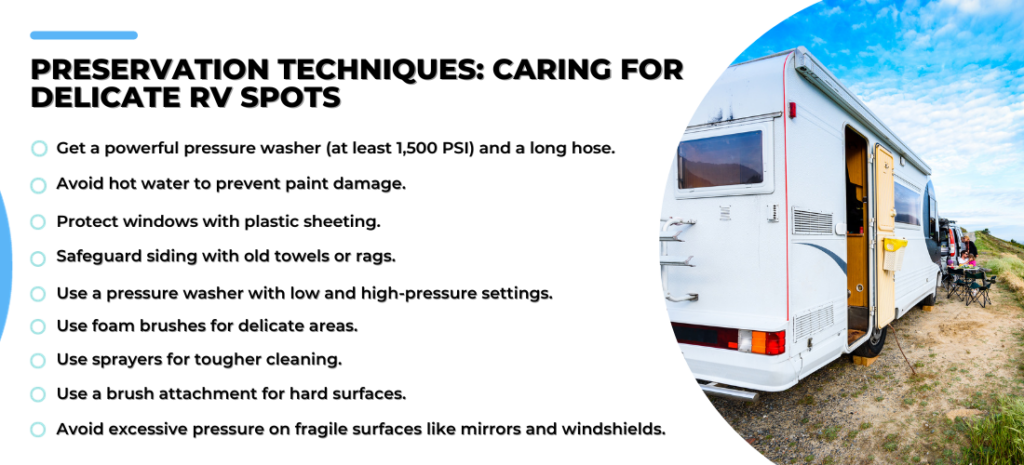 Pressure washing an RV is a great way to get your rig looking fresh and new. But it's important not to damage any delicate areas, like the roof or windows. If you're just not sure how to go about it, here are some tips to help you do it safely and get the best results.
First, you'll need a pressure washer that's powerful enough for the job (you'll want one that can handle at least 1,500 PSI) and a hose that's long enough to reach all areas of the RV.
Never use hot water when pressure washing an RV. Hot water can cause the paint to fade and peel off faster than expected, making your vehicle look old before it's time.
Protect windows with plastic sheeting or plastic wrap.
Protect siding with old towels or rags that can be thrown away after use (or re-used if they're in good condition).
Use a pressure washer system that has two settings: low pressure for delicate areas like siding and high pressure for big jobs like removing dirt from tires. Foam brushes are also great for cleaning delicate areas like windows and siding because they don't leave streaks or lint behind. Sprayers are better suited for cleaning dirt off tires and wheels or other surfaces where cleanliness is less of an issue.
Use a brush attachment on your pressure washer to scrub away dirt from hard surfaces.
Finally, be sure not to apply too much pressure onto fragile surfaces such as mirrors or windshields—these can easily crack under too much force or heat from the water coming through at high speed.
How to Wash an RV with a Pressure Washer: The Rundown
Step 1: Get prepped
Park your RV in a safe place, away from trees and other objects that could be damaged by water or pressure. Turn off all electrical components and propane tanks. 
Wear eye protection, long sleeves, and long pants to protect yourself from chemicals and water splashes.
Step 2: Carefully clean the roof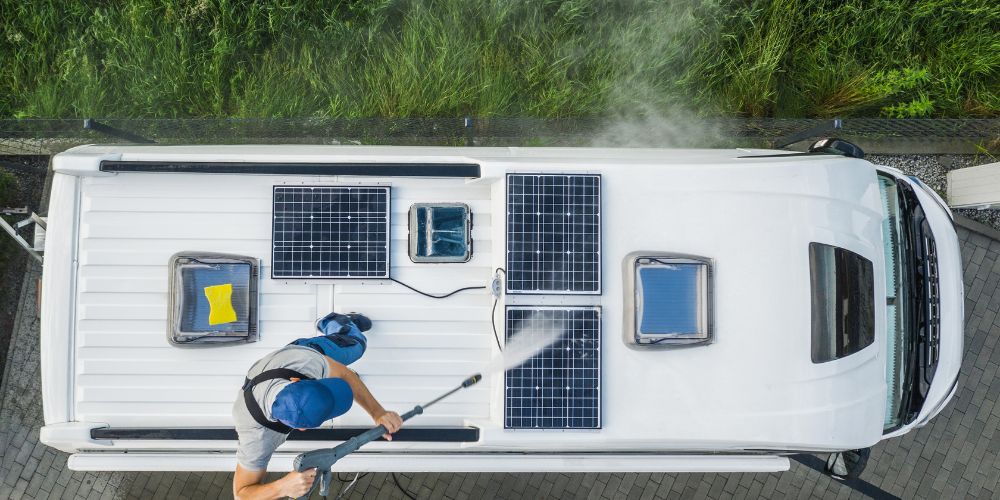 If you want to be extra cautious, start by filling up a bucket with water and then pour it on your RV's roof. Work your way down from one end to the other. It'll take dust and dirt off the surfaces you care about (Like the windshields and windows). 
Step 3: Apply soap to tackle stubborn stains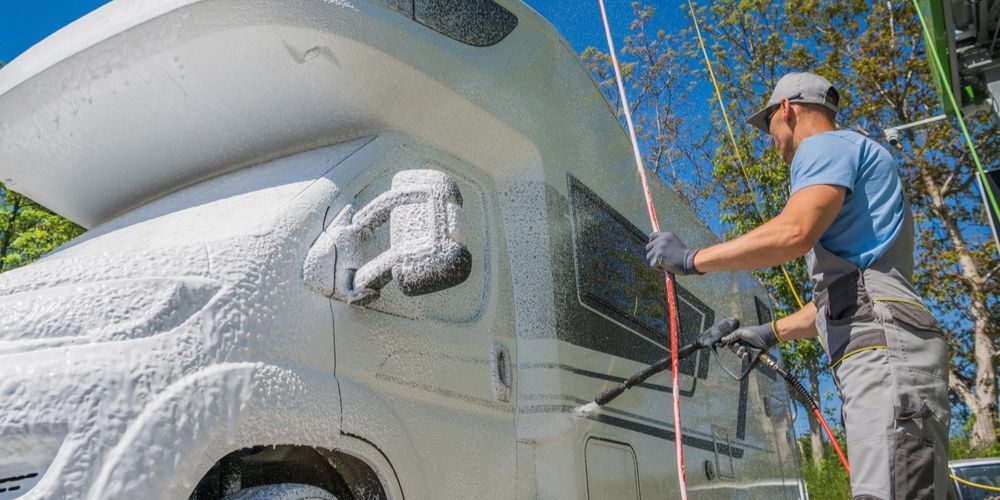 Slide out any removable windows or doors, then apply soap freely with a sponge or rag and scrub away at any spots that need extra attention (like bird droppings or dirt).
Next, move on to using a pressure washer with a low-pressure setting (usually around 1,500 psi). Use this sprayer to clean the entire exterior of your RV with water and soap (or a combination of water and vinegar).
Step 4: Clean deeply with High-Pressure precision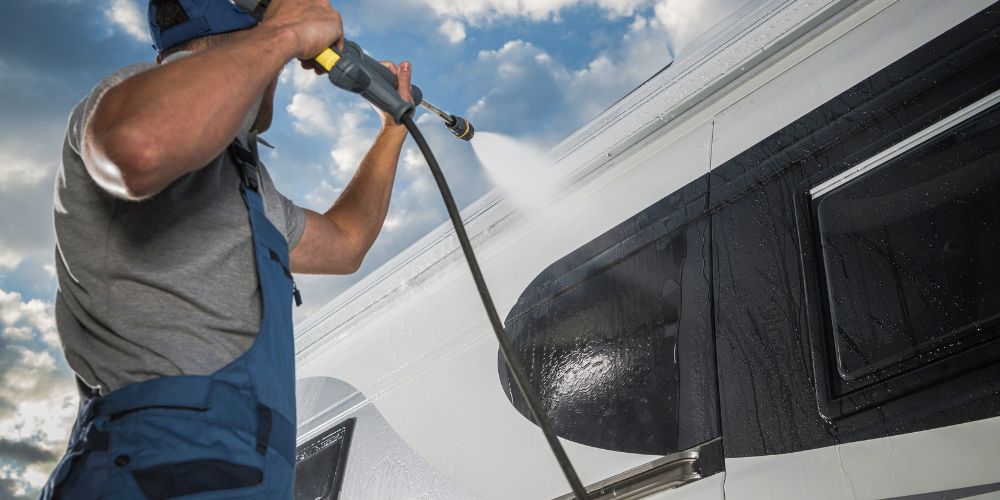 Afterward, use a high-pressure setting (around 3,000 psi) for deeper cleaning of all surfaces inside and outside your RV. Make sure you keep moving so that dirt doesn't settle back into places where it's already been cleaned. 
Caution:
Never push any object with water while working in high-pressure settings. Also, never point the power washer at anyone, as the high pressure from the washer could lead to some pretty fatal accidents.
Step 5: Dry Your RV with Microfiber Magic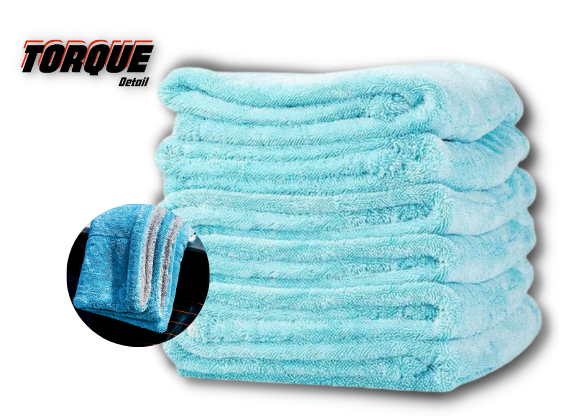 When it comes to pampering your beloved RV, there's no room for compromise. You've put in the hours to keep it shining, and it deserves nothing less than the best. Get our Premium Microfiber Drying Towel, the must-have tool every car detailing freak swears by. Let's say goodbye to mediocre towels and welcome to efficient drying. If you have never used one before, follow our blog to learn all about it.
Note: If your RV is dirty on its underside, you may need to raise it off the ground so that you can wash it from underneath as well.
BONUS: Protect Your Vehicle From All That Nature Throws At It
REDLINE SHINE is our meanest product to hit the shelves. It's the most advanced DIY Ceramic Coating intended to give you 2 years of shine and protection. Car enthusiasts around the country are turning to it to protect their vehicle's value in uncertain times.
Whether you take one trip per year in your RV or if every day is a new adventure, your rig deserves to be kept in tip top shape year round.
Safety tips for the DIYer Pressure Washing their Rig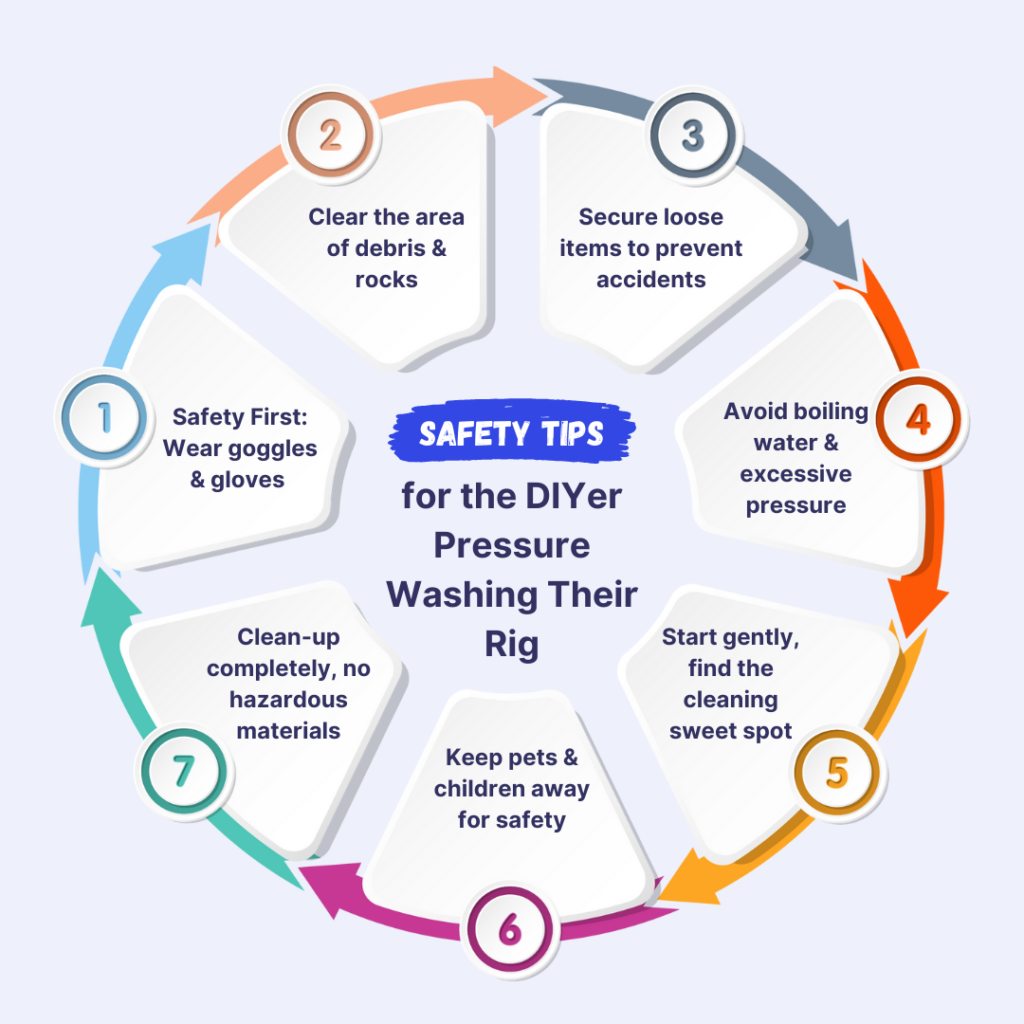 There are several safety tips to keep in mind when pressure washing your rig.
Firstly, make sure that you have the proper safety equipment on hand. Put on goggles and gloves to protect your eyes and hands from any chemicals or debris that may fly off your rig during the process.
Ensure that your ground is clear of any debris or rocks that could get kicked up and cause damage.
Make sure there are no loose items that could get sucked into the hose or blown off by a gust of wind; this includes glass windows, tools, and other equipment.
Never use boiling water on your rig. This can cause significant damage to certain components, such as paintwork or rubber seals around doors and windows, leading to leaks later down the road. Also, don't use too much water! You don't want to flood your rig or cause any damage by using too much pressure.
Start with a light touch, then slowly increase the pressure until you find the sweet spot that gets everything clean without damaging your rig.
If you have pets or small children, try keeping them safe and away from the work area.
Always clean up after yourself! Don't leave any hazardous materials behind in any form. That means no cleaning chemicals, either.
Wrap-Up
RVs are made for the road, but that doesn't mean they don't need a good scrubbing every now and then. It may be best to use a pressure washer for this purpose. Still, you have to know what you're doing before you start blasting away.
First things first: safety. There are some spots where you need to be extra careful with how much pressure you use (and other spots where less is more).
And If you don't want to end up with a broken rig, make sure you read up on all of the safety tips we have mentioned for the DIYer. From wearing proper footwear to keeping your hair tied back, these tips will help keep your vehicle in one piece during the cleaning time!
Related Car Detailing Articles:
Published on

Nov 02, 2023