Best Cleaner for Car Interior Plastic (Results = Mind Blown)
All car enthusiasts realize how vital it is to maintain their vehicles. Maintaining a clean car will increase its resale value. Consequently, whether you intend to maintain or sell your vehicle, it must be kept in the best possible condition. There is a lot of plastic in most vehicles, both inside and out. A definitive guide to the Best Cleaner for Car Interior Plastic does not yet exist. A fantastic product can be tough to find because there are so many possibilities. Majority of the older automobile's interior is made up of plastic, including the cockpit area, the inner door space, the dashboard, and many other places. As a result, having access to a decent interior cleaner for all of this plastic is really useful in order to achieve a clean car interior.
Having a somewhat sticky dashboard or a filthy steering wheel is an unpleasant experience for many car owners.
Wetness and grime can accumulate on plastic sections of a car's interior, due to their frequent handling. Plastic cup holders and compartments may also be exposed to food and drink on a regular basis.
But fortunately, if you have the correct cleaning product, plastic is perhaps the easiest interior material to clean.
Restores Faded Plastic In 30 SEconds
Plastic Restore - Restores Plastic, Vinyl & Rubber Surfaces (8oz Bottle)
★★★★★ "Liquid gold!!!! We have a 2008 Jeep Commander and have always had an issue with the bumper and all the plastic trimming that would turn like a chalk white overtime. I have used many products trying to restore the finish on the plastic and nothing has worked. I just received my Plastic Restore from Torque and this product is amazing I applied it about a week ago and the jeep looks brand new again!!
RESTORE PLASTIC
Best Cleaner For Car Interior Plastic
1. (BEST CHOICE) Plastic Restore by Torque Detail
An UV protectant spray from Torque Detail's Plastic Restore is designed to restore plastics, leather and rubber trim. This is the best car interior cleaning agent for plastic. If you apply it, you won't be left with any harsh fumes or sticky surfaces. There are no volatile organic chemicals in the mix, according to the Torque Detail.
That worn grey plastic will turn black, and oxidation can be removed. It's as simple as spraying it on, wiping it off, and it'll last for at least six months. Its hydrophobic formula will keep water from beading on your trim, while its antistatic characteristics and UV protection will keep it looking new for months to come.
According to Torque Detail, these chemicals penetrate the plastic and alter its chemical composition. As a result, no dyes are utilized, and rain will not wash it away.
It is easy to apply, lasts for at least six months, and does not require the use of any other harsh chemicals.
Actually, this stuff is more of a restorative than a cleanser. For the simple reason that automobile owners who prefer to maintain their cars clean are also likely to be interested in recovering their plastic, vinyl upholstery, and rubber.
In order to make your interior plastic look like it's spanking new, Torque Detail works at the molecular level. They worked on a black bumper that turned gray after a few days. The bumper looked almost as good as new once it was repaired.
Upon drying, it shields the plastic from the sun's harmful ultraviolet rays. When it comes to turning black bumpers gray, UV radiation and rust are the main causes.
This product is created using materials that are safe for the environment. For this reason, different surfaces of the interior of your car should be revitalized by this cleaning process.
Pros: 
Old parts covered in dust and dirt, are brought back to life by using this method.

Protection from the sun's ultraviolet ray

Ecologically sound
2. Restorative Plastics by CarGuys
CarGuys Super Cleaner ranks third on Amazon's list of the best cleaners for car interior plastic. Plastic Restorer from CarGuys is designed to restore and renew plastic, rubber, and vinyl. Patented additives extend the product's shelf life to months. The CarGuys Plastic Restorer comes in an 8-ounce kit, which is a bit more expensive than the competition. In contrast to some of its competitors, Plastic Restorer, according to the company, repels water instead of leaving ugly streaks on your car's exterior.
No harsh chemicals are used in this formula, and it won't leave behind any greasy residues. A durable UV guard is left behind to protect against harmful UV rays, which cause fading, browning, and cracking.
Besides RVs, motorcycles, and boat vinyl surfaces, you can also use this product on indoor and outdoor accessories, as well as home restoration projects such as shutters, furniture, and siding
Benefits of using restorative plastic by CarGuys are exceptional longevity, non-oily mess, UV protection, and multipurpose
3. The Last Coat CeraTrim
To restore faded trim, CeraTrim uses the same ceramic technology as The Last Coat's signature sealant. CeraTrim isn't a dressing, paint, or stain, which is why it's so unique. CeraTrim is a genuine ceramic coating that bonds deep into the pores of plastic trim to offer outstanding hydrophobic and self-cleaning qualities. So, it won't simply restore multi-surfaces to their former glory, but it'll also protect them for the long haul as well.
Long-faded plastic surfaces (even red that has turned white) are restored to their original color, and customers are happy with the results. For a high-quality, glossier finish, CeraTrim can be applied to all plastic parts and trim surfaces in your vehicle, including those in your engine bay. As the manufacturer points out, this is a "off-label" usage that normally takes two to three coats.
There's also a 30-day money-back guarantee on all of The Last Coat's cleaning products.
This product is a true restorer as opposed to tough stains or dressing because of its ceramic-based formula and hydrophobic qualities that provide long-term protection.
Drawbacks: Can make surfaces slick when wet, therefore take care when applying to running boards.
4. Meguiar's Ultimate Black Plastic Restorer (G15812)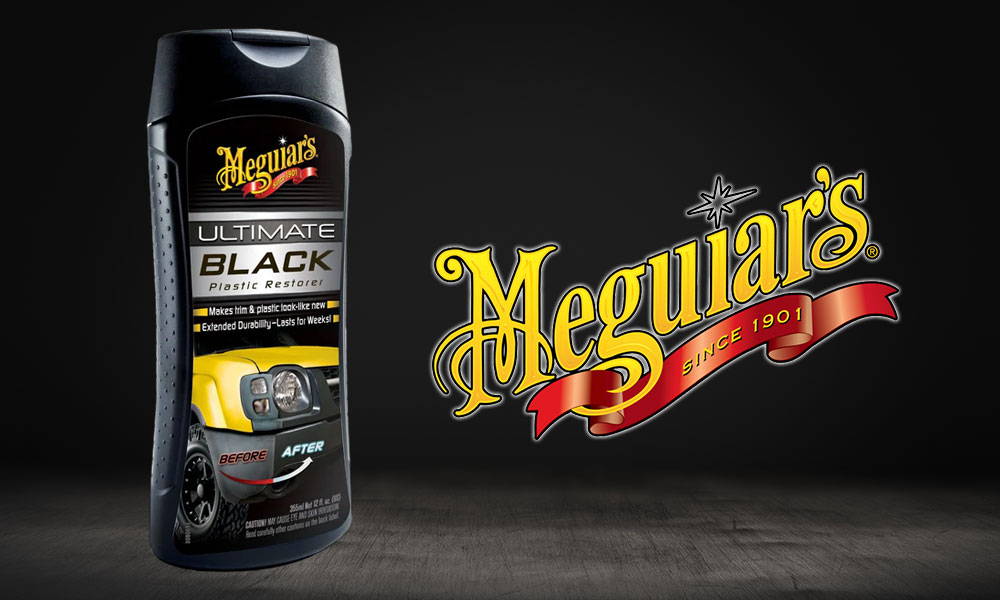 Meguiar's is a household name when it comes to car care and auto detailing. Meguiar's Ultimate Black Plastic Restorer, one of the most popular and highly rated products on Amazon, is one of the most trusted brands in the market. To restore all external plastic car surfaces and rubber trim including bumpers and moldings, as well as door handles and rearview mirror housings, and windshield cowls, this kit is designed to leave a beautiful matte finish.
Meguiar claims that its product uses an innovative hybrid polymer technology that seals non-porous surfaces with UV protection, allowing it to outlive standard protectants and trim care solutions by a significant amount of time Fast-drying and non-greasy, this product dries practically instantaneously. If the coated surfaces get wet, they won't leave streaks.
It's not necessary to use a lot of Meguiar's Ultimate Black Plastic Restorer. If you use this product, make sure to work with small areas at a time on a clean, dry, cool surface. Avoid using this product on clear plastic and clear glass as well as paint and tire tread.
Meguiar's Black Plastic Ultimate Restorer comes in a 12-ounce bottle.
Pro: Only a small amount is needed to treat the region.
Trusted brand, pricing, sophisticated hybrid polymer technology.
Cons: In some cases, especially in the rain, it doesn't stay very long.
5. Rust-Oleum Wipe New Trim Restorer
To restore and protect damaged vehicle trim and plastic, Rust-Wipe Oleum's New Trim Restorer has been developed. On leather/vinyl car seats, door panels, trim as well as side mirrors and bumpers, this product is the most effective. This solvent is also a car dashboard cleaner. A long-lasting shine is promised by the firm, and the product will continue to operate even after the automobile has been washed. Two wipe application cloths, one headlight applicator, one headlight prep pad, and a detail brush are included in each set. If you've got a mid-sized automobile, the 1.5-ounce bottle is plenty to clean the interior surfaces as well as the exterior.
Using the Rust-Oleum Wipe New Trim Restorer on plastic, rubber, and chrome surfaces is safe but not recommended for use on glass. The Wipe New Trim Restorer does not include silicone, it is a leather cleaner, therefore it does not require regular application. In addition, its formula protects against oxidation, fading, and sun damage, and it comes with a two-year limited warranty.
Wipe New Trim Restorer is more expensive than other products because you are paying for a 1.5 fluid ounce bottle.
Pros: Non-silicone-based formula, full packaging; does not require constant application
Cons: Pricey for a 1.5-ounce bottle
6. Mothers Back-to-Black Plastic and Trim Restorer (06112)
Mothers is another well-known name in the area of automotive detailing. In a 12-ounce container, Mothers Back-to-Black is a cheap trim and plastic restorer that cleans and protects exterior trim of all colors with an original all-in-one solution. In addition, it prevents additional degradation caused by UV, smog and ozone, water and chemicals, and airborne pollutants.
Designed for trim, molding, bumpers, door handles, vents, and sealing, Mothers Back-to-Black is a great way to bring your car back to life. You can use a dry terry cloth or sponge to massage the restorer into the surface before polishing it to a fresh appearance.
Customers report that this product does not last very long and causes streaks in the rain or when your car gets wet, according to some customers' feedback.
Pros: Cost-effective, easy-to-apply, restore the color of the hair.
Cons: Stains when wet, wear out quickly
7. Solution Finish Black Plastic and Vinyl Restorer
One- of 12-ounce bottles of black plastic and vinyl restorer are available from Solution Finish. A bit more expensive than the competition, this solution has been specially developed to restore original black surfaces to a deep, rich black finish without the wet look. A silicone-free solution, it uses only natural oils and "ancient substances" with sophisticated polymer technology.
Make sure you read the directions thoroughly because it's made for professionals. If used on painted or glass surfaces, the substance will stain clothing and skin. Use a clean applicator pad or microfiber towel to wipe off any paint or glass that you may have accidentally gotten on. For at least four hours after applying the treatment, the business suggests not washing the vehicle.
If you live in a rainy environment, bear that in mind.
Pros: It restores originally black surfaces to a deep polish without the damp look.
Cons: Price, streaky when wet.
8. Chemical Guys Tire and Trim Gel for Plastic and Rubber
For plastic and rubber, Chemical Guys sell a tire and trim gel that can swiftly restore fading plastic trim as well as bumper, rubber seals, and weather-stripping. This oil-based trim dressing comes in a 16-ounce bottle and provides protection against dirt, water, and damaging UV rays when properly applied. Because of its particular waterproofing properties, it is regarded as a premium dressing.
In spite of a high shine appearance and rapid absorption, the product will feel dry to the touch when applied to your trim pieces.
For optimal effects, apply a thin, even layer of the product to the affected region of your car. Wait 10 minutes after the initial coat and apply more coats if desired for a more glossy finish.
While this product lasts for a few months on trim pieces, it will be less effective after a rainstorm and could leave streak marks on painted surfaces, according to users of the product.
Pros: The oil-based, waterproofing agents, and high-shine appearance
Cons: A few users have complained that it is ineffective against rain.
9. Armor All Outlast Trim and Plastic Restorer
In an 8-ounce bottle, Armor All's Outlast Trim & Plastic Restorer is another brand you've probably heard of. As well as protecting against over 100 car washes, this solution restores the plastic, vinyl, and rubber trim on your car's exterior. In addition, the formula helps prevent fading, discoloration, oxidation, and damage caused by UV rays.
For bumpers, side mirrors, door handles, and rooftops made of plastic, rubber, or vinyl, this product can be used. Glass and painted surfaces should be wiped down immediately after contact with plastic and trim restorers, as well as any substance that comes in contact with glass or painted surfaces.
To use Outlast Trim and Plastic Restorer from Armor All, just apply it to a damp microfiber cloth or directly to the surface, spreading it evenly to leave a light coat of protection on the surface. Use a damp terry cloth or microfiber towel to clean away any excess product after five minutes.
Pros: It claims to work for over 100 car washes and repairs vinyl and rubber trim.
Cons: There may be a need for more than one coat, and some users have complained that it doesn't last very long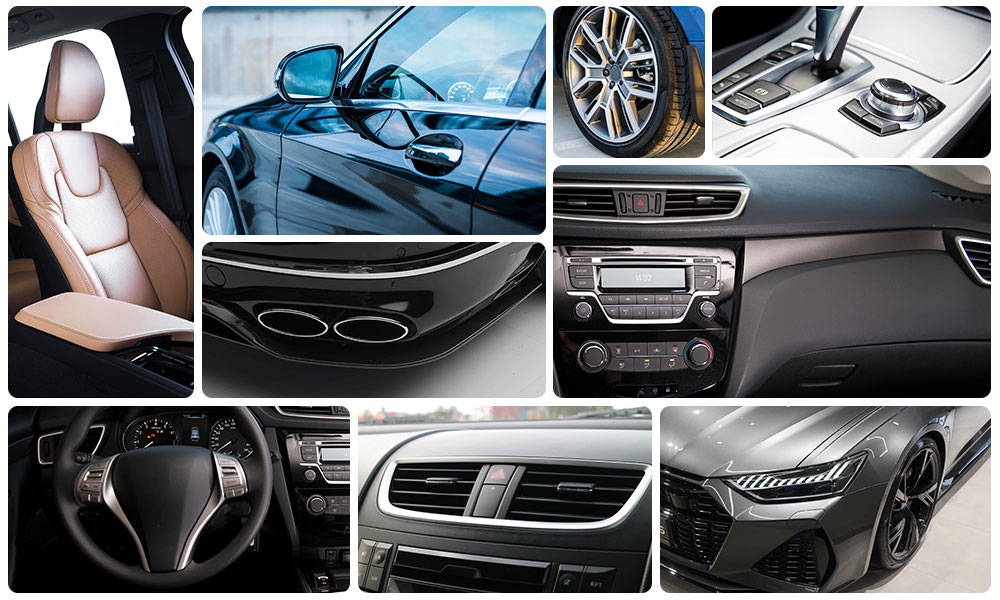 One other example is Trinova Interior Detailer which quickly takes care of spills on your car's interior plastics. However, when looking for the Best Cleaner for Car Interior Plastic, take your time. Instead, pick a cleaner whose personality and lifestyle are compatible with yours. Clean the plastic in your vehicle as you see fit. Hence, you should go for the Best Car Interior Plastic Cleaner like Plastic & Trim Restorer Spray by Torque Detail. Detailers highly recommend this all purpose cleaner for best cleaning of your car's interior plastic. So, you can rest assured that your car cleaning is thorough at all times!
Thus, your car interior can be cleaned and restored to its former glory, looking like new. Hope we've given you enough options today so that there's something for everyone! Any other inquiries or issues that aren't answered here can be directed to us and we'll be pleased to assist you.
Restores Faded Plastic In 30 SEconds
Plastic Restore - Restores Plastic, Vinyl & Rubber Surfaces (8oz Bottle)
★★★★★ "Liquid gold!!!! We have a 2008 Jeep Commander and have always had an issue with the bumper and all the plastic trimming that would turn like a chalk white overtime. I have used many products trying to restore the finish on the plastic and nothing has worked. I just received my Plastic Restore from Torque and this product is amazing I applied it about a week ago and the jeep looks brand new again!!
RESTORE PLASTIC
Related Car Interior Cleaning Articles:
Published on

May 02, 2022