Read This Before Buying Hybrid Solutions Ceramic Spray - Review & Alternatives
If you are considering the idea of purchasing Hybrid Solutions Ceramic Spray, you'll want to read this. 
We are going to go over what is great about this product and what leaves room for improvement.
We will also cover a handy alternative if you're shopping around. If you want to learn more about what the Hybrid Solutions line has to offer, keep reading.
Hybrid Solutions Ceramic Spray Coating Review – Let's Find Out What's What
This will be a review of Hybrid Solutions Ceramic Spray Coating. This is a product from the makers of Turtle Wax. We will be going over each of the features.
We'll also point out what we believe are some of the fatal flaws. If you have read reviews from some of our Turtle Wax products, you might notice a pattern here. Otherwise, keep reading and find out what we have discovered about Hybrid Ceramic Solutions.
Let's get started with the features and our findings about the product itself.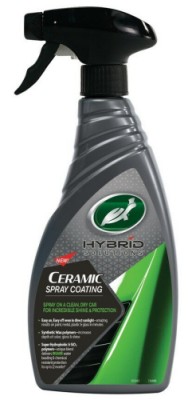 Hybrid Solutions Ceramic Spray Coating: The Features
Hybrid Solutions Ceramic Spray Coating is Turtle Wax's version of ceramic sprays. They decided to jump onto the trend when competing brands were releasing similar products. But is it really one of the more legitimate contenders or something that doesn't live up to the hype?
Let's take a look at what the features are and what they claim to do:
Contains super hydrophobic polymers: In its formula, it has Silicone Dioxide (SiO2) polymers that claim to provide its hydrophobic characteristics. It says that sio2 polymer provides water repelling, sheeting, and chemical resistance for up to 12 months.
Requires little preparation: One of the things you'll want to do is use a clay bar or compound before applying it. Not a bad idea in the slightest (but we'll explain a better way later on). Once you have finished prepping it, you can then spray it on the vehicle's exterior when it's dry.
Mirror-like shine: It claims to leave a mirror-like shine and reduce water spots and contaminants. It also claims that this can last for quite a long time (i.e – 12 months).
Smells good: Unlike many ceramic sprays, this one has a nice scent to it. With its sweet fruity fragrance, you can apply this and not worry about it terrorizing your sense of smell.  
Where Hybrid Solutions Ceramic Spray Coating Falls Short
Hybrid Solutions Ceramic Spray Coating may seem like the great product people rave about. However, it would appear that there are some must-know flaws that need to be pointed out. Again, if you have read any of our Turtle Wax product reviews, you may notice some familiarities.
If you haven't, the flaws will be similar to what you'll see in the list below. Let's take a look at what they are and why they can be a problem:
It can leave streaks behind: If you have a vehicle that is dark in color such as black, maroon, or any kind of dark-shaded color, this can be trouble. The white streaks will be left behind no matter if you put on one or two coats. Not only that, the streaks will be a challenge to buff out. If there was ever a time-consuming activity that you didn't want to do, it's that.
Doesn't last the longest: Another drawback to this product is that it may not last as long as their claim. Users have reported seeing this spray last anywhere from two to three weeks to at least three months max. Either way, it doesn't appear to give you the long-lasting protection it claims to say it has. Furthermore, you are probably going to see it wear off after about three or four washes. It will depend on how much coating you have applied to it. Of course, your mileage may vary. It all depends on how well the coating is applied and how roughly you treat your vehicle. (is it a work truck or a weekend driver?).
Little to no UV protection: If there's a good ceramic spray worth using, it's one with UV protection. Direct sunlight can be damaging to your vehicle's exterior. Especially when you don't have good enough protection against it. Some users of this product reported little to no UV protection at all, which may be yet another reason to switch products.
Cheap overall quality: Good quality doesn't come cheap. This ceramic spray, though affordable, has been reported to be flimsy and of low quality. If you're looking for excellent quality at an affordable price, keep reading to find out what it is.
A bit tough to apply: Needless to say, no spray should be annoying to apply. Yet, this circles back to the streaks and smudges it tends to leave behind on your vehicle. Unfortunately, this won't bode well for dark-colored vehicles.
Not as shiny as expected: While it claims to leave a mirror-like shine, this wasn't the case for most of this product's users. One even went on to say that it wasn't as impressive as he expected. Furthermore, he may have blamed it on the lack of ingredients that were included in the product. If you want a true mirror-like shine, we've got something for you.
Short-lived hydrophobia: If you are looking for a product that will be hydrophobic for a long time, this isn't it. As a matter of fact, the hydrophobia of this product will last until at least six washes max. This is not a good sign if you want something that will keep the water off for as long as a year. You'd be hard-pressed to find something like that anywhere else (but we know where you can find it).
Not so protective: If anything, this product didn't do such a good job of protecting vehicles from certain external elements such as bird droppings and other contaminants. It's unfortunate that you'd have to deal with such things without adequate protection. But even with the application of this product, it still won't get the job done. Even with two coats of this product, it won't be exactly enough to help.
Doesn't hold up well in weather: Depending on how many coats you've added on, it can last a bit (but not as long as it claims). It will get to a point where it has dealt with so much weather that it will wear off fast. If you want excellent all-weather protection no matter where you are, this isn't the product that will provide you with that.
Doesn't work well on glass: While the product claims to work on all exterior surfaces, it doesn't work as well on glass. Some reviews indicate that it leaves smudges, streaks, and so much more. If you want to keep your glass clean, there's an alternative to that. Or you can just stick to regular glass cleaner if you're OK with that.
Doesn't remove water spots: When it comes to existing water spots, this is not the product that will get the job done. It's no fun having to deal with them. But it's slightly worse if you have a product that won't remove them as easily. If you want an alternative for water spots, look no further than our Water Spot Remover.
These are some of the biggest flaws that we have noticed (and also confirmed by other users). Imagine a product that has all these claims of being great at what it does. Then, it falls short of doing so.
You may be thinking to yourself the following: how is this possible? If you are looking for a product that is tried and true, there's one that we've got for you. Needless to say, it lives up to its promises.
In fact, we've even tested it out multiple times just to make sure. If you are looking for a product that is easy to apply, easy to buff out, and will give you that year-long shine (for real), we've got you covered.
For a longer-lasting coat that's easier to apply, try Graphene Burst Coat!
Our Graphene Burst Coat is the one true alternative that you need. We do the things that Hybrid Solutions Ceramic Spray Coating cannot. One of the coolest things about applying this to your vehicle is that all you need is a microfiber cloth.
Sure, you can choose to prep it with a few other things. But overall, it doesn't require any special equipment. It's also living proof that you don't need a professional detailer to give you that year-long shine that you've been searching for.
To show you how to apply Graphene Burst Coat in three easy steps, let's take a look at the following:
First, you can remove any grime, dirt, or anything from the surface that might hurt the coating. Make sure that you use water and your favorite car shampoo to wash it off thoroughly.
Using Graphene Burst Coat, spray it throughout the exterior of your vehicle. Make sure you cover as much as possible.
Get a microfiber cloth (such as our Microfiber Towels for Professional Detailing) and buff it in. Once finished, you'll be able to notice a shine to your vehicle like nothing else. Looking at it will be like looking at a car being displayed on the showroom floor. You'll be thinking to yourself 'who owns this vehicle' before realizing that it's you that does.
Indeed it's true. You can get a professional automotive shine in just three easy steps. All it takes is about 15 to 20 minutes of your time with minimal equipment. You'll know for sure that your vehicle will get the high-gloss shine you want after one application.
Best of all, it lasts the entire year. Whether it's through multiple car washes or multiple amounts of contact with weather conditions, bird droppings, and so much more, it stays on for a long period of time.
Why choose Graphene Burst Coat over Hybrid Solutions Ceramic Spray Coating?
There are so many reasons why you should choose our Graphene Burst Coat over Hybrid Solutions Ceramic Spray Coating. If you want to find out more about what it does, keep reading.
Let's give you a few reasons why our product should be better than the other guys:
No streaks or smudges: If you have a dark-colored vehicle, you can breathe easily. That's because our product doesn't leave any of the streaks of smudges you'll see coming from Hybrid Solutions Ceramic Spray Coating. This means you can drive around town in your black Corvette with no noticeable leftover spots. 
Hydrophobic properties that last: Our product is hydrophobic to the point where the water will roll off your vehicle the minute it makes contact. That's right – it's got hydrophobic properties that will last a long time. Think the other guys have that? Not a chance. If you are looking for something that will handle precipitation such as snow and rain, this will be your go-to option.
Excellent repellent against dirt, droppings, etc.: Imagine a bird flying past your vehicle and leaving you an unwelcome 'gift' in the process. Your vehicle will reject that for you faster than you can yell 'hey' at that bird. Easy on easy off, just wash it off and your surface will look like it never even happened. It doesn't matter how many washes this goes through, you'd be hard-pressed to find a spray coating quite like this anywhere on the market.
This can last a long time: When we say that this can last a year, we mean it. No matter how many times you wash it or the amount of rainy or snowy days it endures, that incredible shine will stay the same for a whole year. And it's all thanks to the special ingredient in our formula that keeps it that way. And yes, it's what also makes crystal quartz so shiny as well.
Amazing quality: There are plenty of competitive products out there that will promise amazing quality. The problem is that it will fall severely short. Not to mention, it will be cheap in that regard. As affordable as it is, the quality will be anything but cheap when it comes to our product. You'll feel like you're stealing each time you put this on a vehicle. Turtle Wax's products have suffered in quality for years. Isn't it time you made the switch?
A lot tougher than steel: Graphene is a formula that is proven to be 200 times tougher than steel. Believe us when we say that we've tested it over and over again. This is one good reason why you want to apply our product to your vehicle. It will also give you excellent protection against scratches. Do you think any other ceramic spray is going to do that? No, it won't.
Made in the USA: Made right in our state of Florida, you get an excellent quality product that we have developed over three years. What makes this even better is that it's not made from cheap quality chemicals that might be found in countries outside of ours. This also includes harmful chemicals that can do more damage to your vehicle.
Praise For Graphene Burst Coat 
"Very happy with the results. It was so easy to apply." – Dennis C.
"I applied this product over four weeks ago. I don't think I need a hose or foam cannon to wash anything off. I added a couple of other products to it every now and then. But it's still looking good."
"I applied your Decon Soap before applying this product to my vehicle. It was all so easy to put on."
"I've used clay and ceramic coating on all of my vehicles. That all changed when I ordered Graphene Burst Coat and I applied it. The finish was fabulous and it's easy to use. It goes on and buffs off quickly. I highly recommend it." -Dan M.
"I bought this three weeks ago and applied it to my Lexus RX 350. When I was using another product, I was having trouble with the swirl marks it would leave behind. Yet when I applied this in small areas, it would leave a swirl-free clean. All you need to do is follow the directions. It shines great. I finally found something that actually works." -Gary K.
"I tried this on my 2016 Fusion. It made the finish look like glass. It's very easy to apply even though I applied twice in some areas. After driving 300 miles, the dried bugs would easily come off." – Donald K.
"I have friends that know that I am obsessed with keeping my car clean. I finally found a product that will actually work. It's amazing and I give Torque Detail kudos for creating it. Thanks so much."
"I purchased this recently. It was easy to put on and the shine really exceeded my expectations. No swirls, no smudges, and no spots. It was clear, bright, and smooth. I'm hoping it will hold up as long as it says." Harry A.
What else does Torque Detail Offer?
Want to know what else we offer? Torque Detail has almost everything you need to make your vehicle look its best. Here are some of the awesome things that we offer along with our Graphene Burst Coat:
7H Ceramic Coating 3-Step Kit
If you want the whole kit and kaboodle, we have the 7H Ceramic Coating 3-Step Kit. This includes microfiber towels, a microfiber wash mitt, your prep product (a decontamination soap, the ceramic coating, and the waterless wash product for all your detailing needs.
Just like the Graphene Burst Coat, applying it is as easy as 1-2-3.
In case you didn't want to settle for any old microfiber towel, we have our own. These are great for professional detailing, even if you aren't a professional yourself.
You can choose between a 6, 12, or 24-pack. No matter how many you need, you can be able to use these whenever you need to detail one or multiple vehicles. The good news is that these won't leave any scratches or swirl marks making your vehicle look absolutely immaculate.
Frequently Asked Questions
Before we wrap this up, let's answer some of the frequently asked questions we get about Graphene Burst Coat:
How many cars will one bottle cover?
One bottle will last four applications on a regular-sized car. So if you want to use the entire bottle, it will be enough for at least four vehicles.
Does it work only on cars?
It can work on trucks as well. It may require a bit more depending on the size. But you can be sure that your truck will look just as shiny compared to the day you bought it.
Can it hurt the paint on my vehicle?
No. Graphene Burst Coat will not hurt the paint of your vehicle. It would actually help the paint get protected from scratches, contaminants, and so much more. No harm is done no matter how many times you apply this to your vehicle.
Can I save money on Graphene Burst?
Yes. In fact, it's more affordable than our competitor's products. Even better, it gives you the best quality without making it cheap, flimsy, or useless. 
What if it doesn't work?
We stand by our product 100 percent. If you see that it won't work, just send back the product to us and we'll give you a full refund.   
Summary: Good product but consider graphene!
If you're looking for a quick product that's pretty inexpensive and will shine up your ride, Hybrid Solutions Ceramic Wax is a cool product to experiment with. However, we see graphene-based products taking the market by storm and offering stronger protection than most ceramic-based coatings. So, if you want to invest in a strong, long-lasting, gorgeous coating for your ride give Graphene Burst a try! (Discount inside)
Related Car Detailing Articles:
Published on

Nov 11, 2023