Produxa vs F11 vs Torque Detail: Who Wins?
It's a dangerous world out there for any car. One of the many disasters that could strike is none other than water damage. Or even worse, the sun's harmful UV rays could be slowly turning your vibrant paint correction into a faded, cracked mess. How can you protect your car against nature, the strongest force on the planet?
Relax! Taking care of your car's exterior (and interior) has never been easier. And you don't even need to book an appointment at your nearest body shop or fork out thousands for professional car detailing/car washes and fancy, aka expensive protectant sprays. There are simple ways to maintain your car's exterior and protect it from any further damage. There is a different type of joy in personally adding a long lasting protection and polishing your car. Taking the time to maintain your car solidifies the bond between you and your vehicle – and for many people, that bond is strong. Suddenly your car care isn't just about a car but a member of your family, and you'd do anything for your pride and joy.
Maintaining your car's exterior does not have to be Mission Impossible, nor does it have to cost an arm and a leg. In this article, you will find all the nitty-gritty when it comes to ceramic coatings. Join us in comparing Produxa, F11, and Torque Detail to see which product is worth your time.
DIY CERAMIC COATING - 1yr of Protection
The Best Spray-On Ceramic Coating. Period.
★★★★★ "My car is slick as glass!! I put the Ceramic Spray on my Corvette Stingray and it is very slick and shiny. I should have purchased it sooner. It is a great product. It made my wheels look new. Keeps off dirt and dust." - Charlie F.
15% Off Deal
Produxa vs F11 vs Torque Detail: The Low Down
All three products make bold claims about being the best, but anyone can say anything in today's day and age. So how do we trust their claims, and how do we know for sure who makes the best sealant or shining agent.
The answer to that question lies in your needs as a car owner and your particular lifestyle. What do you need the product to do? What are the restrictions in your budget or schedule? For example, do you lead a hectic life and would rather spend your downtime with family and friends? How often would you be willing to repeat this process?
The TopCoat F11 claims to offer an effortless application and can be used on many different surfaces as an 'All-in-one' product. However, in reality, many factors have to be just right for F11 to work optimally, such as the weather and temperature. Besides, is it worth using something that isn't specially formulated for your car paint?
Another essential thing to note is the longevity of each product. For example, Produxa requires reapplication after every three months. But if you happen to drive your car every day, the company recommends applying a fresh coat of product every month. On the other hand, Torque Detail's Ceramic Spray provides protection from the harsh elements for up to a full year.
#1 - Torque Detail Ceramic Spray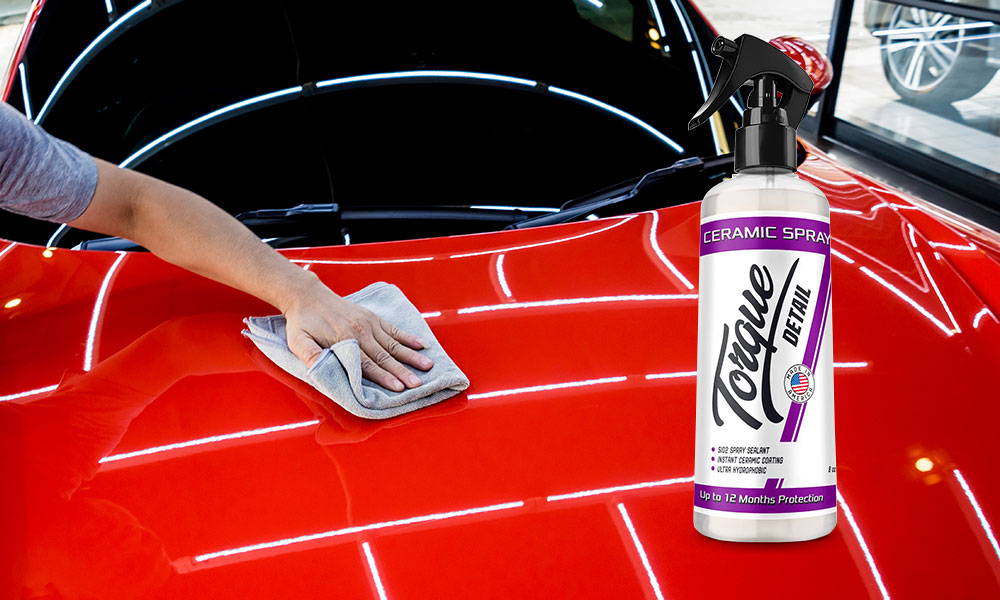 Out of the three products we're talking about today, the most unique product would have to be Torque Detail's Ceramic Spray. You may be wondering what's all the fuss with this product. A ceramic Spray can't be that different from a ceramic coating, right?
Torque Detail's Ceramic Spray offers all the benefits of a traditional ceramic coating without having to go through a long, arduous process. Traditional ceramic coatings can also be costly, requiring multiple coats or professional help. Sometimes we can't help but wonder if the secret behind Torque Detail's amazing products is a sprinkle of magic dust.
Torque Detail meticulously crafted their spray-on Ceramic Spray formula. The Ceramic Spray is made up of Silicon Dioxide particles and a premium quality resin. This ensures that your car's surface is sealed with durability and a gorgeous glass finish. The glass finish provides a premium shine by bonding to your car's clear coat. The Silicon Dioxide-based glass finish truly sets Torque Detail apart and prevents the product from being washed away in a hurry. The 7H Hardness means that this product is highly hydrophobic, and water will simply run off the surface with ease.
Spray-on technology means that the entire process takes just minutes! If you take a few minutes to use Torque Detail's Ceramic Spray after a wash, it'll become part of your routine, and you'll barely remember even spending any time polishing your car.
Can you imagine that all you have to put in is a few minutes of light work, and you can reap the rewards of a beautifully polished, shiny exterior for up to an entire year? Torque Detail's Ceramic Spray offers 365 days of premium protection.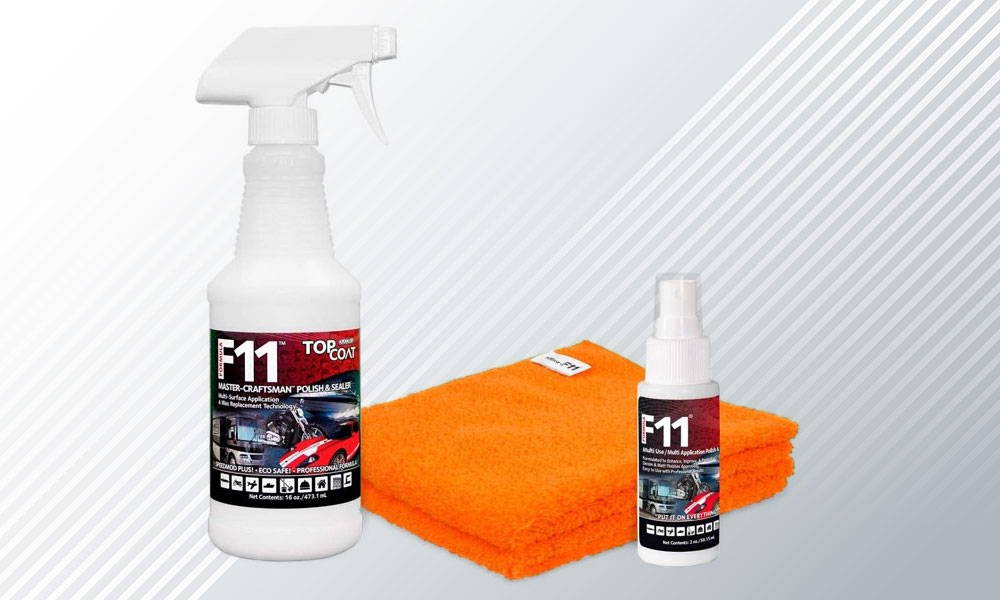 The TopCoat F11 prides itself on being quick and easy to use. They claim that their easy one-step application process is faster than traditional car wax and provides all-round protection. In addition, topCoat F11 promises a water-resistant polished exterior, with vibrant paint colors and an overall shiny appearance.
This product markets itself to be more of a general top coat and sealant, not the last coat, rather than a dedicated ceramic coating or shine.TopCoat F11 can be used on all your car's exterior surfaces, supposedly eliminating the need for other products. In fact, TopCoat F11 can even be used on glass windows and your windshield. The clear formula will make sure that you don't have any waxy residue left behind.
If you actually want to have a shiny and protected exterior, TopCoat has a list of recommendations to follow. Firstly your vehicle must be thoroughly cleaned, all dirt, debris, grime / road grime and bird droppings must be washed off, and your exterior dried. Next, you must take note of the temperature. TopCoat F11 is best applied at ambient temperatures, so it shouldn't be too hot or too cold outside. And finally, you have to apply TopCoat F11 under the shade of a tree or garage and never in direct sunlight.
You should begin by spraying the surface with F11 and buffing it in with a microfiber towel. Unfortunately, you will have to go through multiple towels to polish and buff the product in entirely. TopCoat F11 is applied in light layers and small sections. This may become time-consuming and prove to be tedious for many people who simply do not have the time. Is it really worth skipping potentially exorbitant professional auto detailing fees if you have to spend all day buffing your car by hand? That's up to you.
#3 - Produxa Super Gloss Ultra Hydrophobic Shine Spray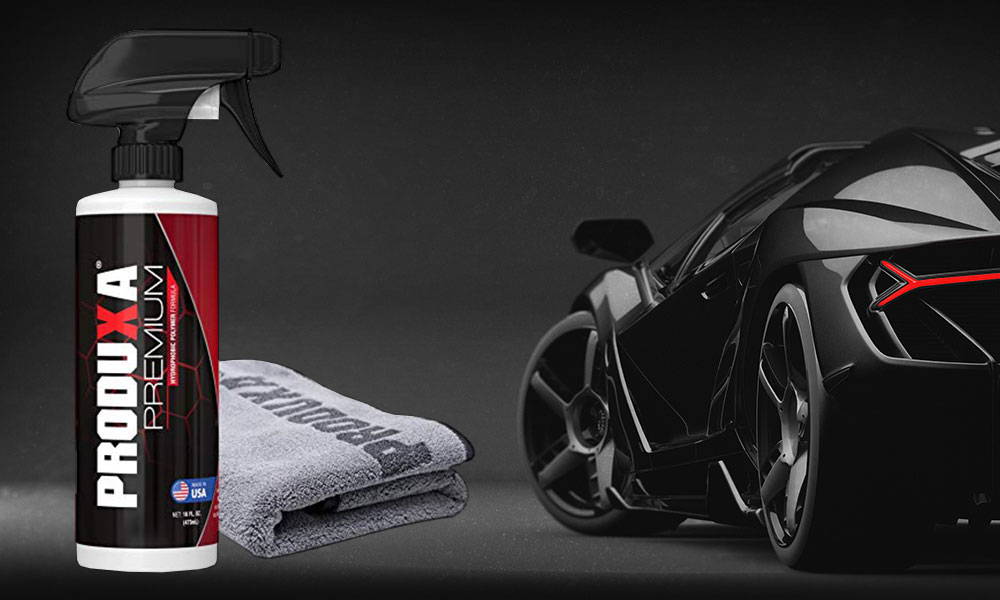 The Produxa Super Gloss Ultra Hydrophobic Shine Spray is quite a mouthful. If you're looking for a reason to skip going down to the body shop for a waterless wax and shine, this product is right for you. Produxa's Shine Spray can brighten up a dull paint finish or remove watermarks / swirl marks. But can it really rival spending money on a professional detailer?
The polymer-based sealant claims to use nanotechnology and a hydrophobic formula to protect your vehicle from weather damage. So come rain, snow, hail, or sunshine; Produxa says they can protect you from it all. Produxa even goes as far as to claim that their Shine Spray can repair weather-related damage and restore your exterior paint job.
Produxa claims to achieve that desired high gloss shine in mere minutes. This effect will last for a maximum of three months, but you will likely need to reapply the product monthly or even every few weeks. It is even suggested by some consumers that you should apply multiple coats in a 24-hour window. This will provide a maximum protective coating and bring out the vibrant colors in your paint. Don't worry about streaking or clumping; Produxa guarantees their customers a streak-free, residue-free vehicle.
Summary: Produxa vs F11 vs Torque Detail
DIY CERAMIC COATING - 1yr of Protection
The Best Spray-On Ceramic Coating. Period.
★★★★★ "My car is slick as glass!! I put the Ceramic Spray on my Corvette Stingray and it is very slick and shiny. I should have purchased it sooner. It is a great product. It made my wheels look new. Keeps off dirt and dust." - Charlie F.
15% Off Deal
Torque Detail's Ceramic Spray has a uniquely formulated spray that cuts down the time and effort needed in a home car polish. The gorgeous glass finish is guaranteed to knock your socks off. It's so shiny you may as well use your car as a mirror in the morning.
The Produxa Super Gloss Ultra Hydrophobic Shine Spray is a strong contender in today's contest. However, its most significant downside is that it requires multiple coats and must be reapplied every few weeks. A product that has to be continuously reapplied may also prove to be more expensive in the long run.
The most important factors to consider when picking out a brand new ceramic coating or ceramic shining agent are: longevity, quality, and ease of application. For example, torque Detail's Ceramic Spray can last for up to a year, provides a premium shine with its Silicon Dioxide base, and can be applied in a matter of minutes.
The choice is clear to us. Who's your winner?
Related Car Detailing Articles:
Published on

May 31, 2022