Top Coat F11 vs. Chemical Guys vs. Torque Detail
F11 Top Coat Vs. Chemical Guys Vs. Torque Detail: Which Is The Best Product?
Most people, especially casual auto owners, don't really pay much attention to the brand of the products they're using. On some level, this is reasonable, since many labels promise similar effects when you purchase their lineup. Sometimes, it's not even clear what exactly makes one better than the other, so we tend to just buy the first thing that we see on the shelf and hope we strike gold.
When you think about it, however, closing your eyes and circling your finger in the air probably isn't the best use of your God-given decision-making abilities.
There are stark distinctions in the formulation and processing that detailers employ when creating their waxes and coatings, and these minor differences may be just what your car needs in order to get that extra edge. Over time, the small variations also compound, making it absolutely essential for you to pick the perfect fit before you spend years committing to a particular company.
Top Coat F11 vs. Chemical Guys vs. Torque Detail: Torque Detail Is The Winner.
The #1 Spray-On Ceramic Coating
Up to one year of protection, glass-like shine, and the easiest application on the market. "I didn't want to apply a full-on ceramic coating to my car (and didn't want to pay a pro to do it), so I thought I'd try this spray-on solution. All I can say is Holy Smokes! It reflects like glass and repels water like it's a job! So far I love it." - Ramsey H.
BUY NOW
F11 Top Coat vs. Ceramic Coating

F11 Top Coat is not a ceramic coating spray. It offers very similar selling points though and that's why it's often compared against the two other products.
In this particular article, we'll be comparing TopCoat, Chemical Guys, and Torque Detail on what they have to offer with regard to ceramic coating.
For those who have never heard of this term, a ceramic coating is a procedure wherein you apply a particular chemical or formula on your car's paint that will not only protect it from harmful elements, but also give it a permanent, candy-like gloss to really bring out the aesthetic appeal.
A ceramic coating is different from a regular car wax in that the wax only stays on top of the exterior, and can be easily rubbed off by mechanical forces or washed away by heavy rain. Conversely, a ceramic coating moreso fuses with the paint, sealing its microscopic defects and forming a tight seal that cannot be removed by everyday wear and tear.
How Hard Is It To Apply Top Coat, Chemical Guys, and Torque Detail products? Do You Need a Pro?

Most ceramic coatings are done by professionals, but the only problem is that this procedure costs thousands of dollars—an amount the average car owner will be hesitant to spend.
Filling in this gap in the market is what TopCoat, Chemical Guys, and Torque Detail have done, creating their own brands of DIY ceramic coating (and detailing products) that does not require the help of an auto shop and can be performed in your own garage for a fraction of the time and cost.
They are not as strong as professional grade coatings but the technology has come a long way and you're still able to get DIY coatings that can make it through a whole year.
This article is meant to examine these three specific companies and the flagship ceramic coating products they offer.
First, there's F11 TopCoat Polish and Sealer, a spray-on polish and sealant by TopCoat. Then there's HydroSlick Intense Gloss SIO2 Ceramic Coating Hyperwax, a ceramic coating in wax form sold by Chemical Guys. Finally, we'll consider Ceramic Shine, Torque Detail's own heavyweight contender for the belt.
We've intentionally chose to talk about our product last. If you've noticed what website you're on, obviously we are going to greatly prefer our Ceramic Shine product over competition. It's our baby after all! We've spent so long tweaking our formulas, seeking customer feedback, and improving. We'll try our very best to fairly compare each product and describe our perspective of why Torque Detail Ceramic Shine has a clear edge.
So, without further ado, let's get ready to rumble!
Rank #3: F11 Top Coat: What Do The Reviews Say?

What's Good About It? The Pros:
In addition to providing the typical shine and protection benefits of a sealant, it is also a polish which can help bring out a little more shine on more abused paint surfaces.

Works great on many surfaces.

The polish aspect of it makes this a multi-purpose detailing tool.

Eco-friendly, water based ingredients.
What's Bad About It? The Cons:
The protection only lasts 3-6 months.

Higher entry price than the other products.

You have to use more a significant amount of the bottle per vehicle.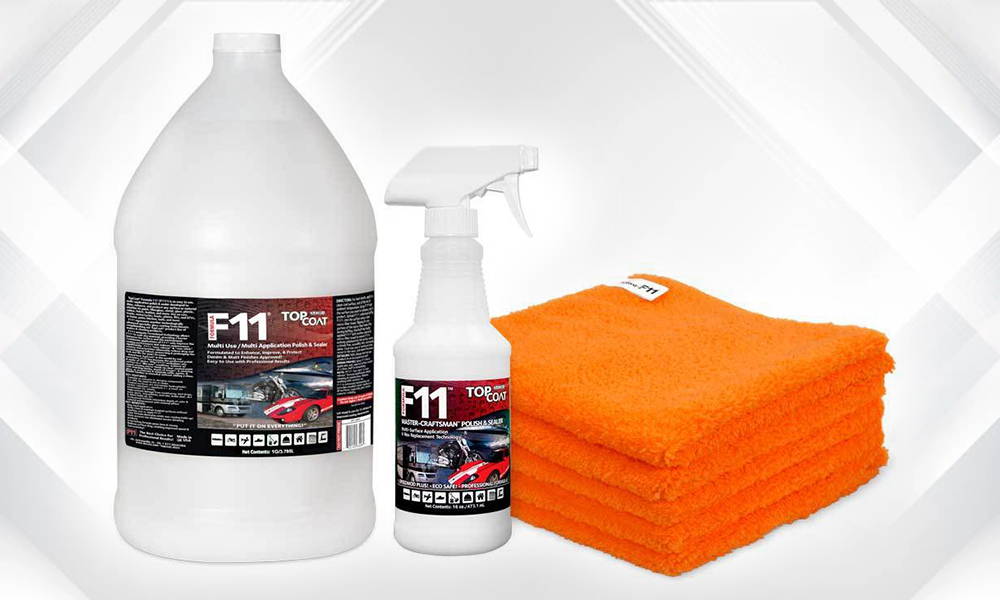 TopCoat is an American company that prides itself on being locally made instead of importing all their materials and labor from overseas. They prioritize ease of use so that every car owner can do the detailing themselves, and their website also claims that they are "more effective than anything else on the market"...although *cough *cough we'll see about that.
Overall, they have a reasonable repertoire of items that can make your car look like it just came out of the showroom. Unlike Chemical Guys (which we'll discuss in a later section) that sell a gazillion items with seemingly trivial differences, TopCoat only has a few fundamental products that cover all the bases, giving you a more relaxed collection of options without making you feel overwhelmed. This is similar to the Torque Detail approach where we only have one line of core products that we're constantly improving.
Top Coat's main offering, and the one most people will be interested in, is called the F11 Polish and Sealer. This is sold in various quantities, but they usually bundle it in a discounted kit that contains a 16-ounce bottle, two microfiber towels, and a smaller 2-ounce "travel size" flask.
The basics: The formula contained inside F11 works by plugging in the microscopic holes in your vehicle's paint surface while simultaneously giving it an attractive sheen (hence the name "polish and sealer").
One of TopCoat's selling points on their product page is being "eco friendly" by being water based instead of chemical based. This isn't as unique as you may think. Torque Detail's Ceramic Shine is water based as well. Chemical Guy's solution may or may not be water based but does have certain controversial ingredients we will discuss later.
If you're really concerned about environmentalism when washing your vehicle, a great product to go with is Turbo Waterless Detailer. Not only is it an eco-friendly water based product, but it also allows you to wash your vehicle without any water. If you'd like, you can use it as a tool to cut back on your water usage.
Unfortunately, TopCoat does not have a waterless car wash product in their lineup. The closest they have to offer is something called Polywash, which is a concentrated juice that you pour into a bucket of water. You will then use that mixture together with a sponge to manually wipe your car of any dirt or debris.
Because the F11 formula is relatively mild and gentle, it can be applied on practically any surface—one of the best benefits of F11 TopCoat is its diversity of function. You can spray this on glass, metal, rubber, plastic, chrome, and many other materials. It also does wonders on other vehicles such as boats, planes, RVs, motorcycles, and even the inside of your house. Versatility is definitely a key point, benefiting those who not only own a car but a bunch of other materials that need polishing and sealing as well.
Working like a regular ceramic coating, F11 TopCoat provides a protective layer to your vehicle, shielding it from harmful elements, UV rays, dirt, and bug guts. Its hydrophobic properties mean that rain will bead and slide right off the surface, ensuring your car doesn't get affected by water marks and other caustic minerals that can degrade the paint job.
Of course, Chemical Guys and Torque Detail both offer these advantages as well, but it's good to mention that TopCoat has its bases covered and will provide you with the gloss and defense that your car needs with its admirable F11 product.
The nitty-gritty: Applying the formula is simple enough. Just spray the liquid onto the surface, buff it with a microfiber towel, buff it a second time with another microfiber towel to make sure the formula has been completely absorbed, and then move on to the next section of your car.
For best results, however, you need to guarantee that your car is completely clear of any dust and mud. Otherwise, the formula will have a difficult time doing what it does best.
Overall, F11 TopCoat is a pretty solid car detailer, but it's not without its flaws. Here are some of the major problems you'll encounter:
What's lacking? The disadvantages of F11 TopCoat are quite annoying, especially to car owners with little time and cash to spare. For one thing, the kit costs $59.97, which is a higher entry fee than what Chemical Guys and Torque Detail are charging. To make matters worse, the initial coating requires a large amount of formula, or approximately 1/3 of the entire bottle. This means that F11 TopCoat Polish and Sealer is not only more expensive than its competitors, but also runs out faster!
Another major headache is that the effects of F11 TopCoat don't last more than three to six months—a significantly shorter period when compared to the standard one year that Chemical Guys and Torque Detail promise.
Having a mild formula has severe drawbacks in that it has decreased longevity, which means you have to re-apply F11 Top Coat at least four times a year (or every two to four weeks according to their website) if you want the best results.
The loss in time, money, and effort is something to seriously consider for those wanting to purchase this product. TopCoat must have heard the complaints, because they came up with something called Spritz, which is basically a lightweight version of F11 that can be used quickly whenever you need a touchup.
This, however, is more akin to a Band-Aid than a cure—it would be more convenient to just perform a regular cleaning that lasts longer rather than quick cleanings that fade in less than a month.
Obviously, this is going to be a huge hassle for customers who want not only the benefits of a ceramic coating but also the convenience of being able to "set and forget".
Unfortunately, with F11 Top Coat, you'll be doing a lot of setting but not a lot of forgetting.
Let's check
Rank #2: Chemical Guys: What Do The Reviews Say?
What's Good About It? The Pros:
Gorgeous shine, especially on black cars.
What's Bad About It? The Cons:
Whether this coating lasts you a full year is questionable. Chemical Guys products don't always last that long.

More labor intensive to apply than Torque Detail Ceramic Shine and F11 Top Coat.

Very likely need a machine buffer to get the most mileage out of this coating. Some users reported it hard to buff out.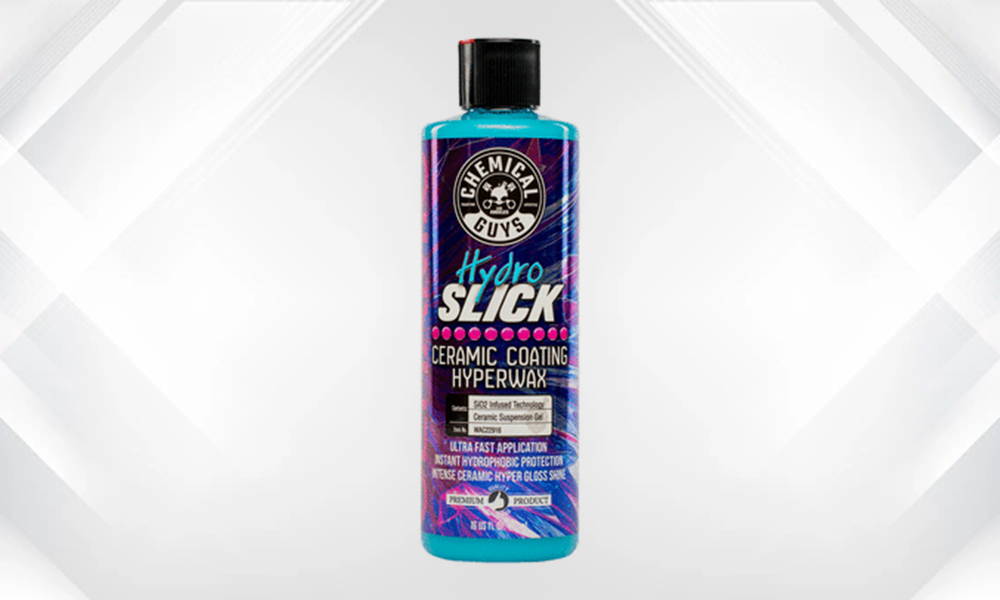 As the company name suggests, Chemical Guys specializes in formulating a wide variety of concoctions that cater to the auto detailing enthusiast. Their staff is based in California, and their entire lineup is locally manufactured in the States. Chemical Guys markets themselves with a hip and trendy image, in contrast to the business-like TopCoat, but does their modern persona translate into better products?
This is where it gets a little more complicated.
One of the problems of Chemical Guys is their massive array of items for sale. Unlike TopCoat and Torque Detail, whose ceramic coatings are centered on one or two offerings, Chemical Guys gives you a plethora of brands, all with dramatic labels that are really unhelpful and don't give any clear idea of what the contents actually are.
Torque Detail is more akin to the 'Apple' way of releasing products. Instead of releasing dozens, if not hundreds, of similar products that do more or less the same thing, we focus on a core lineup of quality products and constantly improve them. We've found this results in happier, very loyal customers in the long term.
For example, it's extremely hard to explain what exactly "Slick Finish Cleaner Wax Light Paint Cleanser & Brilliant Shine Carnauba Wax" is and how it's different from "Hybrid V07 Optical Select High Gloss Liquid Wax," not to mention "Butter Wet Wax Warm and Deep Carnauba Shine." You get the point.
Frankly, that last one sounded less like a car detailer and more like...well…never mind.
Too much of a good thing is bad, and analysis paralysis is going to be a factor, especially for people who don't want to select ceramic coatings like they would when selecting which university to attend.
Chemical Guys sells everything from exterior waxes and shines to interior cleaners, accessories, and even miscellaneous items like masks and hand sanitizers. If you're someone who thinks fewer means better, you'll have a difficult time figuring out which Chemical Guys product you should buy.
Thankfully, we've narrowed it down to one we'll focus on: "Hydroslick Intense Gloss SIO2 Ceramic Coating Hyperwax." I don't have access to their analytics, but all signs seem to point at this being their top-selling ceramic coating product.
That is quite a mouthful, but basically, all you need to know is that it's a ceramic coating based on silicon dioxide that gives your car a glossy shine and protection. The other labels like "hydroslick", "intense gloss", and "hyperwax" are quite frankly more marketing hype than real science.
That being said, it doesn't mean this product doesn't deliver on what it promises.
The basics: The Hydroslick formula comes in a 16-ounce bottle at the price of $39.99. Unlike other ceramic shines, this one isn't a liquid that you spray on the car, but rather a semi-solid gel that you squeeze onto an applicator pad. Chemical Guys recommend 4 to 5 dots of Hydroslick per panel. It's not clear how long the bottle will last, but since the contents are in a concentrated form, it's safe to assume you'll be getting more mileage out of this than you will with the F11 TopCoat, even though they're packaged in the same container size.
The nitty-gritty: Hydroslick requires that you first thoroughly wash your vehicle with water. There should also be no contaminants like dirt or debris prior to application. Not only that, but the car's surfaces must be clayed and machine polished to remove all forms of scratches and imperfections if you want the best results. Only then can you apply the product, working on one panel at a time and then leaving the material to dry for 1-2 minutes between each. Once the waiting period is over, buff the surface with a microfiber towel and you're done!
Chemical Guys claims the coating lasts up to a year, however people on the internet have been very mixed. Some say you'd be lucky to get it to the 6 month mark.
Chemical Guys is constantly trying to come up with creative new solutions for car maintenance and aesthetics. Hydroslick provides the user with a glass-like finish, hydrophobic properties, UV protection, and added depth to the car's natural paint color.
These results can last up to a year, which is significantly longer than what F11 TopCoat can offer.
What's lacking?
In addition to what's already mentioned above, Chemical Guys also recommends buying another item that they sell called "Hydrocharge High-Gloss Hydrophobic SIO2 Ceramic Spray Coating", this to layer on top of the Hydroslick in order to make the shine "pop out" more.  
If that isn't enough, they also have several other detailers that are, quite frankly, a little confusing to follow, since they all have the same gimmicky labels. This begs the question: how many of these products do you have to mix and match in order to get your desired outcome?
More to the point, how much will the entire thing cost?
At this point, it's going to be a chore just figuring out what to buy.
Another problem is that Chemical Guys utilizes certain controversial ingredients in creating their formulas. Use these products at your own discretion. The official website itself has a warning symbol that states their use of ethylbenzene, cumene, naphthalene, benzene, and toluene, which are known to cause cancer and birth defects.
Stripped down to its basics, they offer a fairly reliable DIY ceramic coating, but its application is quite intensive and will definitely take more than F11 or Torque Detail Ceramic Shine. Not to mention that the car will have to sit for at least 3 hours afterward in order to allow the formula to work its magic.
Overall, the product produces a beautiful shine but this product is also a lot more labor intensive to apply and how long the coating will last is questionable.
And so, we're down to the last contestant.
Rank #1: Torque Detail - The BEST Top Coat F11 Alternative

What's Good About It? The Pros:
Easiest to apply spray-on ceramic coating on the market.

Lasts up to one year.

Does not require any machines to apply.

Can extend the life of the coating using

Turbo Waterless Detailer

.

The bottle can last a long time. You only need a little.

Eco-friendly, water based ingredients
What's Bad About It? The Cons:
More expensive per ounce, but to be fair a tiny spray of this product goes a long way.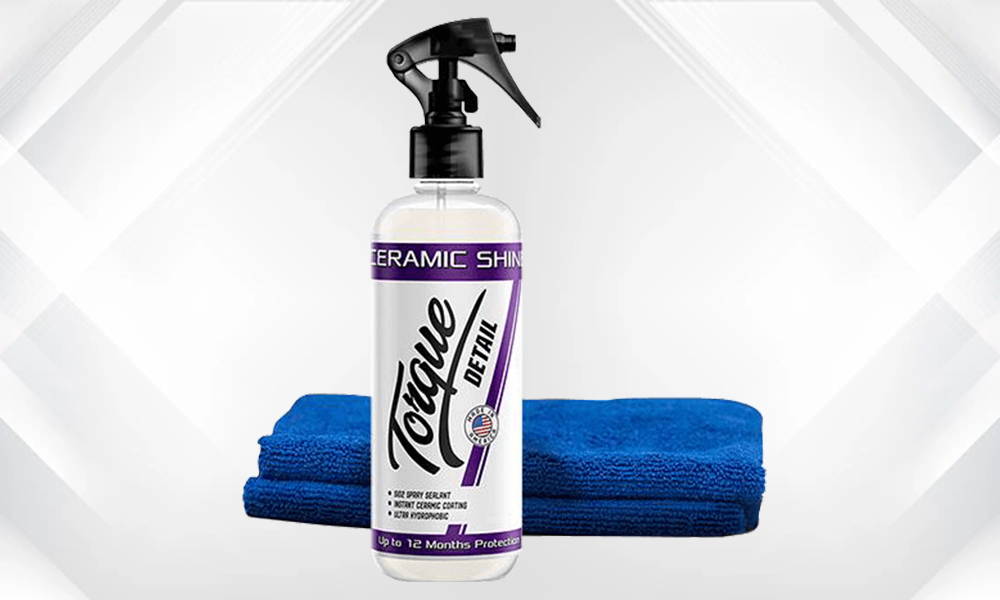 Our final contender on the list is yours truly, Torque Detail, a family business in Tampa, Florida started in 2012 by Frank Mitchell, who's a car enthusiast and former professional detailer. It has steadily grown since then and has a passionate fan base.
Using his experience and knowledge gained in the industry, Frank and his team entered the DIY ceramic coating space with Ceramic Shine—a trademarked formula that allows you to keep your car glossy and well-protected for up to one year.
Having already discussed the offerings of the competitors, here are the main reasons why this bad boy beats them hands down:
The basics: Ceramic Shine is a spray-on detailer that comes in an 8-ounce bottle and is packaged with a free microfiber pad for $39.95 (with a 15% discount if you're a new buyer. How about that?). It contains specially formulated particles of silicon dioxide suspended in resin—a recipe that took three years to develop and perfect. Learn more about how ceramic coatings work in our Is Ceramic Coating Good For Your Car article.
Although the size of the container is half of that offered by TopCoat and Chemical Guys, the content is highly concentrated and only requires a tiny amount to achieve its effects. In fact, our motto is "less is more" when it comes to applying Torque Detail's Ceramic Shine, and an entire panel can be covered with only a couple of sprays. Despite its smaller size, this bottle lasts the longest among the three.  
Once applied properly, the liquid bonds to the car's paint, giving you all the benefits of a traditional ceramic coating typically done inside an automobile body shop without breaking the bank.
The nitty-gritty: Applying Ceramic Shine is as easy as the other two products mentioned above, with the added benefit of requiring less effort. Simply spray a small amount of Ceramic Shine onto the car's surface, work it in with a clean microfiber towel, and then buff it off. That's it. The formula penetrates and creates a second-skin "coating" that not only brings out the natural color of the car but also gives it defense against the elements.
For best results, it's always a good idea to first clean out any dust or debris before applying the Ceramic Shine, since a dirty car can interfere with the bonding properties of the resin. If you don't want to use the garden hose and waste water, be sure to buy our waterless car wash instead!
Where we outshine the competition:
Entry Price: As mentioned in the previous sections, the main problem with F11 TopCoat is that it's a little more expensive to start and requires a liberal amount of fluid to achieve its results. Torque Detail outshines the competition by having a $20 cheaper starting price and utilizing a concentrated formula that stretches out the lifespan of each bottle, allowing you multiple uses before needing to buy a replacement.
It's still the most expensive product per ounce, but considering you only have to use a tiny amount to get good results, it starts to make sense.
Furthermore, purchasing Ceramic Shine in bulk or in a larger container is heavily discounted, allowing you to save more money if you happen to detail a lot of vehicles or run a shop.

Simplicity: When it comes to Chemical Guys, you're inundated by a barrage of sweet-sounding names that are frankly quite overwhelming for the average car owner. Just to list a few, they offer HydroSlick Intense Gloss, HydroCharge High-Gloss, HydroSuds High-Gloss, Carbon Flex C9, and Carbon Flex Vitalize. All of these products are shortened versions of their original names and fall into the general category of "Ceramic Coating."
Would you rather buy ALL of these items after spending a huge amount of time researching what exactly it is that they do, or would you rather have just ONE product that acts as a multi-purpose sealant and polisher?
You can with Torque Detail's Ceramic Shine.
Cut out the fluff and stick to the basics.
Longevity: Torque Detail's Ceramic Shine lasts up to a year upon application, making it extremely resilient to UV rays, bug splatters, harmful chemicals, and bad weather. This is on par with the longevity that Chemical Guys flaunts, and significantly longer than the three-month period expected with F11 TopCoat.
Endurance is important, because this means you don't have to keep reapplying the formula every couple of weeks. Obviously, the amount of abuse your car encounters on the road will be a major factor, but assuming the conditions are relatively consistent, Torque Detail's Ceramic Shine only needs one pass to set you up for a beautiful ride from January to December.
Toxicity: The ingredients used in many of the products sold by Chemical Guys can be considered controversial. Torque Details's are more eco-friendly.
Both F11 TopCoat and Torque Detail are quite health-friendly by comparison, avoiding anything that might potentially cause long-term damage to your body. This is especially important if you're someone who has animals or children around. Pregnant women are the most susceptible to this danger, since frequent inhalation or contact with these items can cause birth defects.
Application: The three products use a fairly similar application process, but the difference is the pre-cleaning that's needed. Chemical Guys requires the most prep out of all the competition, demanding not only a thorough car wash but also claying and machine polishing, while TopCoat necessitates the least, especially when you're using their Spritz brand that can be applied anytime and anywhere.
Torque Detail strikes a fine balance between the two extremes. As long as the car is wiped down so that there aren't any contaminants obstructing the surface, you can start the spraying and buffing. We stand by our claim that anyone can do ceramic coating in their own homes, and we've centered our design principles to make this a reality instead of just another unfounded theory.
Effects: We know it's hard to proclaim something as the best, and we'd be lying if we said that Ceramic Shine is the only product out there that can give you all the advantages of a professional ceramic coating. Quite honestly, TopCoat and Chemical Guys are great companies, and they have a loyal customer base and solid history to prove it.
Where Torque Detail differs is not so much in the dedication but the results. We've listened to the most common complaints and needs of DIY auto detailers and examined what's lacking in both F11 and HydroSlick in order to provide you with the top ceramic coating product on the market that fills in the gaps.
Everything you need is found in Ceramic Shine—the gloss, the protection, the hydrophobic properties, and the longevity—all for the price of two haircuts. It's maximum quality at minimum cost, and given enough time, we hope this will become a permanent fixture in your car detailing arsenal.
Summary: The Best Detailing Spray
To conclude this article, it might be worth remembering that your automobile isn't the most important thing in the world. You may be the greatest car collector who's ever sat behind a steering wheel, but at the end of the day, anyone will recognize that the engineering marvel in your garage isn't something that should take center stage in your life.
Having said that, the car holds a special place in our hearts. They drive us to work, take our kids to school, and bring the whole family out to dinner during warm Saturday nights. Not only that, but this little four-wheeled contraption has literally saved lives all around the world, being there to carry patients to the hospital and cut transportation time during emergency situations.
Heck, even if instant teleportation was invented in the year 5000, we'd still bring out our cars once in a while to feel the rev of the engine and smell the unmistakable aroma of leather. It's a symbol of American pride and independence, which is a big reason why authoritarian regimes around the world hardly allow their teenagers (or anyone else for that matter) to take a joy ride in the streets with the top down.
So treat your car with the respect it deserves. A nice glossy coat and a resilient protective shield from Torque Detail's Ceramic Shine may not sound like much, but when you see what a difference it makes, it really shows everyone around you that you care for your vehicle. It is absolutely the best Top Coat F11 alternative.

Are you ready to be a responsible car owner?
You should be.
It's about time you gave back some love.
Related Ceramic Coating Articles:
Published on Mar 01, 2021