Turtlewax Ice Reviews & Alternatives - Does This Detailer Deliver?
Turtle Wax may have a longstanding reputation as one of the most recognized brands for car care and auto detailing. But is it really what it's cracked up to be with its 'Turtle Wax Ice' spray? There might be a better liquid wax out there for you.
Let's take a closer look at this car wax review including its features and what it claims what it does for your vehicle.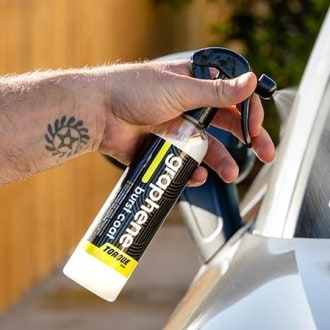 ★★★★★ 
High Rated Reviews from 150+ Customers 
After a simple spray and wipe down using a microfiber towel, your car's paint job will be protected for up to an entire year. Your car's top coat impenetrable to any chemical, liquid, or environmental contaminant there is. In a matter of minutes!
Turtle Wax Ice Review – What Kind of Results Can It Give You?
This is a review of Turtle Wax Ice. It is recommended that you check this out before considering the idea of buying car care products. If you are considering the idea of detailing your vehicle for that showroom-style shine, there are so many options to consider.
But there can only be one. But is that option Turtle Wax Ice? If not, what is the other wax alternative?
Find out by reading the review down below. Let's get started.
Turtle Wax Ice Products: The Features
Turtle Wax Ice has a few different products within its line each with their own unique features. We'll be taking a look at the features of some of the select products and what they're good for.
Turtle Wax Ice Spray (Wax):
Hydrophobic polymers: Designed to resist water beading and contaminants. It claims to be resistant to all kinds of weather, chemicals, and other environmental contaminants that will damage the automotive's exterior.
Can be used as a topper or as is: You can use it as a topper for your current car polish to get a glossy finish or you can use it as your wax applicator (or as-is). Which means that you won't have to worry about affecting your currently existing finish.
Wet shine: Provides you with a kind of shine that will be effective on many colors and exterior surfaces.
Turtle Wax Ice Seal N Shine:
Seals the surface: This can be used as a sealant for your vehicle's exterior surfaces. Claims to give you months of weather and UV protection even after you wash your entire car multiple times.
Carnauba Wax: This contains carnauba wax, which is said to provide a shine for your vehicle that can last a long time.
Hydrophobic properties: This has hydrophobic properties claiming that it will prevent any kind of water spots or even dull the shine that it leaves.
Turtle Wax Ice Hybrid Solutions Ceramic Spray Coating:
SiO2 Polymers: Designed to repel water and resistant to UV rays and chemicals for up to 12 months.
Mirror-like shine: If you are looking for your car's paint to shine closest to a mirror, this Turtle Wax product claims to give that.
Sunlight safe: This claims that you can use it in direct sunlight. With the ease of application, you can use it on other parts of your vehicle's exterior surfaces as well. However, they do not recommend that you use this on soft convertible types.
Where does Turtle Wax Ice Fall Short?
Now that we have covered the features for each of the Turtle Wax products we've reviewed, it's time to point out all the issues with it. These are critical flaws that we believe can be mitigated (and we'll show you how in a moment). With that said, let's go through every product and discuss each of the flaws we've discovered:
Turtle Wax Ice Spray (Wax):
Difficult to apply: Some users have said that the Turtle wax ice spray wax was difficult to apply and even wipe off clean. More specifically, one of the problems was that it would cause streaking and leave stains and swirl marks behind. This makes it not so aesthetically pleasing aspect of this spray detailer. This was one of the biggest issues with vehicles with darker colors of paint, especially for waxing black cars.
Not a lot of wax: Even many loyal Turtle Wax product users were disappointed with the lack of wax included in this spray. Some even said it would be used for cleaning plastics in their interior instead of their exterior.
Shine doesn't last a long time: The "lasting shine" doesn't last as long as it's advertised. This brings into question how long it actually takes before a new application is added. Some users say it would be great for a quick touchup and a deep lasting shine. However, they did say that using Ice paste for the purpose of durability would help. Again, that might be too much work.
Spray trigger jams: This has been reported by many users. The trigger tends to disable itself or jam completely. Of course, this has to be one of the most frustrating things you can deal with. Especially if you are dealing with a spray bottle of any kind.
Does not work on glass: This Turtle Wax Ice product claims that it works on glass. However, it doesn't. In fact, when applied to glass, it will be very difficult to clean. It will leave smudges like nobody's business. And that alone will make your windshield look not so good looking. You can use wipers or microfiber cloths all you want. But it doesn't appear to make a bit of a difference.
Operates more like a cleaner than a wax: Even some users reported saying that this product is more of a cleaner rather than a wax. This raises yet another question: does it really have as much wax as advertised? Some of them have even compared it to hand wax (with it providing a better result compared to this Turtle Wax Ice product).
Constant reapplication: Many users have reported dealing with a lot of constant reapplication. They say it's needed after at least a car wash or two. This now makes the claim that it's hydrophobic much more questionable. Is it really hydrophobic or not? So it would appear that this Turtle Wax Ice product doesn't have the staying power it claims to have. Some say the shine actually lasts an average of 2 to 3 weeks.
Lack of overall quality: This product may or may not have been the final straw for even some of the most loyal Turtle Wax users. One even said that he went through dozens of bottles before noticing a stark change in quality. Even to the point that they would no longer buy Turtle Wax (if you happen to be that guy or gal reading this, we've got something better for you). 
 Turtle Wax Ice Seal N Shine:
Doesn't provide protective coating: One of the things Seal N Shine claims to do is protect your vehicle. Unfortunately, this isn't the case. Especially against something like bird droppings. In fact, it's light duty at best in terms of its responsibilities as a protective coating.
Doesn't wipe away clearly: Same issue, different Turtle Wax Ice product. It would appear that it will leave streaky stains or white residue behind, especially on vehicles with darker color finishes (including black). This means you will need to do a few more wipe downs before it finally comes off. A time consuming task, if we say so ourselves.
No 'new product or formula'?: According to some of the not so good reviews, users got the old formula for Seal N Shine as opposed to the new, advanced formula it claims to have. Even though they say the product did a decent job, they point out this false advertisement flaw. No bueno, Turtle Wax. No bueno at all.
Doesn't last a long time: As expected, we see that this Turtle Wax Ice product doesn't have the staying power. In fact, most users say that it will wear off after about two weeks. This means…you got it, constant application. So you'd be spending quite a bit of time doing it over and over again. Time consuming as well as costly. If that isn't something that won't get you to switch products, what will?     
Turtle Wax Hybrid Solutions Ceramic Spray Coating:
Leaves streaks: Need we say more? This is perhaps the most common and fatal flaw for darker colored vehicles. If you have a vehicle like that, it's obvious that at this point, you should skip to what we are suggesting later on in this review.
Lasts after a few washes: This will depend on how many coats you've applied. A single coat will have a lifespan of about three car washes (or at least four if you double it up). So much for the year long protection it claims to have. You want something that will really give you that? We've got something for you.
Repeated applications: Again, you'll be dealing with repeated applications over and over again. At best, you can expect to apply this at least 6 times throughout the entire year. That's once every two months. You don't want to spend time doing that, do you? Of course not. You want something that you can apply and forget for the entire year.
 A not so great shine after buffing: Believe it or not, the shine on this isn't as ideal as people expect. Even after buffing, users noticed that the shine was a bit dull. That's not a good sign. Even if it did, you can expect it to not last a long time.
Leaves greasy smudges and smears: After wiping it down, it will leave smudges and smears. That's never a good sign for someone looking for an exterior that is aesthetically pleasing. Some say the smearing happens on one vehicle, but not the other. Regardless, it may also be difficult to buff out in one go. Some say that it leaves a bit of an oily texture. 
Weak hydrophobia: If you want a product to be hydrophobic, then at least make sure it lasts awhile, right? Well, unfortunately it's not the case with this product. In fact, you can expect this product's hydrophobic properties to last no longer than six weeks.
Water may not drain off as much: To add on to the previous issue, some say that the raindrops won't drain as easily as expected. Adding on to the argument that the hydrophobic properties of this product is not as cracked up to be.
May not work like a Ceramic Spray: This product is perhaps Turtle Wax's version of what we've got. However, it may not even act like a Ceramic Spray at all. 
So as you may have noticed, there are some obvious patterns that are considered the most critical flaws. It leaves streaks, smudges, and messes that will be very hard to buff out. Not only that, you may also risk ruining the finish.
Furthermore, it doesn't last as long as it's advertised. At best, any of these Turtle Wax Ice products will last weeks. If you're lucky, it can get you through the next three months.
However, the reality is that its longevity is yet another fatal flaw. You want the shine to last a long time. You want the water to drain easily. 
You want no contaminants, no droppings, or anything that will ruin the exterior of your vehicle. If you are in search of a product that you want for your vehicle, there's only one that we recommend.
Introducing Graphene Burst Coat
Torque Detail's Graphene Burst Coat is the only product you'll need instead of Turtle Wax Ice. That's because it has the features that will blow it out of the water. Not only do we make that promise to protect your vehicle for the long haul, but the ingredients live up to what we say.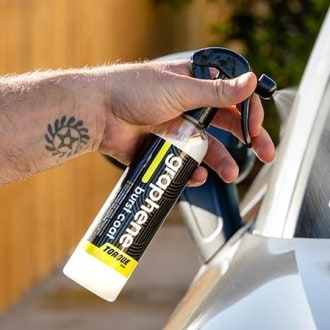 ★★★★★ 
High Rated Reviews from 150+ Customers 
After a simple spray and wipe down using a microfiber towel, your car's paint job will be protected for up to an entire year. Your car's top coat impenetrable to any chemical, liquid, or environmental contaminant there is. In a matter of minutes!
Get this – you don't need to do any detailing experience. Plus, you can apply this and buff it off in as little as 15 or even 20 minutes. No special equipment needed, no professional installation, none of that.
Want to know how it's done? Glad you asked. Let's give you the step-by-step breakdown on how to apply Graphene Burst Coat to your vehicle's exterior:
You'll want to do some prep work before application. It's simple, really. All you need to do is remove any of the dirt, grime, or anything that may hinder the process. All you need is your favorite car shampoo, a bucket of water, and a sponge. That's about it.
Apply Graphene Burst Coat to your vehicle's exterior. This includes your rims, plastic trims, windows, hood, and all over the place. You'll want to make sure you cover every bit of it if you want to shine from end to end.
Using Torque Detail's Microfiber Towels for Professional Detailing, you can buff in the Graphene Burst Coat. By the time you're finished, you'll have that showroom style shine that will stay on for a year. That's right – one year. Don't think for a moment that it won't last less time than that.
And just like that, you've just added a professional shine to your vehicle's exterior in three easy steps. See, we told you that no special equipment or a professional wasn't needed. Even better, you don't need special preparation other than shampoo and water.
Why Choose Our Product Over Turtle Wax Ice?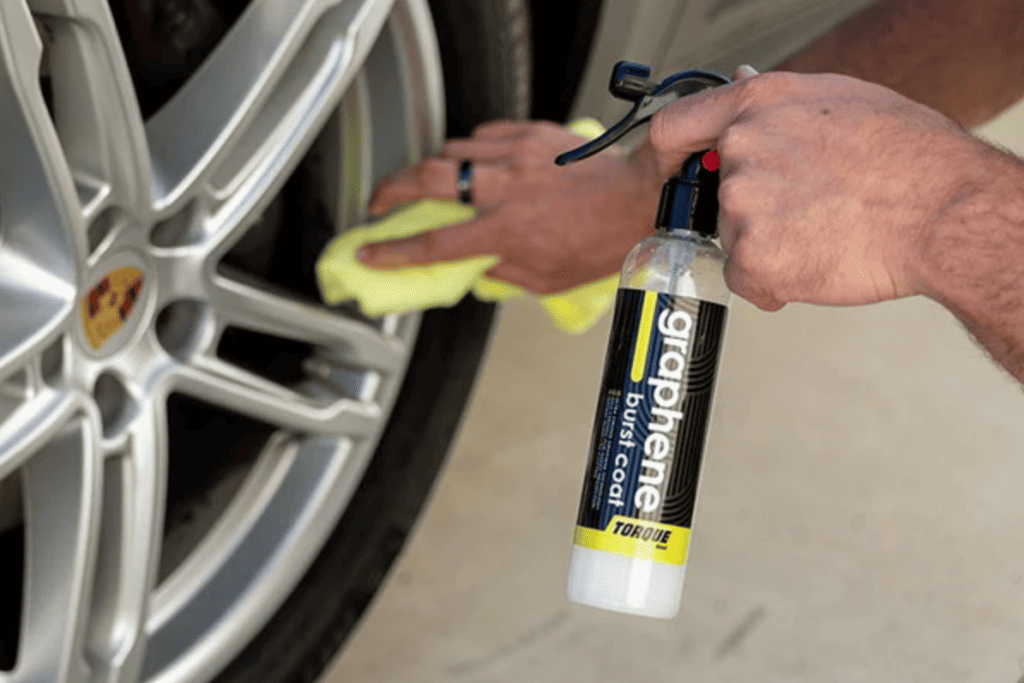 If you have yet to find any other reasons to purchase Graphene Burst Coat, then pay attention to what we have to say about it. Here are some can't miss reasons why you'd be insane to get any other product but this:
It has staying power: When we say that it will last a year, it will last a year. Your shine will last the whole year. It doesn't matter how many times you wash the vehicle. You'll have that showroom shine staying the same. When you pass through, heads will turn. People will ask what your secret is to keeping your car shiny. You might want to spread the word rather than keep it a secret (at least for our sake).
No streaks, smudges, or spots left behind: And we mean that. You won't see any streaks or anything that will make your vehicle less than aesthetically pleasing. By the way, this also applies to vehicles with dark paint finishes including black. Once it's added on and buffed off, you won't see a single spot.
Superior repellant power: When we say that this is like a rain jacket for your vehicle, we mean it in every sense of the word. This means it's as hydrophobic as it gets. And yes, it will last longer than the 2 to 3 weeks compared to Turtle Wax Ice. This can also repel dirt, bird droppings, acid rain, and pretty much anything you can think of.
200x tougher than steel: This formula contains graphene, which is said to be 200 times tougher than steel. We've tested its toughness to further prove that it has the repellant power that you want (and the kind that you can retain for the long term). If that isn't impressive enough to buy this, we're not sure what will.
A special formula that keeps that shine: There's something found in crystal quartz that will make your car shine (and stay shiny). We made sure to include it in our formula that you can spray on. We'll prove to you that you'll have this for a long period of time even after it goes through so many washes.
Excellent overall quality: Turtle Wax Ice's quality has gone downhill for years. Yes, even some of the most loyal users of the brand have been telling us this. Which is good news for us. Because you'll have a product that is way better in quality.
Developed and Made in America: This product has been developed over the course of three years. And it's made right here in our home state of Florida. You won't have to deal with that cheap, low quality stuff that is made from elsewhere. Not to mention, it's stuff like that that may be dangerous and even hazardous to your health (and the environment).
Testimonials From Customers
"I haven't hand washed a vehicle in a long time. I knew I needed something different when I purchased my new C8. Washing it was easy enough. But I felt intimidated to add just any products to it. I was worried that I would mess it up. But I came across this. I picked up a full sized bottle and applied it panel by panel, section by section. The C8 looks better than when I bought it." – Stephen A. 
"I have been driving Mustangs since 1968. This product is no match for all the other so-called 'miracle' products I've used in the past. Easy to apply and amazing results." – Frank V.
"This was so easy to put on my vehicle. It's my favorite thing to use." – Trent P.
"I've recently added this to both my Mustang and Corvette. The finish on both is fabulous. It's easy to use and it will leave a satin-like finish. I highly recommend it." – Dan M.
"I have tried dozens of brands. None of them ever worked. Then I came across this and I get glass-like shine and protection. Nothing comes close." – Hugh S.
"I applied this after I decontaminated my exterior and clayed it. Yeah, the process should have been quicker. But I was taking my sweet time. The water rolls off and no dirt is left behind." – Steven K.
"I used Graphene Burst for the first time. I was able to apply it and it looks really good. I can't believe it shines." – Kenneth F.
What other products should you try?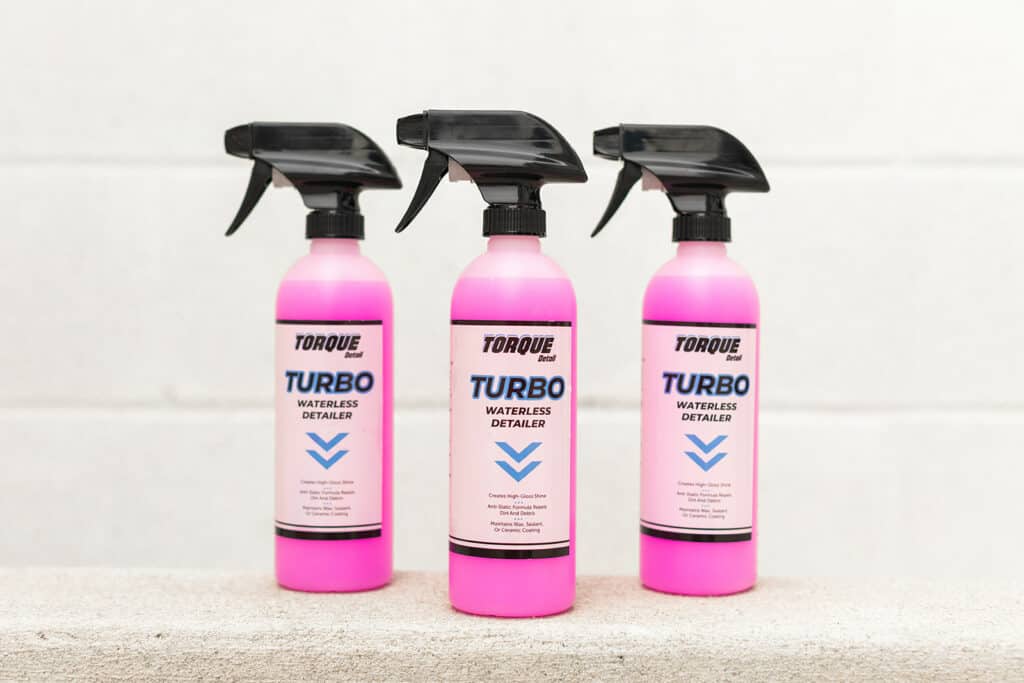 If you are far away from a car wash, fear not. That's where our Waterless Wash spray comes in. You can maintain the shine that you get from our Graphene Burst Coat the same way you would as if you were actually washing the car itself.
Regardless, this is designed to clean the dirt, grime, and everything in between. Once you put this to good use, your vehicle will look good as new. And not a single spot will be found.
That's two of our best products guaranteed to work together. Get this along with our Graphene Burst Coat and prepare to be amazed. 
Frequently Asked Questions
Need a little more convincing? OK, here's our FAQ guide to help you make a decision:
Will this be great in the winter months?
It can be subzero freezing, blizzard conditions, and who knows what else. But what we can tell you that Graphene Burst Coat will definitely get the job done when 'Old Man Winter' hangs around. 
How many detailing projects can be done in one bottle?
One bottle is good for at least four to five applications. It can be on one vehicle, which can stretch out over a few years. Or you can spread it out amongst a few different vehicles.
Is it safe on dark colored vehicles?
Oh yes it does. As a matter of fact, you won't have to worry about any kind of smudges, streaks, and everything else. Pretty neat, eh?
Can I purchase more than one bottle?
Absolutely. In fact, you can get a package deal for multiple bottles just by visiting our website. But you better act fast, because that price won't last long.
Do you have a 100 percent guarantee that this will work?
We never doubt our products. But in the event that Graphene Burst Coat does not work for you, we'll give you your money back in exchange for the bottle. But we're confident that this won't happen. 
Summary – Is Turtle Wax Ice a good buy?
If you are looking for a product that will be way better than Turtle Wax Ice, then Graphene Burst Coat will be the perfect option. You'll definitely want to give this a shot whenever you want something that will make your car shine like a dream.
Get your bottle of Graphene Burst Coat at an affordable price on our website as well as on amazon. You'd be silly to miss out on such a deal. Don't wait – get it now. 
Related Car Detailing Articles:
Published on

Jan 01, 2023