Shine Armor Review & Alternatives (Best Shine Showdown!)
Protecting your vehicle and helping it look its best are two of the biggest goals of most vehicle owners. There are a lot of products out there that are designed to help you get the job done and keep costs reasonable at the same time, but there are also a lot of junk products that don't do what they're supposed to.
Learning to tell great products from bad ones is one thing.
But what about learning to tell the great products from the merely good ones?
Shine Armor is one of the top Ceramic Sprays for protecting your vehicle from damage while creating and preserving a high-gloss finish that looks great in any light. But are they one of the great products or one of the Ceramic Sprays that only work for a short time?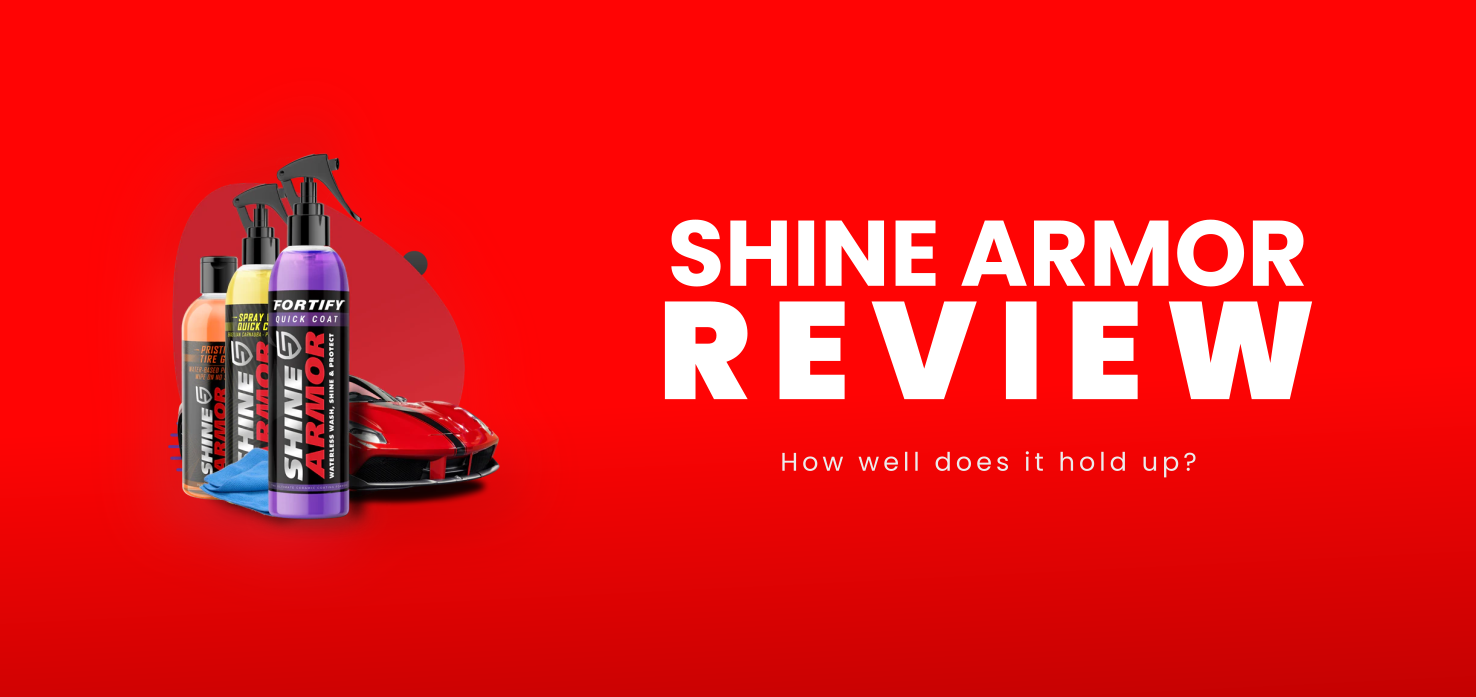 Well, good news! This review will closely examine Shine Armor's features, why and how it works, and where it falls short of user expectations.
Then we'll also talk about one of Shine Armor's top competitors and why that product might be a better fit.
Whether you're a Shine Armor fan, a skeptic, or just looking for the best Ceramic Coat you can find for your vehicle, you might be surprised by some of what we've found. So, let's get to business. What's good about Shine Armor, where does Shine Armor fall short of the competition, and what product should you consider as a replacement?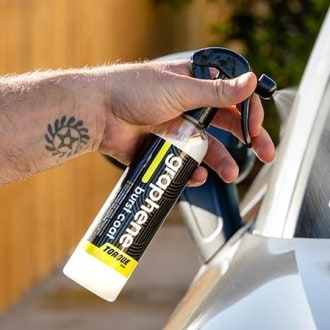 ★★★★★ 
High Rated Reviews from 150+ Customers 
After a simple spray and wipe down using a microfiber towel, your car's paint job will be protected for up to an entire year. Your car's top coat impenetrable to any chemical, liquid, or environmental contaminant there is. In a matter of minutes!
What Makes Shine Armor Good
If you've looked at other Shine Armor reviews, it shouldn't be a surprise that this is a good ceramic coat product and works pretty well overall. But this is a tight industry, and a product has to be something special to stand out from its competitors.
Does Shine Armor make the grade? Let's find out:
Here's what Shine Armor does best, and how it works for the people who use it.
Good Shine – High Reflectivity
If Shine Armor, on brand name alone, had to be good at just one thing, shining is it. This graphene spray needs to do a good job of making your vehicle shine and give an almost mirror finish.
Shine Armor might be a good option if you're looking for a detail spray that will give your vehicle a fresh from-the-shop mirror finish while also protecting the underlying paint job.
There are limits though, and while we'll discuss the problems with Shine Armor in more detail below, it's worth mentioning here that finish doesn't last as long as some of Shine Armor's competitors. Some users report getting as little as 2 weeks of performance from this finish before they need to re-apply.
So, while Shine Armor does a good job of looking good, it doesn't always do a good job of keeping your vehicle looking the way you want it to.
A Little Bit Goes A Long Way
Another plus to the Shine Armor formula is that you don't need a ton of this spray to get full coverage on your vehicle. The Shine Armor formula is highly spreadable and doesn't streak as you apply. That's good news because it means you won't need to overapply to get the finish you're looking for or to correct streaking.
Easy To Apply (When Used Properly)
All you need to use Shine Armor is the spray itself and a microfiber cloth to help buff and spread the formula across your vehicle.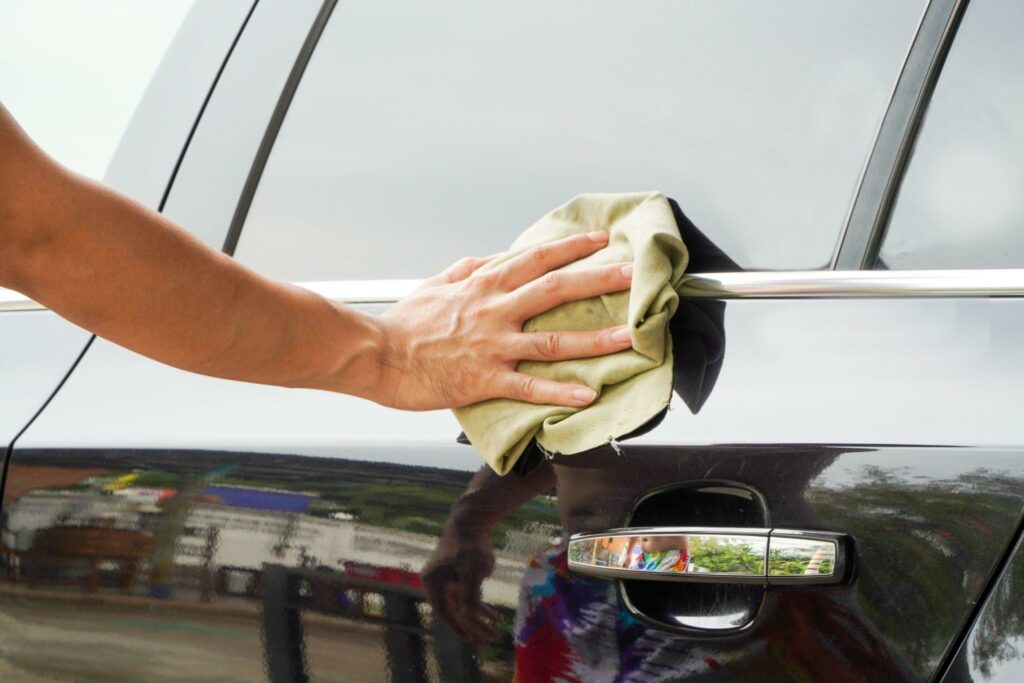 It's easy to do, dries moderately quickly, and doesn't take a special technique to get results. All of that is great news in a detailing spray, but we will say that Shine Armor doesn't stand out here. Lots of its competitors boast the same easy application, so this feature doesn't make up for some of the Shine Armor complaints we are going to discuss in the next section.
Shine Armor Complaints
Unfortunately, if you're into detailing cars, you've probably seen at least one of the many complaints about the Shine Armor formula.
They get a lot of positive reviews from users, but when it comes to professional evaluations of the product, Shine Armor usually fails to meet expectations.
Let's talk about why professionals aren't as happy with Shine Armor as some of their competitors.
Low SiO2 Content
SiO2, or Silicone Dioxide, is a key ingredient in any ceramic or graphene spray that provides protection and keeps your vehicle looking its best.
By having higher concentrations of SiO2 in your product, you can boost the performance and results, while still protecting your vehicle from the elements. With SiO2, you can have a cleaner, brighter, and more resilient finish on your vehicle.
Unfortunately, Shine Armor's formula only includes about 2% SiO2, which just isn't enough to offer comprehensive or long-lasting coverage.
Shine Armor's other ingredients might help them get the high gloss shine this formula is known for, but they can't offer the durability, performance, or protection of higher SiO2 content.
Short Term Effectiveness
Shine Armor provides superior protection and coverage from the elements, and is a great choice for those looking for a long-term solution.
However, some users have found that the formula doesn't last as long as they had hoped, requiring them to reapply their graphene coat every two weeks or even every weekend.
One of the main benefits of using Shine Armor is that a little goes a long way, but if you have to constantly reapply the product, this advantage is negated. To get the most out of your Shine Armor, it's important to choose a formula that lasts long and requires fewer reapplications than its rivals.
Following Product, Instructions Leads To Scratching
One of the biggest single problems with Shine Armor is that their instructions can lead to damaging your vehicle.
This product recommends using as an all-in-one detailer, and you don't have to wash your vehicle before applying it.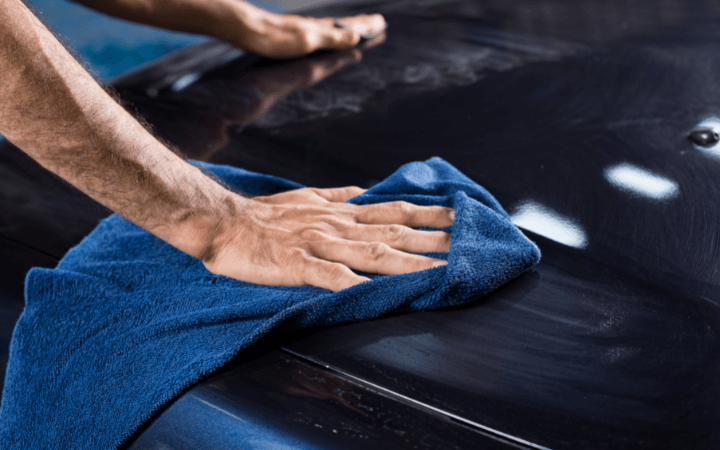 The problem is that when dirt and grit get trapped under the Shine Armor protective layer and you start buffing to smooth and dry the product, you end up with scratches in your paint.
Tiny scratches might not be obvious at first, depending on the size of the debris and grit involved, but after several uses, you'll likely start to notice a problem and significant dulling of the underlying paint job.
Is Shine Armor a reasonable ceramic coat with high shine? Yes. Does the product work as an all-in-one detailing spray for your vehicle? No, and it can cause damage if you use it that way.
Unfortunately, since it's not the product itself that's causing damage, it's the application and the grit that already existed on your vehicle, you may not have any options to get recompense for that damage.
Poor Customer Service Experiences
Customer service is huge when dealing with a niche product like a car detailing spray or graphene coat. You need responsive representatives, who understand the product, and who can come up with a worthwhile solution for both the company and the customer.
Unfortunately, that doesn't seem to be what Shine Armor offers.
With reports of long wait times and representatives that aren't as knowledgeable as they should be, there's a lot left to be desired when it comes to Shine Armor customer service.
Doesn't Do Everything It Claims
We've already talked about this, but claiming to be an all-in-one detailing spray when you're offering a ceramic coat, is a big problem. This isn't just a claim that can cause problems with the application; it can also mean that your customers miss out on the other great products that could help their vehicles look their best and get the protection they need.
All-in-one products are great, but they often need to be better than the purpose-designed products they replace. And a purpose-built product shouldn't be marketed as an all-in-one when other products will do the required range of jobs better.
Your Best Alternative To Shine Armor – Graphene Burst Coat From Torque Detail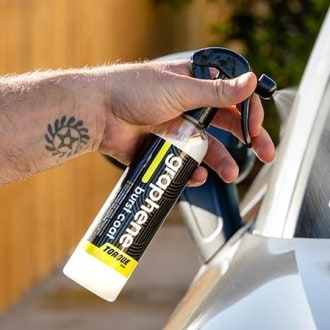 ★★★★★ 
High Rated Reviews from 150+ Customers 
After a simple spray and wipe down using a microfiber towel, your car's paint job will be protected for up to an entire year. Your car's top coat impenetrable to any chemical, liquid, or environmental contaminant there is. In a matter of minutes!
Now that we've talked about what's wrong with Shine Armor, and why it doesn't hold up against professional detailing, or even other DIY products, let's talk about a good alternative, Graphene Burst Coat.
High-Quality DIY Alternative To Professional Graphene Treatments
A lot of people are primarily looking for an alternative treatment to professional options that can be expensive and take a lot of time to apply. If you want to be able to give your vehicle a long-lasting graphene treatment at home, you need a product that works like the professional alternatives that are going to be similarly long-lasting while cutting down on the work you need to get it done.
That's where Graphene Burst Coat comes in.
This graphene treatment offers better longevity than ceramic coatings, is just as easy to apply as a Ceramic Spray and lasts far longer than most alternatives. Its high gloss is matched only by the high level of protection it provides for your paint job.
Extremely Hydrophobic
The hydrophobic properties of a graphene coat are one of the main reasons that they are so prized for keeping your vehicle clean and well-protected. With a good hydrophobic coating water won't just bead up and fall off your vehicle; it will bead up faster and stay on your vehicle for as short a time as possible, sometimes even bouncing off instead of gliding down the sides.
When it comes to making a hydrophobic coating, Torque Detail knows what they're doing, and they've brought all of its expertise to their Graphene Burst Coat formula.
Easy To Use
Like all of Torque Detail's products, the goal of their Graphene Burst Coat is to make it easier for home vehicle maintenance to achieve the same quality and durability as you would get in a shop, with as little effort as possible getting there.
All you need for this formula is the sprayer itself, a microfiber cloth, and maybe a protective paper or similar tool if you want to keep the graphene spray off of plastics and your windshield. That's it!
Long Lasting Protection
One of the biggest advantages of using a graphene spray over more widely available Ceramic Sprays is that graphene lasts a little longer than ceramics on average.
The Graphene Burst Spray is a product that proves that rule, and it's perfect for owners who want to detail their vehicle once and not have to worry about it for months after that.
Lasting between 6 and 12 months on average, this is a long-lasting product designed to make it look like you work on your vehicle a lot more often than you do.
Strong Scratch Resistance
Keeping your vehicle clean is already a great advantage of using graphene spray coats, but one of the advantages of the Graphene Burst Spray is that it also offers better-than-average protection from scratches and road debris. The highly hydrophobic surface helps most debris glance off your vehicle without causing damage and protects it from dirtiness.
So, the same features that keep your vehicle looking great also help protect your paint job and mean less maintenance down the line.
Accurate Surface Compatibility Description
It's kind of a low bar when one of the advantages one product has over another is accurately listing the surfaces it can be used on, but here we are.
Graphene Burst Coat is designed to be compatible with most of the surfaces on your vehicle, but Torque Detail does recommend using a different product for plastic parts.
To be clear, that's not because Graphene Burst Coat isn't compatible or that it's going to streak or have other serious problems on plastic, simply that Torque Detail recognizes that their specifically designed plastic spray is more effective than their Graphene spray for that particular material.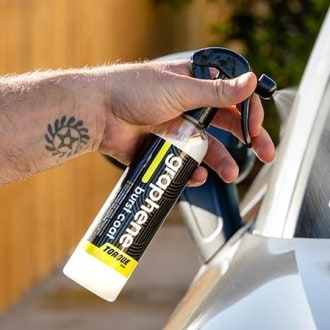 ★★★★★ 
High Rated Reviews from 150+ Customers 
After a simple spray and wipe down using a microfiber towel, your car's paint job will be protected for up to an entire year. Your car's top coat impenetrable to any chemical, liquid, or environmental contaminant there is. In a matter of minutes!
Summary
At the end of the day, you can use whichever product makes the most sense to you, whether that means getting a dedicated spray for plastics or using the same graphene coat on your whole vehicle.
All in all, while Shine Armor gets a lot of attention, the complaints about the product largely outweigh the advantages. Graphene Burst Coat is a better and more accurately described alternative. It might not be an all-in-one detailing spray, but Shine Armor isn't a good all-in-one either. And if you're looking for a high-quality Graphene coat, Graphene Burst Coat is the better, longer-lasting option.
Related Car Detailing Articles:
Published on

Dec 31, 2022