13 Longest Lasting Car Waxes & Alternatives, Guaranteed To Bring Life Back To Paint Job
Stop waxing your car every weekend – There's a better way!
With the right wax / sealant, you can count the number of times you have to wax your car in a year on one hand.
However, choosing the best car wax that will last the longest can be challenging, given the variety of car wax products on the market. We're here to break it down and make it easier for you.
How carefully ou aply the wax how to apply wax and the right chemicals is also essential for obtaining the best wax job and long-lasting protection because some vehicle waxes can damage a car's paint job if done incorrectly. Professionals advise that your automobile must be washed entirely to eliminate dirt, grit, or grime to receive the most outstanding wax application. It is also recommended to use microfiber cloths, safety gloves, and a mask for safeguarding when applying wax.
To select the best wax for your specific car, it's a good idea to be aware of your alternatives before making a purchase. You can choose the car polish that's right for you with the short guide we've provided below.
What Makes a Car Wax Last Longer Than Another?
Synthetic car waxes frequently only provide temporary protection for your paintwork. Additionally, it has occasionally been reported that the oils in these lubricants have led to fading.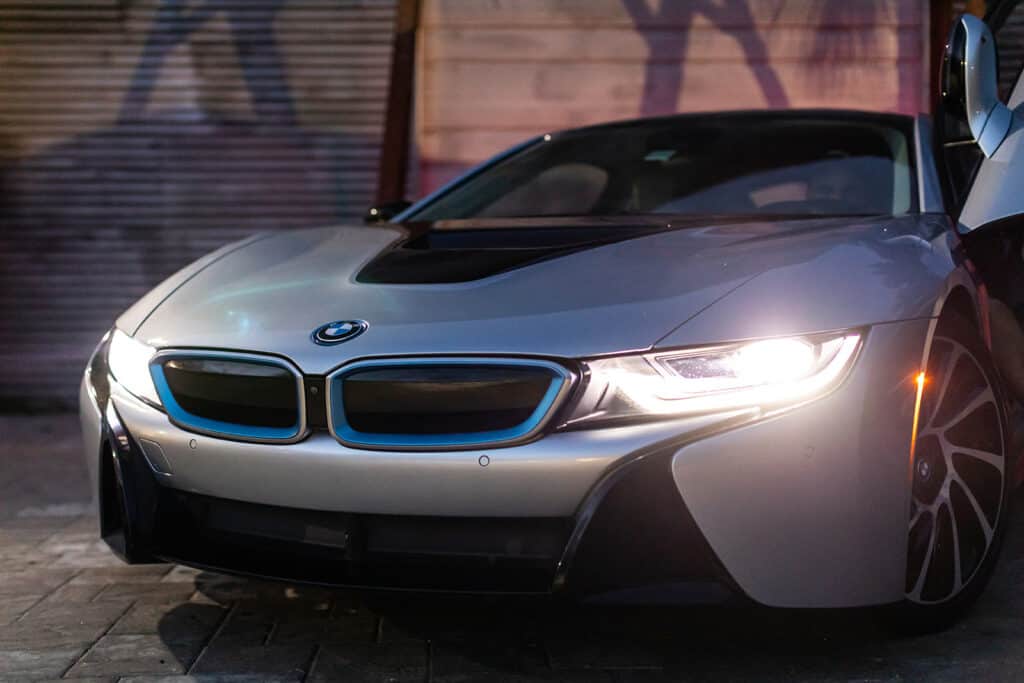 Regarding car detailing, you should concentrate on providing your car's exterior with a long-lasting protective shine and a simple cleanup. Making sure that the paint job is flawless is a big part of this. To achieve this, use a car wax that will last for the entire journey.
There is a considerable probability that you will find multiple companies that offer this promise if you are looking for the longest-lasting vehicle wax. Everyone prefers graphene coatings for this use. Additionally, you can use an extra Turbo Waterless Detailer coat to serve this purpose.
Types of Car Waxes and Coatings
Waxing isn't just for diehard auto enthusiasts. Every automobile owner should incorporate routine waxing into their regular maintenance schedule to preserve their car's coat of paint in good condition. Excellent, long-lasting car wax will protect your car's color from scuffs and scratches, filth and dust, and harmful ultraviolet rays that cause the paint to look dull and dingy.
Here are a few examples of the various vehicle wax types. It is ideal for maintaining the paint's brilliance and repelling dirt and grime.
Carnauba or Natural Car Wax
Natural auto wax is produced with all-natural components, most commonly plants, as the name implies. The leaves of the Copernicia Cerifera palm tree, popularly known as carnauba, which grows in Brazil, contain the thickest and most widely used natural wax. There are several goods made from natural carnauba that come in both yellow and white grades and a variety of other colors.
The most valuable wax is the yellow variety, which is 100% plant wax. Carnauba wax is the most expensive alternative, but consumers favor it because of the excellent gloss and high amount of protection it provides. Owners of historical classics and dark-colored vehicles greatly value them since the rich gloss shine it offers highlights their color.
The only possible drawback of using this wax is the requirement for frequent reapplication because it tends to fade off after only a few months, at most three.
Spray Wax
Given that it comes in a convenient spray bottle, spray wax is among the simplest waxes to use. Depending on the manufacturer, many spray waxes can be applied to painted surfaces as sealants for long-term protection. This is a beautiful vehicle wax for anyone who is hurried and doesn't want to spend several hours polishing a car because it is applied straight to the paint of a vehicle.
Graphene Coatings
The most vital substance on earth is graphene, a single layer of carbon atoms. However, its application in the vehicle sector is still being investigated. And graphene coatings are regarded as fantastic applications. The ultra-hard, antistatic graphene layer, when applied to a car, prevents dust and debris from settling. The market for protective coatings for automobiles is being revolutionized.
Because graphene coating is far more durable and resilient than ceramic coating, it has gained enormous popularity among fans of automobiles.
Ceramic Coatings
Every car's surface is painted with primer, a base coat, and a clear coat to shield the paintwork from the weather. A ceramic coating for vehicles is used to cover the clear finish on the exterior of your car. A ceramic automobile coating is like a second skin covering the surface of your vehicle.
It uses nanotechnology, which consists of tiny particles that combine to form a thin, translucent covering that is opaque to the naked eye. This layer closes the pores in your car's paint, enhancing hydrophobic characteristics and making it more durable against UV radiation, scratching, chemicals, and high temperatures.
Do you Need Power Tools to Apply a Long-Lasting Wax?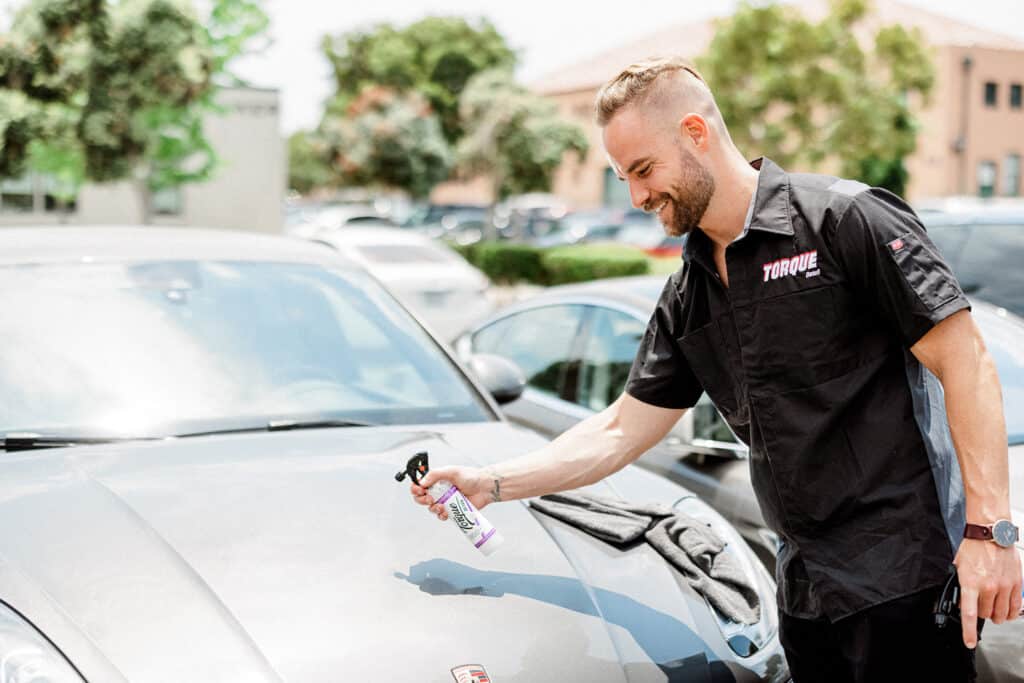 Many operators use a simple solution or cream wax with relatively brief durability to apply wax by hand. There are various possible drawbacks to this. So because the polish is done by hand, several issues could arise.
Overusing wax has the potential to produce chemical waste. The application is frequently patchy or takes a while to apply evenly and adequately. Due to the excessive usage of chemicals, the owner/operator repeatedly tries to cut costs by employing a defective product.
Since the car doesn't look any better than before the wax application, we find that the less expensive liquid car waxes produce inferior visual outcomes. Electrical buffers are used during the mechanical wax application process, despite taking less time and effort than its manual alternative.
Purchasing a Torque Detail Turbo Waterless Detailer is the most convenient solution. It is straightforward and handiest for those who want to DIY wax their cars!
How to Extend the Life of Your Coat Dramatically?
Top 12 Picks From the Market
We always advise choosing a car wax that will provide superior protection over one that will not last as long. It would be best if you searched inside it for a polish that doesn't require a regular application.
However, why would you want to work harder than you have to? Here are a few high-quality auto waxes available today that will provide the durability you require while saving you time.
👑 1. Torque Detail Redline Shine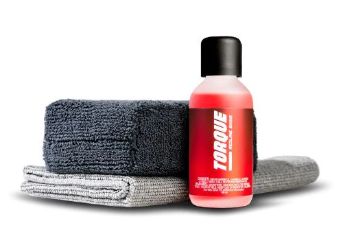 The CLEAR winner for 2023 when we're talking about the longest lasting car waxes and alternatives is Torque Detail Redline Shine.
Why? Well, it lasts up to two years. You heard me right.
Now there are many products in the ceramic coating category that could potentially last one year or more but they're usually very expensive or you'll never make them last unless you're a highly experienced pro detailer with access to a climate controlled garage.
But have no fear, Redline Shine is the true hero for weekend warriors. Any DIYer who's a complete beginner to washing cars now has the power to apply a mirror-like shine to their car. It comes in a complete kit so you have everything you need.
2. Torque Detail Graphene Burst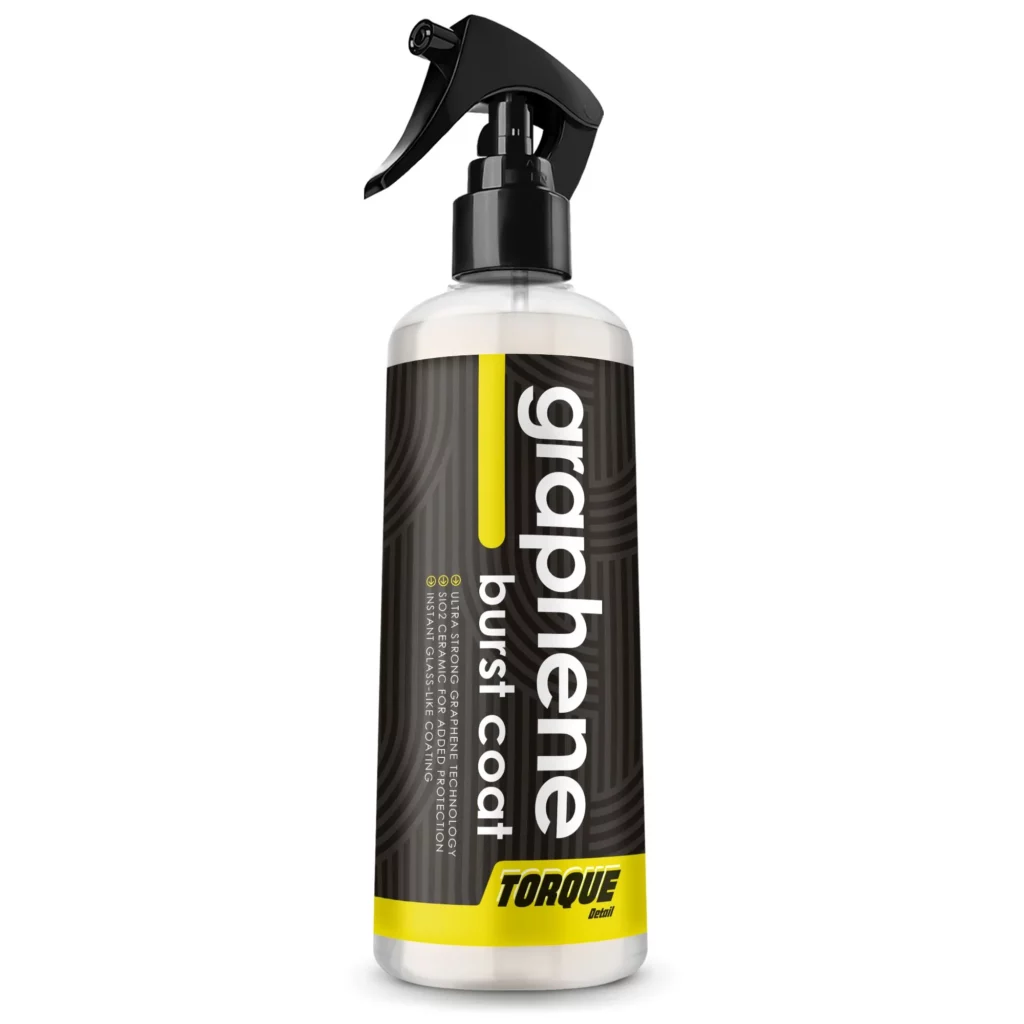 An oxidized form of Torque Detail Graphene Burst bonds to the clear coat of your automobile to make what we like to refer to as a "Super Adhesive," preserving the microscopic car's finish. In essence, it shields the transparent layer of your vehicle from impurities like bird droppings, bug guts, sulfur dioxide, or any other terrible chemical.
But when combined with ceramic coatings, graphene truly shines. With the protective armor of graphene, the lovely deep shine you receive with ceramic is locked in and safeguarded for up to a whole year.
3. Torque Detail Ceramic Spray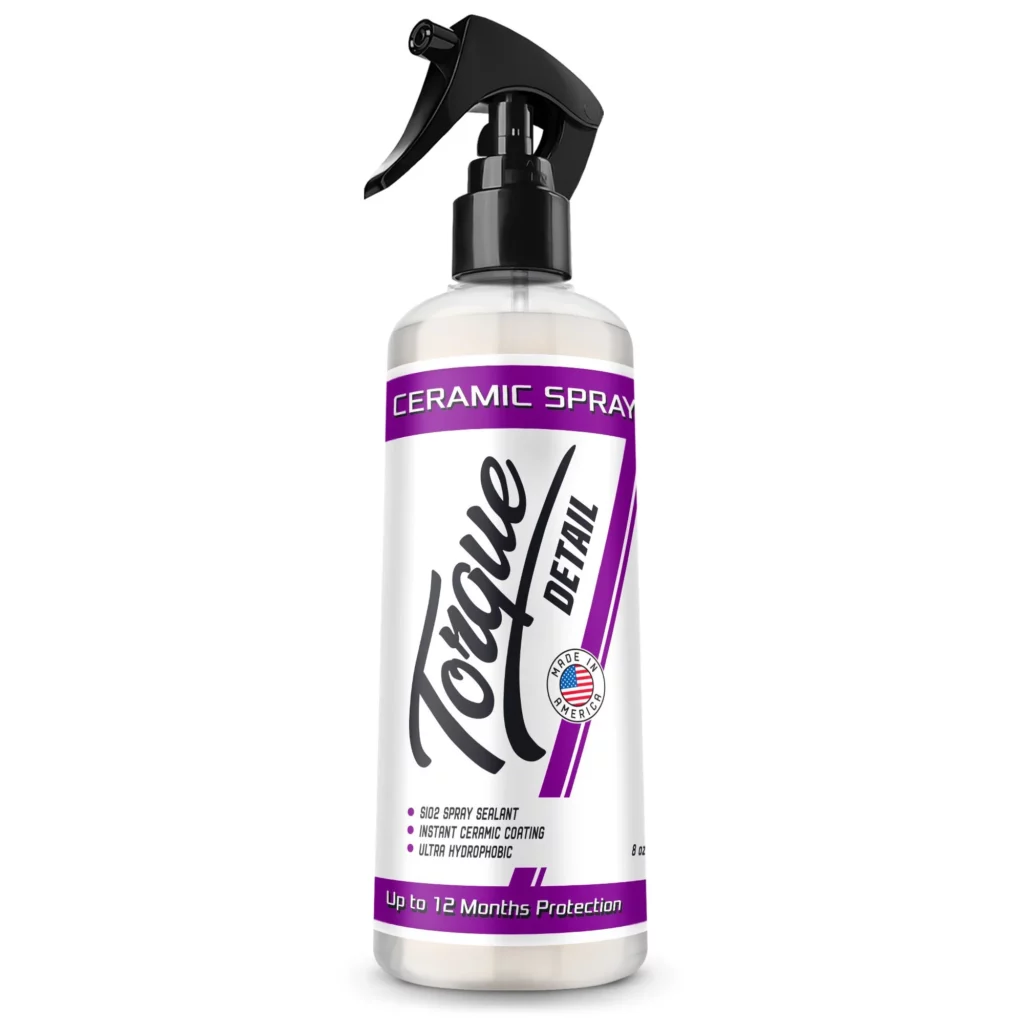 When sprayed on your vehicle's surface, premium ceramic formulations' microscopic particles completely penetrate the top coat and close all the pores. Now, a translucent coating shields the surface of your car. It renders it hydrophobic, repelling water and being incredibly scratch, such as high, UV rays, and other contaminant-resistant factors.
If you use Torque Detail Ceramic Spray rather than the conventional ceramic coating, you'll get the same high-quality results more quickly and easily! A traditional ceramic coating requires hours of a particular application by a professional. The layer could harm your car's clear coat and paint if misapplied.
We've been quietly developing a spray-on ceramic coating that offers all the advantages of one without the inconvenience of paint leveling, long cure times, and challenging application. To correctly apply a layer, you don't need to pay a high-priced specialist anymore; spray it on and wipe it off!
4. Torque Detail Mirror Shine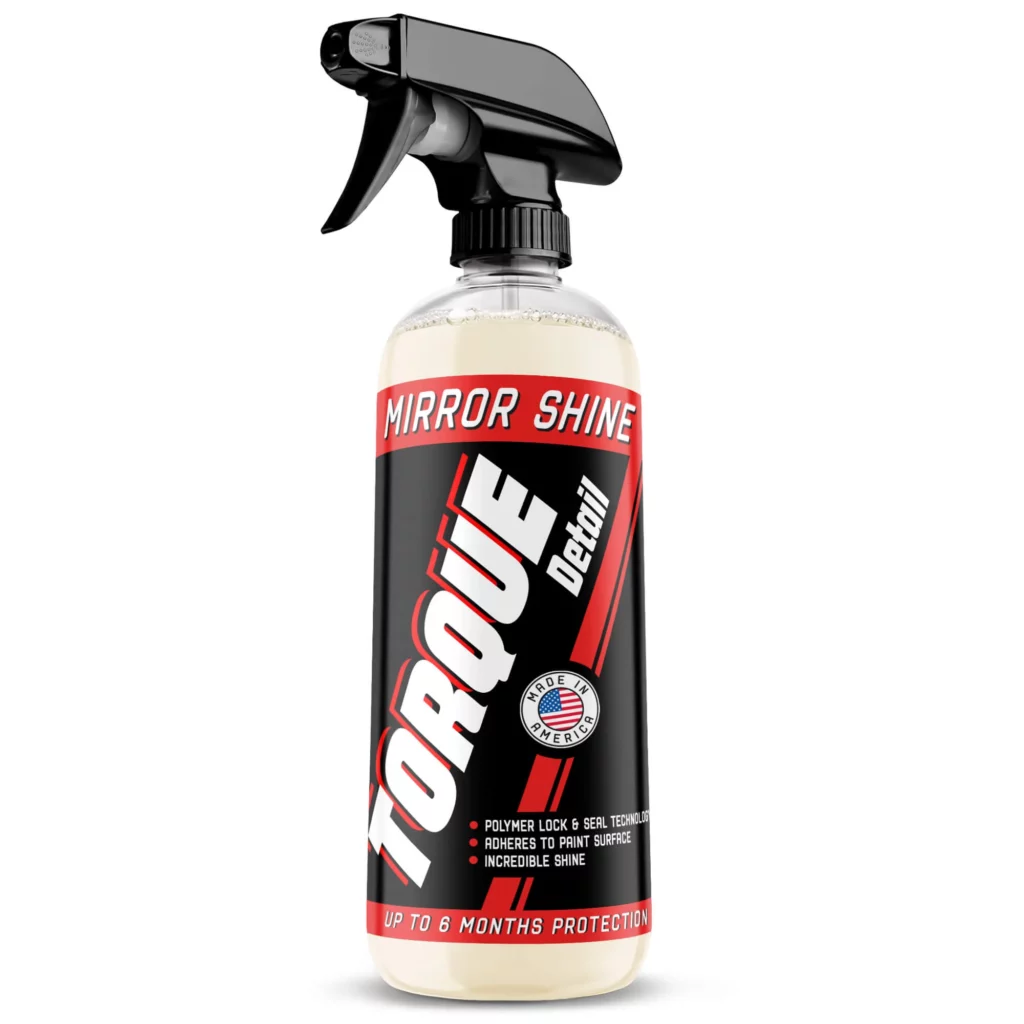 Clean the surface of your car to remove the coating of debris and impurities. Sometimes, the naked eye cannot see this. Torque Detail Mirror Shine "clear coat" of the automobile is where shine bonds most effectively. It cannot accomplish this if debris is on top of the clear coat. Here are a few tips before applying.
Before using, thoroughly shake the bottle.
Verify that the surface is clean and dry.
Spray a little Torque Detail Mirror Shine onto your surface, and shine.
Use a clean Microfiber Towel to rub into the surface.
Buff into the surface with a second clean microfiber towel until the desired polish is achieved.
Apply to one section at a time. For added shine and protection, apply a second coating!
5. Shine Armor Ceramic Coating Wax

To make waxing your automobile as simple as possible, Shine Armor includes a spray applicator. Use the spray bottle to apply the wax more thoroughly and ensure no missed areas. If you neglect bare patches, there is little benefit in spending money on a long-lasting auto polish.
Using a ceramic layer that repels water, the 3-in-1 formula gives your vehicle a waterless cleaning as it is applied and leaves you with a high-quality shine. You don't need to spend money on professional applicators to acquire a professional polish because the unique formula ensures that there won't be any streaks or smears when you're through.
6. Chemical Guys HydroSlick HyperWax

When it comes to automobile wax, Chemical Guys are another great option. They call it a "hyper wax" because it combines the qualities of ceramic coating with wax. The wax is simple to use, achieves great shine, depth, and cleanliness, and offers to spark and slickness as a ceramic coating.
The newest gel-suspension technology is utilized to reimagine what a ceramic coating may be. Because the material is so slick, it's one of the easiest to apply because you get extensive coverage without streaks or blemishes. The completed coat will be even without having to go over it repeatedly.
7. Meguiar's Hybrid Ceramic Liquid Wax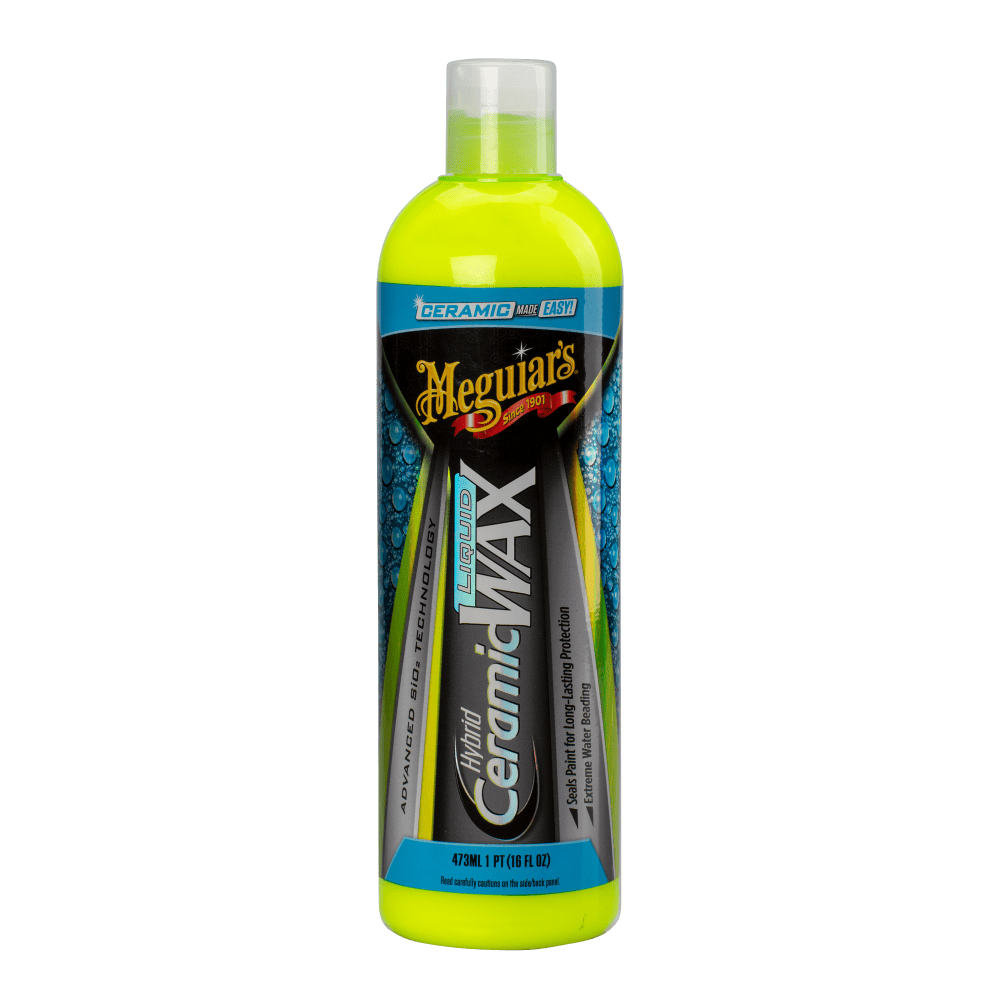 Meguiar vehicle wax makes sure there won't be any mess when you're done. Meguiar's wax doesn't leave a white residue like other waxes on trim, gaskets, and seals. Simple to use and need almost no cleanup.
The sophisticated mixture creates a smooth, weather-resistant coating that repels water and shields your paintwork from the extreme elements. Additionally, since the auto wax dries transparent, you don't have to bother about reapplying it once it has hardened. You won't need to apply it frequently; when you do, you won't have to devote much time.
8. Car Guys Liquid Wax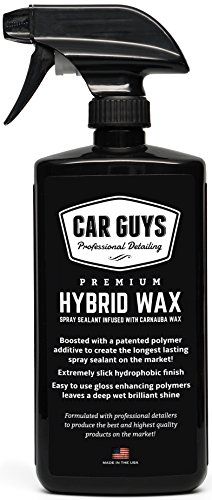 Your car's paintwork, glass, or plastic will have a deep surface luster thanks to Car Guys Hybrid Wax. This hybrid wax provides long-lasting protection with simple application and is impregnated with carnauba wax. Each item is blended and packaged in the United States.
9. Turtle Wax Carnauba Cleaner Paste Wax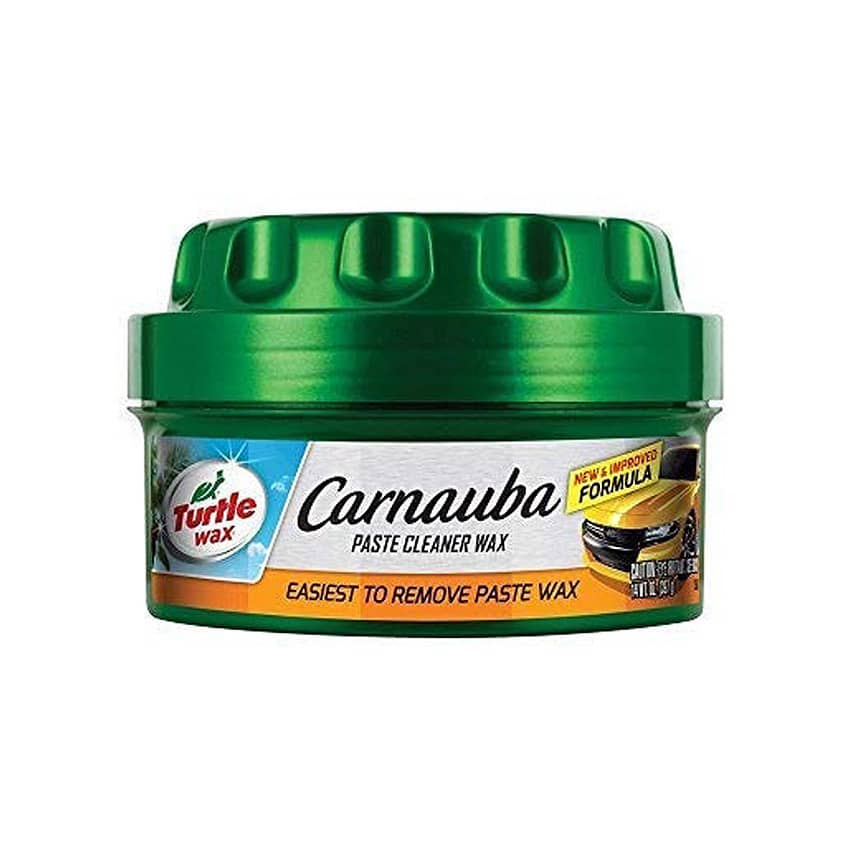 Micro-polishing compounds are utilized in Turtle Wax Carnauba Cleaner Paste Wax to buff away any blemishes, scrapes, and markings on your car's paint finish. The finish offers a challenging, water-repellent surface shielding your vehicle from harmful impurities.
10. Mother's California Gold Pure Brazilian Carnauba Liquid Wax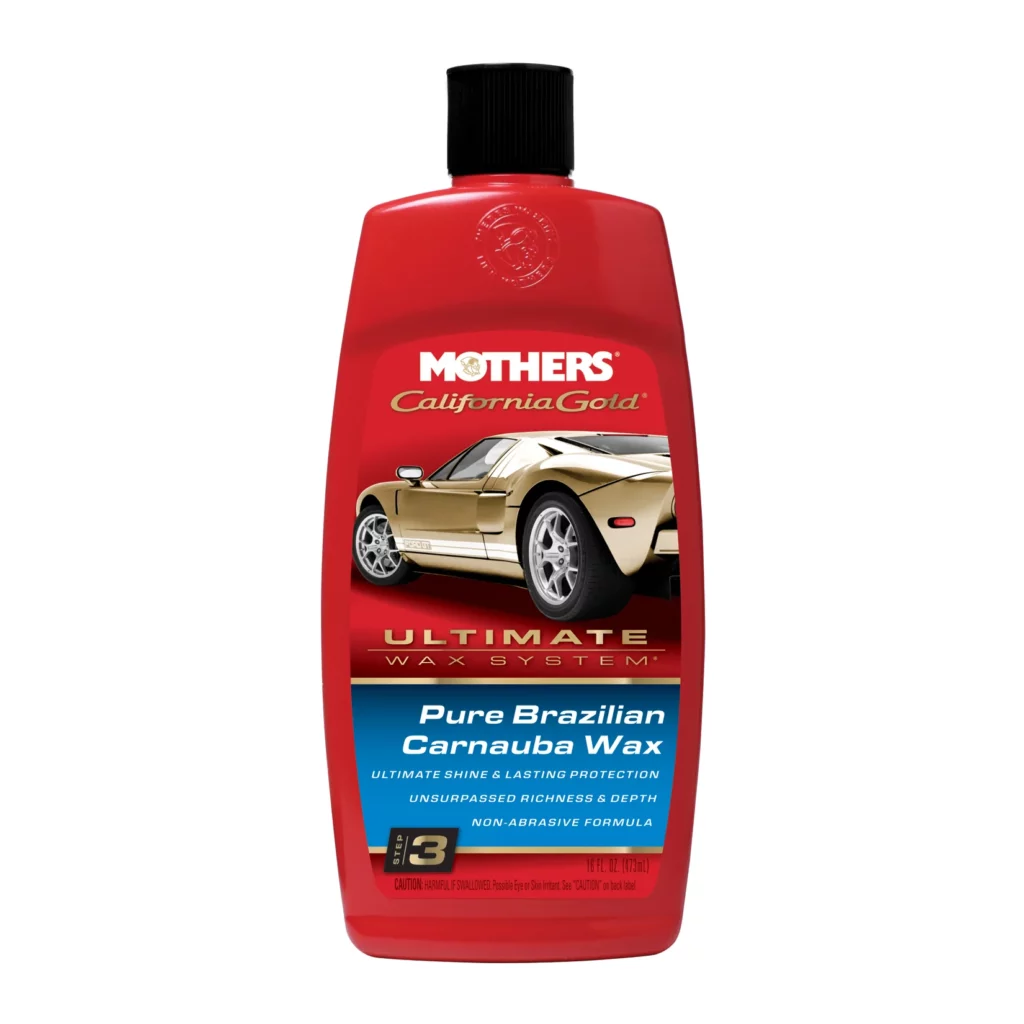 Mother's California Gold is pure carnauba wax that is heat-resistant and supplied in a more liquid state than the conventional paste for user-friendliness. While Mother's California Gold still requires some work to pull out of the tube and reapply, a little goes a long way, increasing its already exceptional value.
While the general agreement seems to be that it should be used every 3 months, some customers wanted a longer-lasting outcome, while others discovered that the wax would firm up in the bottle over time.
11. Migliore Primo Premium Concours Show Car Carnauba Wax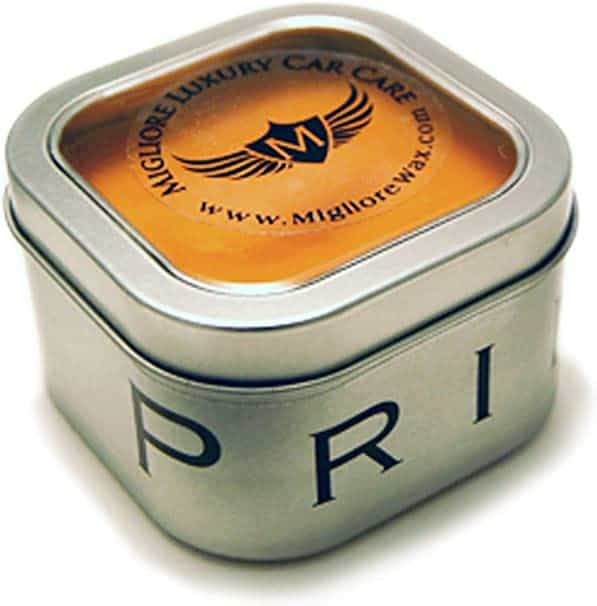 The highest of the highest is Migliore Primo. Concours show cars and museum pieces are the intended usage of this. Each tin is created by hand in Connecticut using a 50:50 mixture of organic chemicals and carnauba wax to produce the high gloss and shine. Compared to other higher-content carnauba waxes, Primo is reasonably easy to work with because of Migliore's blend.
Additionally, it won't stain plastic or trim components. The drawbacks include the excessive effort required and, of course, the outrageous cost. Migliore Primo merely provides the dripping-wet shiny appearance attainable for those who demand nothing less. It does not offer weather protection or UV protection.
12. Chemical Guys Butter Wet Wax

Chemical Guys Butter Wet Wax is a mixture of carnauba wax with polymers and resins that is easier to use and wipe than a paste but still produces excellent shine.
It is neither a liquid nor spray but also not nearly a paste. It is also designed to block UVA and UVB radiation. It needs to be reapplied every few days, but the shine is fantastic but not the longest-lasting. It also has a distinct banana aroma, which not everyone may prefer depending on their feelings toward bananas.
13. Griot's Garage Best of Show Wax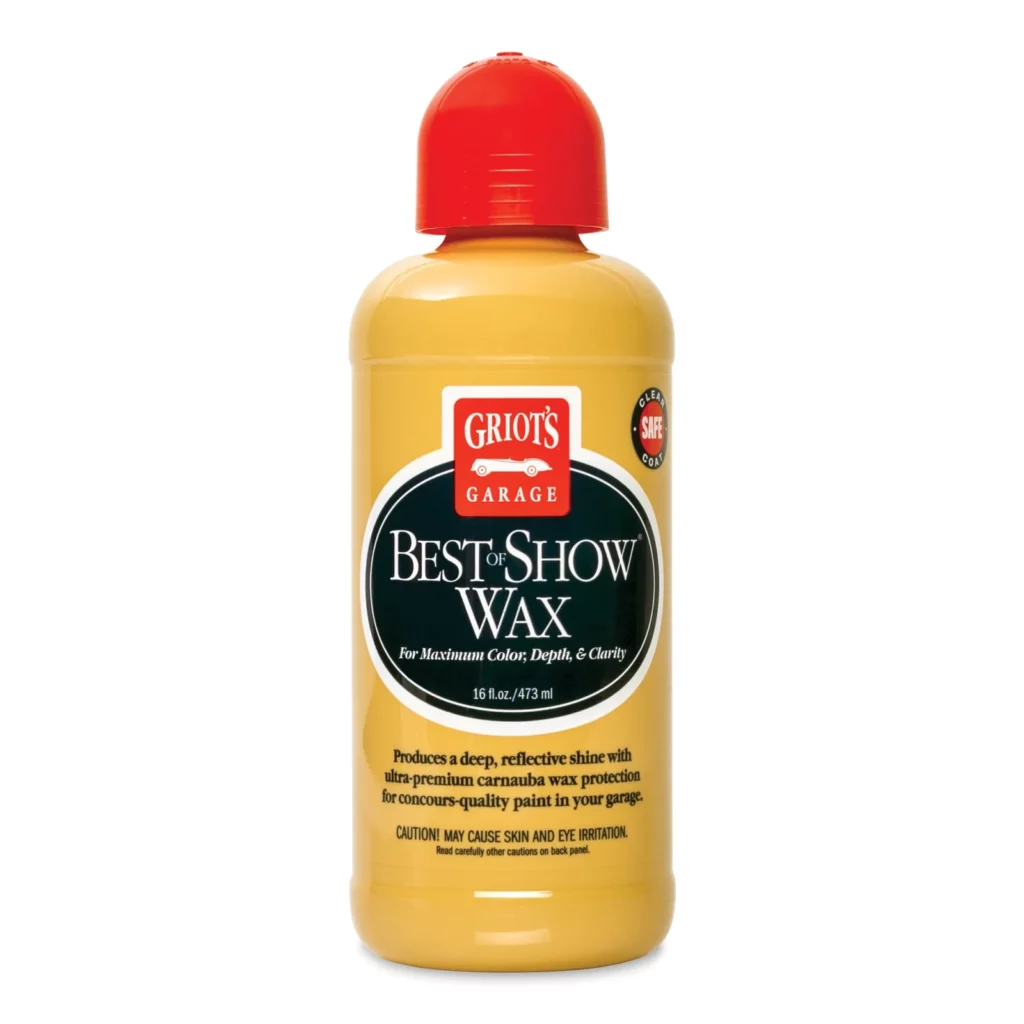 A renowned firm produces smooth, simple-to-use Griot's Garage wax. It is applied to the most available automobiles in the world at Concours tournaments like Pebble Beach, where the strictest judges are present to examine minute details like a car's paint finish. It is 100% carnauba wax content and free of silicone.
According to the manufacturer, this wax will revive a paint's gloss, eliminate swirls, and give it a brand-new car shine that will endure for months.
Summary: Apply a Long Lasting Coat and Extend Its Life With Turbo
The remarkable properties of ceramic coatings are undeniable and have been repeatedly shown throughout the industry. A ceramic coating is a must-have for anyone concerned about the state and caliber of their paint.
Torque Detail Turbo Waterless Detailer is a rapid detailer that has been ceramically enhanced. You will extend the lifespan of any wax or ceramic finish each time you use it. Excellent as a waterless wash or for touch-ups between standard car washes. Car owners adore the antistatic feature since it keeps dust and filth off. Thanks to its antistatic characteristics in the formula! Layer it over our Ceramic Coating Spray and Hybrid Wax Mirror Shine for optimal effects.
Your car receives protection from high-quality ceramic waxes for up to 12 months. Although regular conditioning and shampooing may be necessary, a ceramic wax coating is made to last. Don't compromise on old wax from your neighborhood shop if you want to save money and time while protecting your vehicle with the most delicate ceramic wax coating available.
Related Car Detailing Articles:
Published on

Jul 26, 2023