Don't Buy Chemical Guys Waterless Car Wash Before Reading - Review & Alternatives
If you are looking to buy Waterless Car Wash from Chemical Guys, not so fast. You might want to check out this review before you even do so. Even before purchasing a product, it may be a wise idea to see what other people might be saying about it.
Also, there could be an alternative that you might like better. With that said, let's dive right in and talk more about this Chemical Guys product.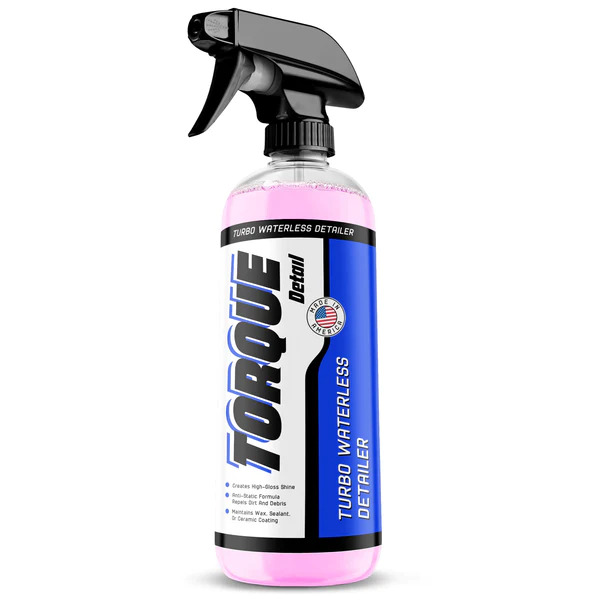 ★★★★★ 
Works On All Exterior Surfaces!
Turbo is a ceramic waterless detailer with shine boosting nanotech that cleans while enhancing your current wax or ceramic coating. Wash And Shine Your Car Anywhere & Anytime. No Hose Needed: Just spray on and wipe off!
Chemical Guys Waterless Wash Review: Let's See What's What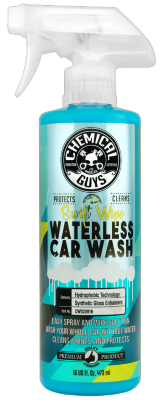 In this review, we'll be taking a look at Chemical Guys Waterless Car Wash. It claims to provide you with a rinse free wash, shine, and protection in one go. The real question is: does it live up to its claims?
It also states that you can also use it on any part of the exterior. Last but not least, it claims that it will also leave with a scratch-free, swirl-free shine. Let's get started with our review.
Chemical Guys Waterless Car Wash: The Features
What does Chemical Guys Waterless Car Wash have for features? Are they any good? Do they live up to the hype?
Let's take a look now at the following features and what they claim to do:
Washes your car without water: This has a waterless detailing system solution designed to remove dirt and grime from your exterior. At the same time, it can also give you a car shine that may not involve water, car wash soap, or spray wax. It claims to have gloss enhancers.
Available in two scents: This comes in two different scents: Classic and cool mint. Either way, they both seem to smell kind of nice. It's a huge difference from some of the other products that leave that chemical-like odor that will be 'murder' on the nostrils.
Can be used on any automotive exterior: This includes your painted surface, glass, the optical plastic, bumpers, and so much more. So it seems like it's one of the best choices for when you want the entire exterior to be nice and shiny.
Provides a scratch-free, swirl-free shine: If you are looking for something that claims to not leave a scratch or swirl behind, this may be the product for you. But is it really true?
Chemical Guys Waterless Car Wash Fails…But How?
This is the part where we point out the critical flaws. They are perhaps so critical that you might want to think to yourself that there's a great product out there (Hint: there is…but stick around).
So now, let's take a look at what could possibly be wrong with Chemical Guys Waterless Car Wash:
It leaves streaks on paint: Chemical Guys claims that it doesn't leave something like this behind but some reviews says otherwise. Streaks are left behind and it requires harder buffing. We're not just talking about a once over. We're talking about multiple attempts.
Impossible to refill: The good news is that they sell refills for the bottle. The bad news is that it will be difficult to refill it. Not only that, it makes it environmentally unfriendly especially when they use single use plastic. If you are someone that likes to be environmentally conscious, then you may want to consider a different product.
The classic smell is a bit 'off-putting': The Classic smells a bit like bubble gum, but so heavy that it might be a bit off-putting. If you want a product that won't smell that heavy or be oppressive, then you might want to take a look at the product we have to introduce to you shortly.
 Spray bottle may not function properly: Ah yes. A sprayer bottle can get stuck on occasions. But users have noticed that the spraying mechanism on their bottles have a habit of sticking from time to time. It's quite frustrating when you are trying to get the job done. You might not have the time to struggle with such an issue.
Won't wash dust fast: It won't wash any of the sticky dust fast. It will take a few passes before it finally clears. Unfortunately, that's yet another time consuming task that you may want to consider not doing.
Some of these flaws come down to what it leaves behind and its subpar performance for its users. You'll likely be disappointed in a product like this.
In short, this is a product you don't want to buy. While it's good intentioned to clean and give your vehicle the high shine you wish, it's not really what it's cracked up to be.
And that is why for this reason, we want to present you with an alternative. It's something that won't leave any streaks behind or scratches. It will give you a showroom shine in about 15 to 20 minutes every time.
It's also your best friend to keep your exterior nice and clean. This includes the glass surfaces, the paint, and so much more. Even better, it will stay shiny for a whole year.
It's got so many abilities, and we don't want to give them away this early. So let's get right to it and introduce to you Torque Detail's true answer to Chemical Guys Waterless Car Wash…
Chemical Guys Waterless Wash Alternatives – Here's Your Best Option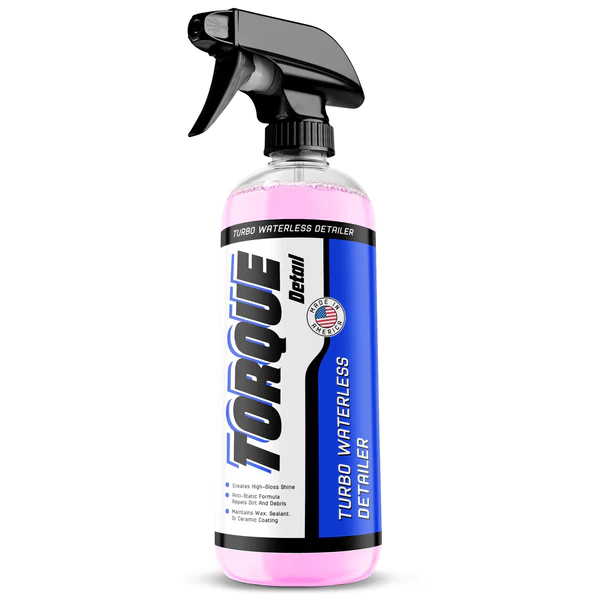 If you are looking for the best alternative to Chemical Guys Waterless Car Wash, then look no further than our Turbo Waterless Detailer. This is your best friend when you are far away from a car wash.
If you don't have the usual equipment, don't sweat it. You can put this to good use at any time. Here's how you apply it:
Apply Turbo Waterless Detailer all over your exterior. This includes the paint, glass, rims, and everywhere else.
Wipe it down using a microfiber cloth. This will take no more than five to ten minutes.
And that's it. You get that high-gloss shine in a quick amount of time. Why worry about finding a washer or the nearest car wash? You can wipe off the dirt and grime in minutes.
Not only that, you'll be saving yourself a lot of time, money, and headaches.
Here's why you should choose Turbo Waterless Detailer over Chemical Guys
If you want a great product that won't steer you wrong, Turbo Waterless Detailer has you covered. It does a lot of awesome stuff that Chemical Guys Waterless Car Wash does not. 
These are the reasons why you should choose us over the competitors that fall short:
A beautiful, glossy shine: Yes, you'll get that glossy shine as if your vehicle was a showroom model. In fact, if you applied something like our Graphene Burst Coat to it, that shine will stay the same. We're not joking here. If you want to take your ceramic coating to the next level, be our guest.
Made in the USA: Our product is made in Florida, where we are headquartered. This product has undergone three years worth of development. And we have just released it early this year. A lot better than any of the products that may come from unknown places outside of our country.
Keep your current wax or sealant: Even if you had a wax or sealant added recently don't worry. Our Turbo Waterless Detailer will not harm it in the slightest. If you want something that will preserve your current shine, there is no other option on the market.
Works on all surfaces: Your exterior surfaces will love this Turbo Waterless Detailer for all the right reasons. Whether it's your exterior paint, the windows, or everything else, it's always a good idea to use this to give it the wash it needs.
Excellent hydrophobic properties: No water spots period. And it will also repel water the moment there is contact. If that isn't amazing, we can't tell you what is. 
What people are saying about Turbo Waterless Detailer 
"Very happy with the results. It was so easy to apply."
"This is my new favorite thing in the entire world. All the bugs are gone in one wipe."
"Easy to apply. It's clean and shiny. And it leaves no streaks behind."
"This is the best product I have ever used. I won't go back to any other."
What else do we recommend?
If you ever want to retain that showroom shine for the next 12 months, we recommend our Graphene Burst Coat. This includes a formula that is 200 times tougher than steel. Even better, it has the same resistant qualities versus contaminants, debris, water, and more.
It's one of the longest-lasting graphene sprays on the market. Compared to our competitors, this one is the best of the best. Don't believe us?
Check out our reviews on most of our competitor products. People were not happy when they didn't get the results they expected. But with Graphene Burst Coat, they will. 
Frequently Asked Questions
Let's get in the frequently asked questions that our customers have been asking:
Can I add your other products to this?
Sure you can. You can add some of our other Torque Detail products to your vehicle even after using our Turbo Waterless Detailer. 
Will bird droppings really wash off quickly?
You better believe it. It's a real pain in the butt, for sure. You can wash it off and make it look like it never even happened.
Can I use this on Dodge Ram or any other truck?
Yes. Just because a lot of people who use it have cars, doesn't mean it's exclusive to cars only. If you have a truck that you want to look amazing, have at it. This will make it look like it rolled out of a showroom.
Can I detail my friend's vehicles with this?
That's up to you. But keep in mind that one whole bottle is good for up to four vehicles. So choose your friends…ahem…I mean their vehicles wisely.
What if I'm not happy with Turbo Waterless Detailer?
We hate to see it not work for anyone. But we're confident that it will. If by some chance that it doesn't make you happy, we'll send you a full refund. All you need to do is give us back the bottle.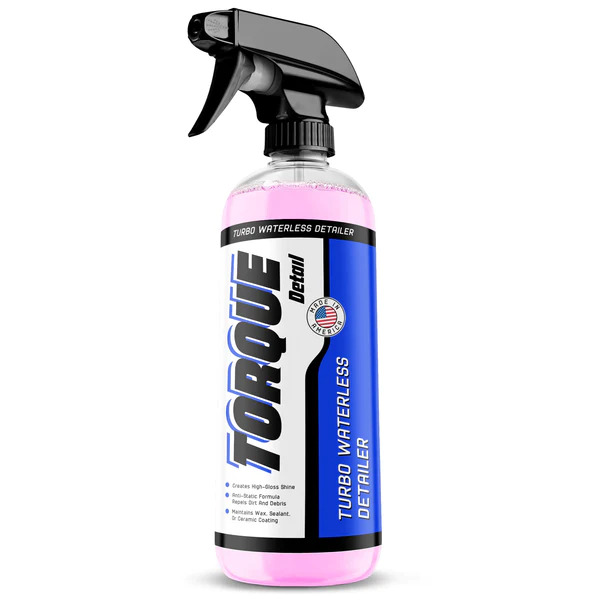 ★★★★★ 
Works On All Exterior Surfaces!
Turbo is a ceramic waterless detailer with shine boosting nanotech that cleans while enhancing your current wax or ceramic coating. Wash And Shine Your Car Anywhere & Anytime. No Hose Needed: Just spray on and wipe off!
Summary – Is Chemical Guys Waterless Wash a Good Buy?
If you are looking for the best alternative to Chemical Guys Waterless Car Wash spray, then Turbo Waterless Detailer might be exactly what you're looking for. We have plenty of car care products in our line that will blow our competition out of the water. And this is one of them.
Want a showroom shine that will turn heads? Want something that will be hydrophobic for a long time? Then this is your chance to grab yourself a bottle (or even a package deal).
Our bottles are currently available at a special discount price. You'd be crazy to pass up on the opportunity to buy them. They could be sold out before you checkout or we'll decide to raise the price.
Either way, the sooner you grab your bottle of Turbo Waterless Detailer, the better. Don't wait any longer – get it now before we start to run out. Get your first bottle for a discounted price here.
Related Car Detailing Articles:
Published on

Nov 12, 2023