Car Polish vs Wax: Which Is Better & When To Use?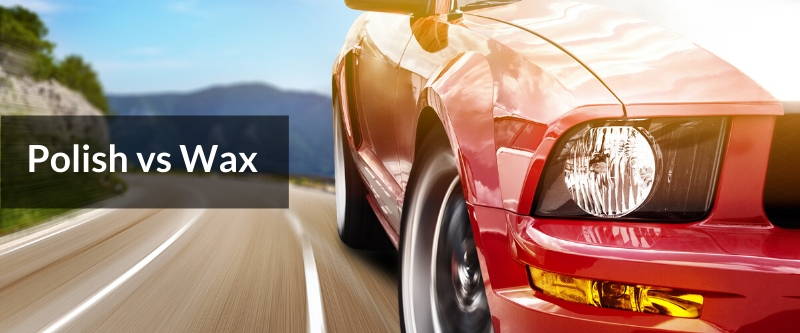 Many people see their vehicle as much more than just a means of getting from Point A to Point B on a regular basis. Yet, many people see their car, truck or SUV as an investment - they've put the money into acquiring their vehicle, and now they're going to do what it takes so it looks great and lasts for a long time.
In terms of the latter, the key is sticking to routine and manufacturer-recommended maintenance, like oil changes, tire rotations and more. But the former is where you, the driver and owner, really need to step up to the plate. And one of the best ways to keep your car shining and turning heads is to regularly polish and/or wax it.
However, contrary to what many drivers believe, polishing a car and waxing a car are not the same thing. In this post, we'll get into exactly what "polishing and "waxing" means in the context of cars, explain the key differences between each practice and help you decide when it's better to polish versus wax a vehicle.
Here's a closer look at what you need to know about waxing versus polishing, if the two can also be performed simultaneously and products to use for the best results.
Car Polish 101: What You Need to Know About Polishing Your Car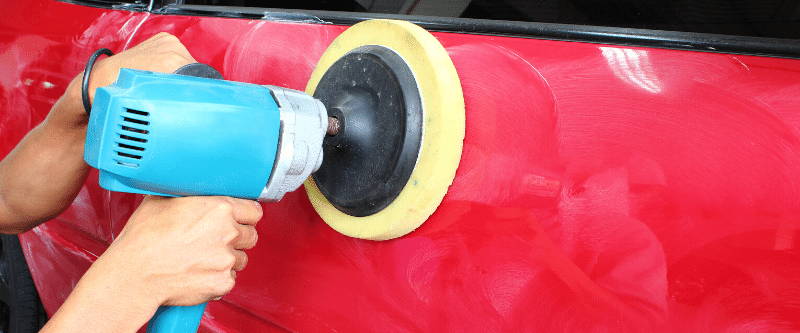 Looking to minimize scratches to your car's paint job? What about oxidation, swirl marks, water spots and other minor blemishes that could be impacting its appearance and damaging its clear coat?
If this is what you're you're looking to accomplish, then polish is what you're going to need to get it done. Car polish helps accomplish this by removing a very, very thin layer of paint, which thereby works to help hide scratches and any other minor surface damage as they blend in more to the paint job.
Car polish is available in varying degrees of abrasiveness, which is how it works to remove that very thin layer of paint (and scratches along with it).
However, don't let the term "abrasive" fool you in this sense, as it still applies smoothly to your vehicle's body so that it does just enough to hide blemishes but not nearly enough to erode your car's paint job when used correctly. Abrasives vary by types of polish, and some polishes are even considered to be non-abrasive.
After a proper and thorough car polishing, the results should last for about a year.
Remove scratches, swirl marks and more.
EASIEST Way To Polish Your Car!
Reverse is the newest car detailing product that easily removes scratches and swirls by hand. This car scratch remover and car paint scratch repair compound will bring your paint back to new. It's also a water spot remover and swirl remover. Make paint correction easy with this all in one formula.
BUY NOW
Car Wax 101: What You Need to Know About Waxing Your Car
Think of waxing as an ideal complement to polishing. It's best performed following a thorough cleaning and polishing to further hide surface blemishes and improve your vehicle's overall exterior aesthetics, though car wax can be applied independently of polishing as well.
Unlike polish, it doesn't remove a very, very thin layer of your vehicle's paint job. Instead, it works to minimize surface scratches by filling them with a protective layer, essentially smoothing the vehicle's surface over the paint job itself. Just think of it like this: Polish removes, wax smooths and protects.
Most car waxes contain an important ingredient to help with this smoothing performance: carnauba. Also known as "Brazil wax," carnauba wax has a variety of important properties that allow it to work effectively. Here's a look at some of these properties:
It doesn't wash away in water.

It withstands high heat and UV rays. In fact, the melting point of carnauba is more than 180 degrees Fahrenheit, providing protection on even the hottest of summer days.

Along with solvents, sealants and colorants, it's a key ingredient to the beautiful, glossy and protective end result.
Ideally, waxing is best performed anywhere from two to four times a year.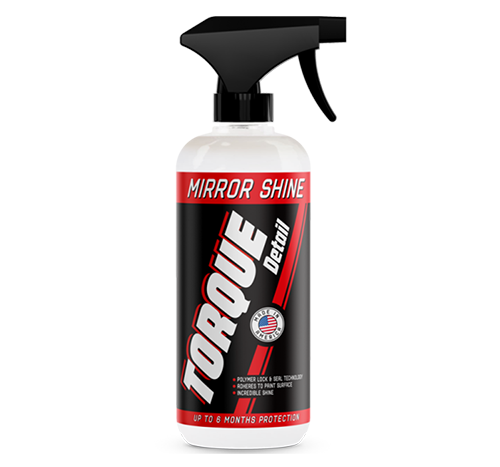 Mirror Shine Wax & Sealant Hybrid Spray
Get showroom shine with diamond-like protection in just minutes! Car maintenance has never been easier.
Wax vs Polish: When Should I Use Which?
Like we noted above, because of how polishing "removes" and waxing "smooths," they're the ideal one-two punch for those serious about a great looking vehicle exterior. And while you can perform each of these tasks independently of one another, if you do perform them simultaneously, we always recommend polishing before waxing.
As you can tell from this piece, we recommend not thinking of polish and wax as competing products - and that's because they serve very different purposes. Instead, we suggest you think of them as complementary products or products that you can apply to your vehicle's exterior independent of one other.
Let's take a look at some FAQs to help you decide when to use which:
If I have a slight scratch and don't want to polish or wax the entire vehicle exterior, what should I use?
How should I apply polish and wax?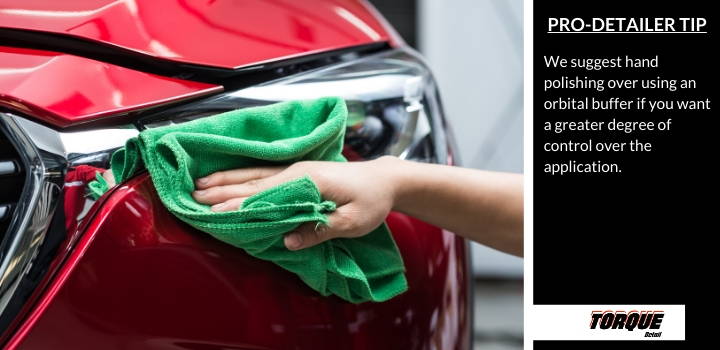 We suggest referring to the product manufacturer's recommendations to ensure proper application, as you don't want to overuse either product.
Generally, however, we suggest hand polishing over using an orbital buffer if you want a greater degree of control over the application. It will take longer, but many drivers enjoy the process and the level of control they're able to have as they perform it.
As you apply the product by hand, you'll likely be first applying it to a cloth or pad, though some waxes offered today come in spray bottle form and allow you to simply spray it on.
Next, you'll apply it in a circular motion on your vehicle. Work slowly and try to apply the product in sections to your vehicle. You'll also want to apply a little more elbow grease to scratches as you're polishing. In circular motions, rub or buff the area you're working on until there's no product left visible on the vehicle.
You don't want the product to dry, you want to work it in to the vehicle.
Should I do anything before applying polish or waxing?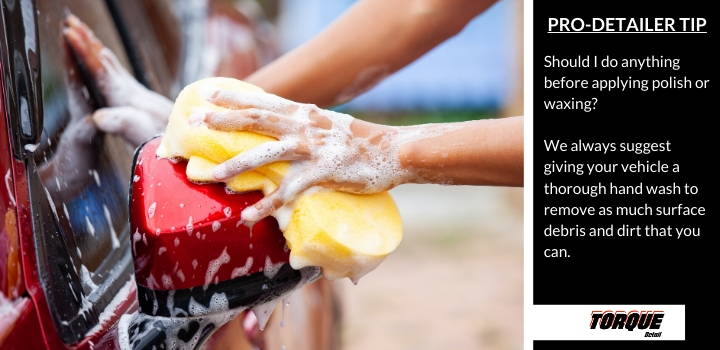 We always suggest giving your vehicle a thorough hand wash to remove as much surface debris and dirt that you can. We don't recommend most commercial car washes because they cause swirl marks and scratch marks over time.
While polish helps remove surface debris and grime, it'll be far easier and faster to apply the polish if your car is already clean. If you choose to wax your vehicle without polishing, you should follow the same steps of cleaning or washing your car before performing the task.
What are some of the key benefits of regularly polishing and/or waxing your vehicle?
Both polishing and waxing help to remove scratches and other surface blemishes, and bring out the vehicle's paint job. Whether you love your car or just take pride in ownership of it, it's a great way to give it a rejuvenation. And polishing and waxing can also help increase the value of your vehicle and help you avoid end-of-term lease charges for scratches that may be considered "excessive wear and tear."
The Easiest Way to Wax Your Car (and Get a Glass-Like Shine)
While caring for your vehicle comes at a cost, one of the nice things about car waxing is that it's a very affordable way to achieve significant results quickly. Take our Mirror Shine Super Gloss Hybrid Car Wax Spray & Sealant, for example. At less than $40 for a 16-ounce bottle, you can give your car a showroom shine that will last and protect for up to six months. It's easy to apply and combines multiple products into one spray bottle for instant results. All you need to do is spray it onto the surface of your vehicle and then buff it with a microfiber towel. With a polymer-based formula that helps it bond to the paint job, it can help your vehicle look like-new again - and fast.
Get your new customer discount on Mirror Shine by going here (while supplies last).
Mirror Shine Wax & Sealant Spray
Get a Showroom Shine in Minutes!
Just spray on and buff with a simple microfiber towel. Designed to be hydrophobic and repel water, dirt and other elements from coat. Car maintenance has never been easier.
Related Car Detailing Articles:
Published on

Jun 12, 2020