303 Protectant vs Armor All + Best Alternatives in 2023
We all dream of having cars that look like we just drove them off the set of the Fast 'n Furious movie. These cars have pristine interiors, gleaming exteriors and give you a burst of adrenaline when all eyes are on you. This is an authentic driving experience.
Unfortunately, real life is messy and our cars are nothing like those in the movies, they need some car care. There are kid's toys rolling around on the back seat, sticky handprints on the windows, scratches from the driveways tree, dust particles all over the dashboard and water streaks still present on the paintwork from last week's half-hearted attempt at car washing.
You might think that cars have to go through wear and tear, right? Wrong! Your vehicle doesn't have to show its age, especially if you're using the correct protectant products and cleaning techniques. In the sections below, you'll be provided with a helpful comparison of 303 Protectant, Amor All, and Torque Detail to see which range offers the best protection and keeps your car looking brand new. Soon you'll be driving a car with that just-off-the-Fast-'n-Furious
-movie-set appeal.
DIY CERAMIC COATING - 1yr of Protection
The Two-Step Interior Kit That Works
★★★★★ "I have a 2023 Cadillac XT6 with pearl white exterior and light oyster color interior your new interior kit is fantastic it is easy to work and the results are incredible. This product is just like all your other products I purchased from you to keep my car looking better than new.." - Lillian M.
SHOP NOW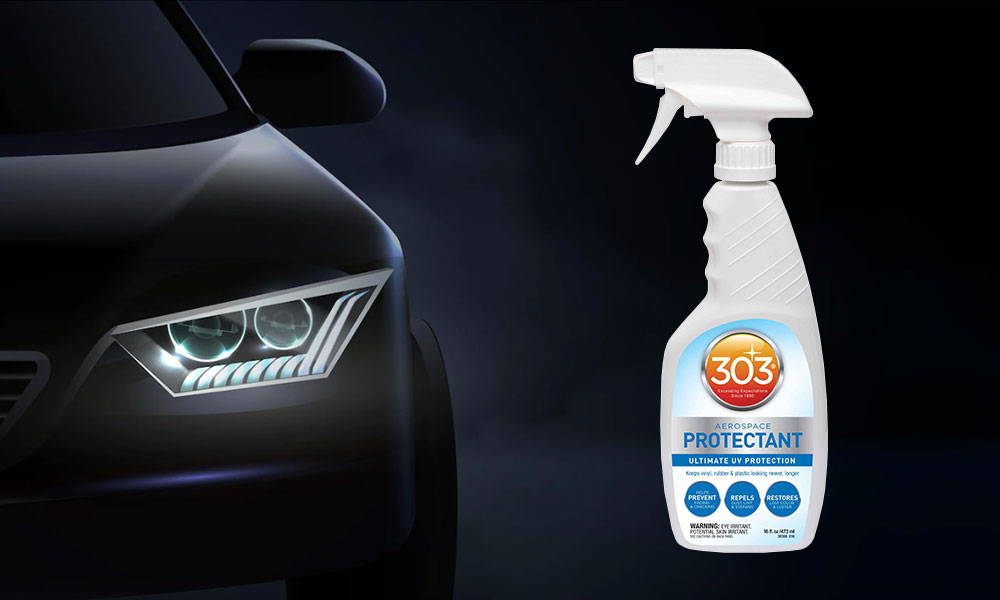 Much like how our skin becomes damaged after prolonged exposure to UV rays, the exterior paint on our cars can fade and become weakened, and it may even begin to flake off. Imagine paying thousands for an exquisite custom color and unique paint details only for the color to fade and the paint to chip. That's a colossal waste of time, money, and effort.
Naturally, we should want to add a protective barrier between our paint and the harsh sun. 303 Aerospace Protectant markets itself as being the best UV protectant Screening Technology you could buy. Many have even likened the product to SPF 40 sunscreen for your car.
303 Aerospace Protectant is also known for providing protection against dust, soiling, and staining. This includes vinyl protectant and leather seats and interiors, plastic bumpers, fender flares, trim and lenses, chrome and alloy wheels, tire shine, and even outdoor furniture items.
While this product may be an excellent option, it may not be the best option when you need a product to target a unique problem area. Wouldn't it be more effective to use one better product dedicated to providing protection from the sun and another product that protects against dust, staining, and watermarks? This is especially true if you have a leather interior or custom paint or wheels. Maintaining those luxury finishes requires a more careful, targeted approach.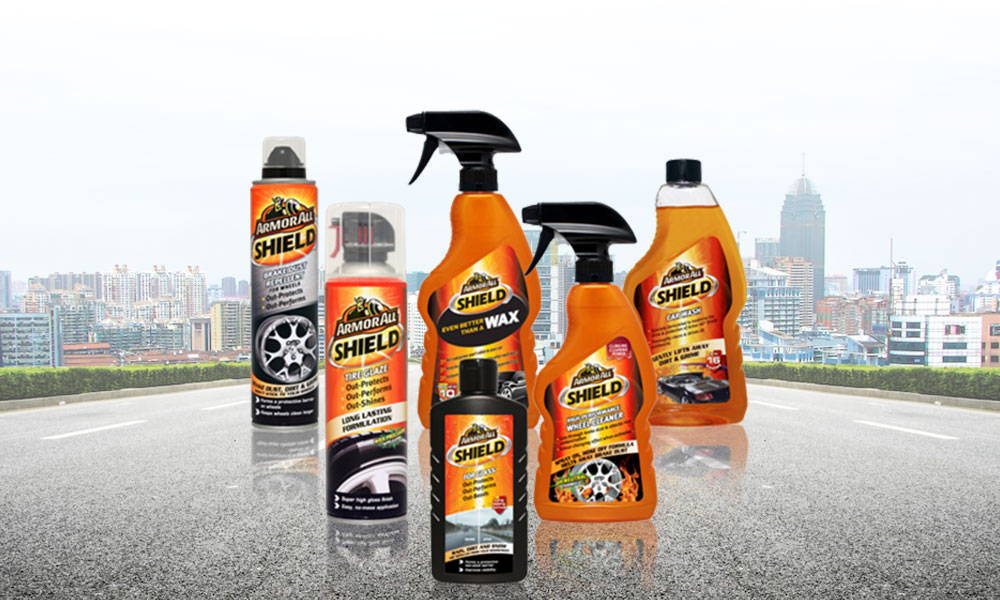 Speaking of targeted approaches, Amor All offers a selection of protectants. Their range comprises ten different products, from their extreme shield protectant to their original protectant, matte finish, interior detailing spray, and air freshening protectant. Armor All can help with dirt, grime, harmful UV rays, and rusting. The exterior products add that extra layer on top of your paint to prevent chipping and fading. As the name suggests, it provides protection against most of your car's aesthetic concerns.
Protectant wipes make a handy addition to their range of products. In the rat race of the modern world, convenience is the deciding factor in many purchases. You can simply whip out a wipe in the middle of the day and polish away. Who wouldn't love that fresh, clean car feeling all day long?
Amor All does require at least three coats to be effective, so clear your schedule if you want to see your car truly shine.
303 Protectant vs. Armor All
One of the main differences between 303 Protectant and Armor All is the broader range of products sold by Armor All. 303 Protectant is geared towards exterior protection and UV ray damage control. If you live in a warmer climate with lots of sunlight throughout the year, like LA or Texas, this may be a better option for you. On the other hand, if you're just looking for a protectant against dust, grime, and general wear and tear, then Armor All may be the better option for you.
Better Alternatives to 303 Protectant and Armor All?
As you can see, there are different products on the market that may work for you. While 303 Protectant has its strengths in providing protection from the sun, Armor All can help you clean and polish your car. Using just one product to fix all your problems is akin to trying to use a knife as a screwdriver because it technically fits into the groove of a screw and has a handle. In plainer terms, it's silly to try to find a one size fits all solution to nuanced issues. Instead, it pays off to use dedicated products for different scenarios.
For Cleaning and Protecting Your Interior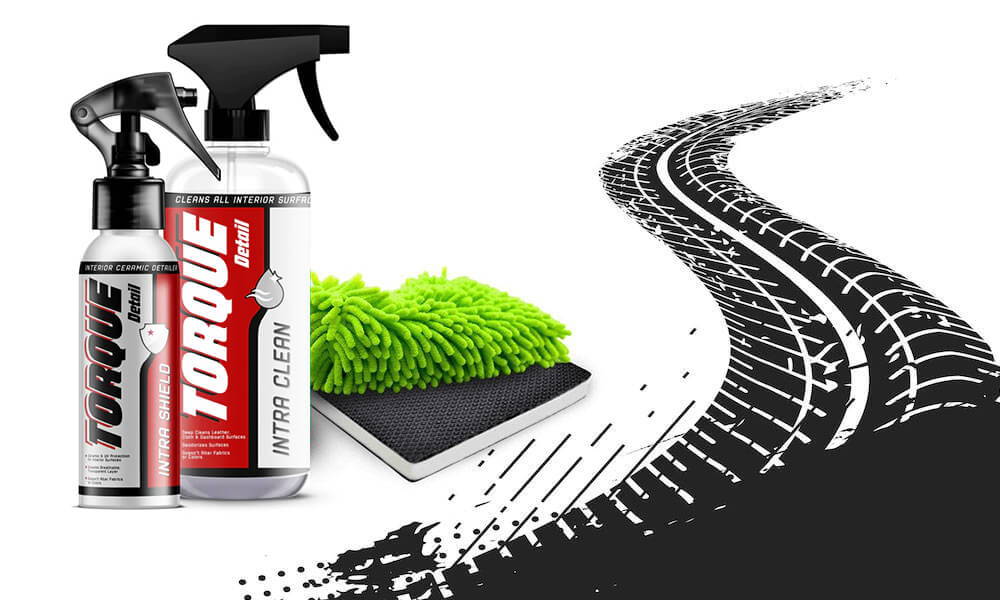 If you're looking for a great all-rounder that comes at a great price for all that it offers, it's the Torque range of products. A new addition to the Torque Detail range is the interior kit, and it's everything your car interior wants and needs! It has never been so easy to give your interiors a deep clean. And what's the best part of a clean interior? We would have to say it's the fabulous new car smell, just like that of a bmw or toyota. It's one of our favorite scents in the whole wide world!
DIY CERAMIC COATING - 1yr of Protection
The Two-Step Interior Kit That Works
★★★★★ "I have a 2023 Cadillac XT6 with pearl white exterior and light oyster color interior your new interior kit is fantastic it is easy to work and the results are incredible. This product is just like all your other products I purchased from you to keep my car looking better than new.." - Lillian M.
SHOP NOW
The interior kit consists of the Intra Clean and Intra Shield products and follows a simple two-step process. First, pick up your Intra Clean: this will deep clean your leather, damp cloth, and dashboard surfaces without altering the color or texture of the fabric guard. After this deep cleansing process, your interiors will be free of any funky smells and stains.
Intra Clean does not require a lengthy and complicated application process like other interior cleaners. Simply spray the product onto the area you want to clean and wipe off with a microfiber towel. Then, use another towel to clean off excess product and dry the area. Talk about being efficient and convenient! If the area is extremely dirty, you may find it helpful to vacuum the area beforehand.
When you're done with the Intra Clean, spray on the Intra Shield or wipe it on with a microfiber towel. Take care to ensure that the surface has cooled and is shaded before applying Intra Shield. Then, simply wipe off the excess product with a clean microfiber towel, and you're done! The Intra Shield will provide ceramic and UV ray protection for leather, cloth, and dashboards, as well as keep your interiors smelling fresh.
Imagine getting into your car after using just these two products! It's just like getting professional detailing done but at a fraction of the cost. And let's face it, this method is much more fun.
For Cleaning and Protecting Leather on Your Car
Nothing says class, sophistication, and elegance like a leather interior. But when that leather interior becomes dull, cracked, and split? It's tacky and looks cheap. A good interior protectant, like the one Armor All offers, will help bring the shine back into your leather. But a product that is specially designed to revive and restore your leather interior will make your car feel brand new.
Torque Detail's Leather Restore will work as a conditioner and will clean and condition your leather interiors. This product is so effective that it will feel as if you've just picked your car up from the showroom. Leather Restore has a unique blend of chemicals, including Vitamin E, to nourish the leather from the inside. Along with this, you have UV protection to prevent cracking and splitting of the fabric.
It is a brilliant non-greasy formulation that works on leather as well as plastic, silicone, vinyl seats, and rubber. Simply spray on and wipe it down!
For Cleaning, Protecting, and Bringing Out The Shine In Your Car's Paint
Turbo Ceramic Waterless Detailer
From Dirty Car To Shiny In 15 Minutes
Turbo is our anti static waterless car wash and quick detailer with ceramic. It helps enhance the longevity of Mirror Shine or Ceramic Spray and applies easily anywhere, anytime. You'll get high gloss shine and hydrophobic shine. Great for touch ups in between traditional car washing or as a waterless wash. The anti-static feature is well loved by supercar owners because dust  and dirt stays off. 
★★★★★ "Never bringing out the hose again. I use this every few days to remove dirt and debris from my car. Definitely prevents dirt from clinging to the coat. Awesome product." - Lewis R. 
CLAIM DISCOUNT
Familiar with the phrase 'it's the inside that counts'? Well, we're here to say that that's nonsense. Your exterior is just as important as your interior. After all, that's the part of your car that most people can see. Armor All's exterior or original protectant is suitable for achieving that clean car look. And let's not forget the UV ray protection that 303 Protectant offers. But, if you want a true high gloss and hydrophobic shine with UV protection, look no further than Torque Detail's Turbo Waterless Detailer.
This product is perfect for a quick wash without the fuss of getting out the bucket and hose and soap and sponges and rags… Simply spray on and wipe off! It saves a ton of time, money, and effort! The unique Anti-Static formula means that dirt and debris roll off the paint, so your car will be cleaner for longer.
The Turbo Waterless Detailer formula has been recently updated to include Ceramic among other top-quality components. The Ceramic enhances the shine and allows for better water beading. This means that water will run off the surface and there'll be no more pesky water spots.
The benefits don't stop there! Not only will your paint shine, but the Turbo Waterless Detailer will maintain your expensive wax or sealant coating.
Summary: 303 Protectant vs. Armor All vs. Torque Detail
What if you know that you should be using a protectant on your car's interior surfaces as well as exteriors but find the choices overwhelming? 303 Protectant is a good option for those looking for basic coverage and just want a clean car that is protected from the sun's harmful rays. Armor All is a better option if you're looking for basic coverage and want to focus on specific areas such as exterior UV protection or an interior detailer.
Ultimately, if you're serious about taking good care of your car, Torque Detail offers the most comprehensive range of premium quality products. From your leather interiors to your beautiful paint job, your vehicle will receive the treatment it deserves.
If you're unsure which products you should get, try the custom kit builder on our website. All of these professional quality detailing products in one simple to use kit! Your car will look, feel and smell brand spanking new.
Your life isn't ordinary, and neither should you use ordinary products. So invest in premium quality Torque Detail products and give yourself that superior driving experience. Hopefully this article has answered all your FAQs!
Related Car Detailing Articles:
Published on

May 31, 2022