9 WILDEST Choices For The Best Spray Waxes In 2023
Ready to turn heads with a car that gleams like new? Welcome to the glitzy world of spray waxes—your ticket to a snazzy, shimmering ride in no time! 🌟
Time Crunch? No worries! In just 10-15 minutes, give your vehicle a sparkling makeover, perfect for those always on the go! ⏰✨
Effortless Shine: Why break a sweat? Spray waxes are your easy-peasy solution for high-level shielding with minimal effort! 💪
Double Defense: Best used on a car with a protective layer, these waxes add an extra coat of armor against the elements! 🛡️
Ever find yourself glancing at your car, wishing for that just-washed gleam between intensive detailing treatments? Keep a bottle of spray wax handy! With frequent use:
Durable Finish: Keep your ride looking sharp and shiny! 🚗✨
UV Protection: Guard your car against the sun's harsh rays! ☀️
Water Resistance: Rain? Bring it on! 💦
Navigating through the sea of options, each promising an enviable shine and protection, can be a daunting task. Which one will crown your car the king of the road?
🔍 Dive into our guide to uncover the best spray waxes in the market! We've done the homework, so you can sit back, relax, and select the perfect match for your prized possession!
Insider Tips: Unravel the secrets to maximizing shine and protection! 💫
Top Picks: Discover the crème de la crème of spray waxes tailored for you! 🏅
Real Results: Check out before-and-after stories from car enthusiasts just like you! 📸
Don't let your car lose its sparkle! Click ahead, and let's embark on a journey to find the ultimate spray wax that will make your car the star of the streets!
Why Should You Apply a Spray Wax to Your Ride?
The benefits of using spray wax if you haven't used spray wax yet, you're losing out on one of today's best buys. Here are the reasons why you should consider spray wax for your vehicle.
Durability and long-lasting protection
Spray wax is sometimes overlooked, yet it is highly effective in giving an automobile the showroom shine you may want. All it takes is the proper application.
Although spray waxes are still essentially liquid waxes, they have the same best components found in traditional waxes. Spray wax provides the highest UV protection and long-lasting gloss. Even though the most dependable paste wax may last for many weeks, months, or even years, spray waxes outperform the mostly synthetic wax security duration with an exceptional month of toughness.
Finest composition
Since spray waxes contain silicon sealants, carnauba, and UV-fighting ingredients, they're the best waxes you can apply. They're so simple and a fantastic alternative to traditional waxes.
Using a spray wax also helps maintain and restore the clean paint on your car. Spray waxes are the fastest and easiest way to wax a car. If you're looking for that comprehensive appearance, then look no further! It works so well with cars and is very simple to use, leaving the automobile's exterior with a stunning gloss.
Easy application
The entire automobile may be waxed using spray wax in less than an hour. Think of spray waxes, which eliminate the need for car polish. Once you apply it, it just stays glossy in the same way that it did. Because spray wax contains no harsh chemicals, it is simple to maintain the car's gloss. Swirling the paint should no longer be a problem.
How long does spray wax usually keep its shine?
The average lifespan of spray wax is a few weeks to a month, while some businesses assert that their wax products last longer. Of course, this depends on the surrounding circumstances and how frequently your automobile is parked in the sun.
Spray wax will typically last longer on a car routinely washed and kept in a garage than on one left outside all day. Even so, spray waxing your car once a month will maintain the finish-protected and bright.
Nowadays, spray waxes like Torque Detail Mirror Shine offers a hybrid ceramic coating that is available in the market. Because they contain SiO2, these spray waxes often last longer than those with carnauba infusion.
Here is the simple DIY procedure to apply Torque Detail Mirror Shine to your vehicle: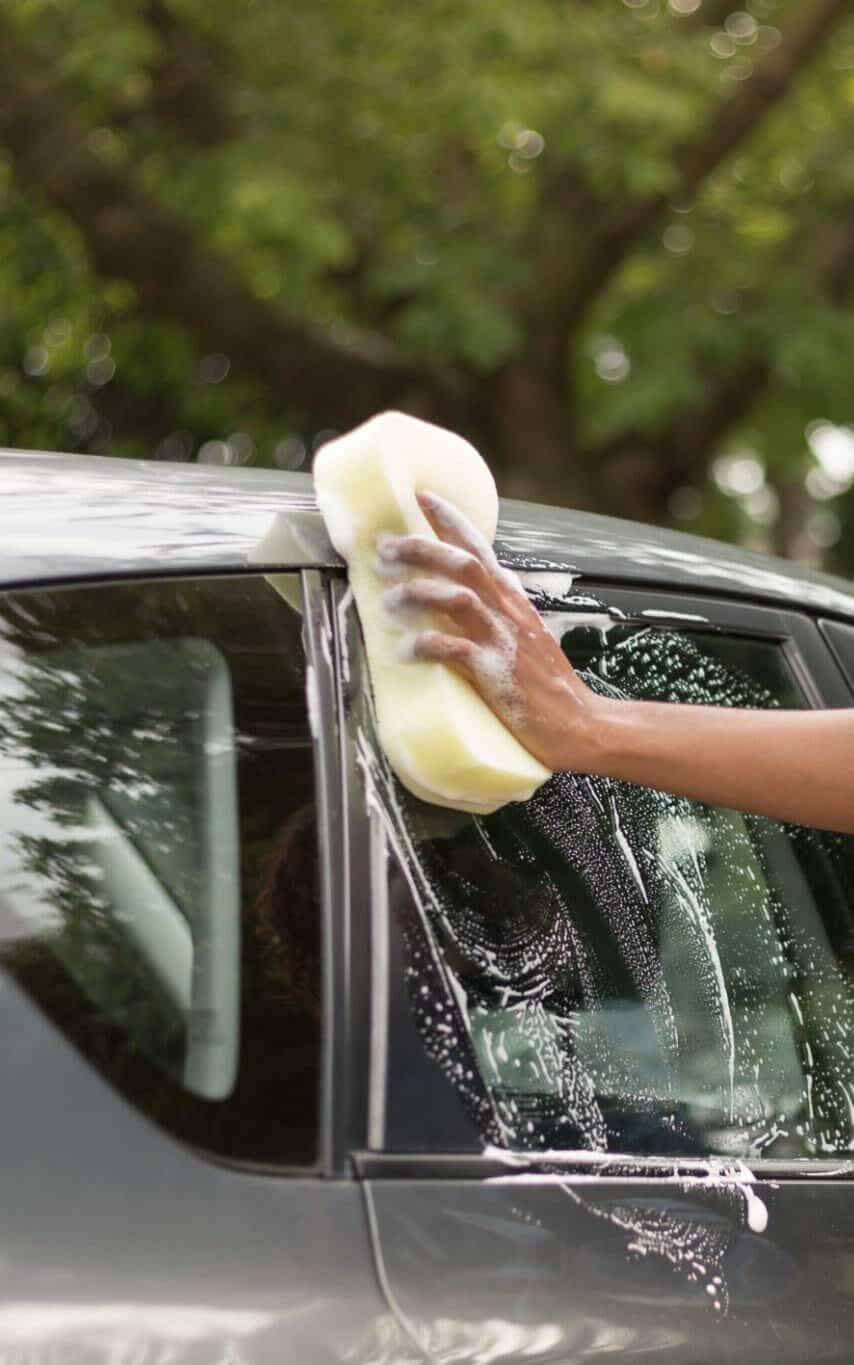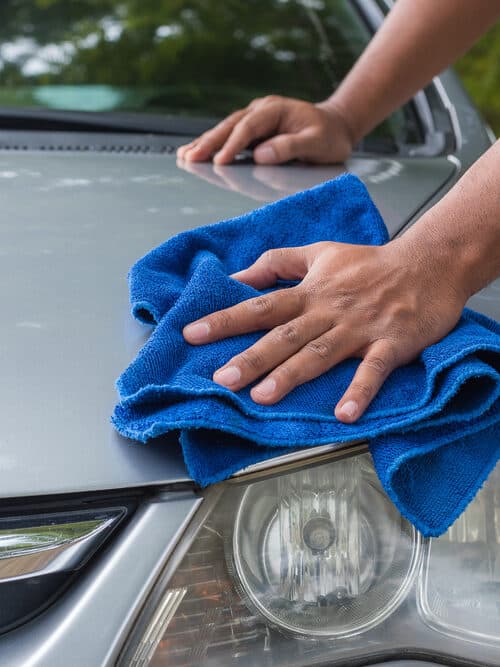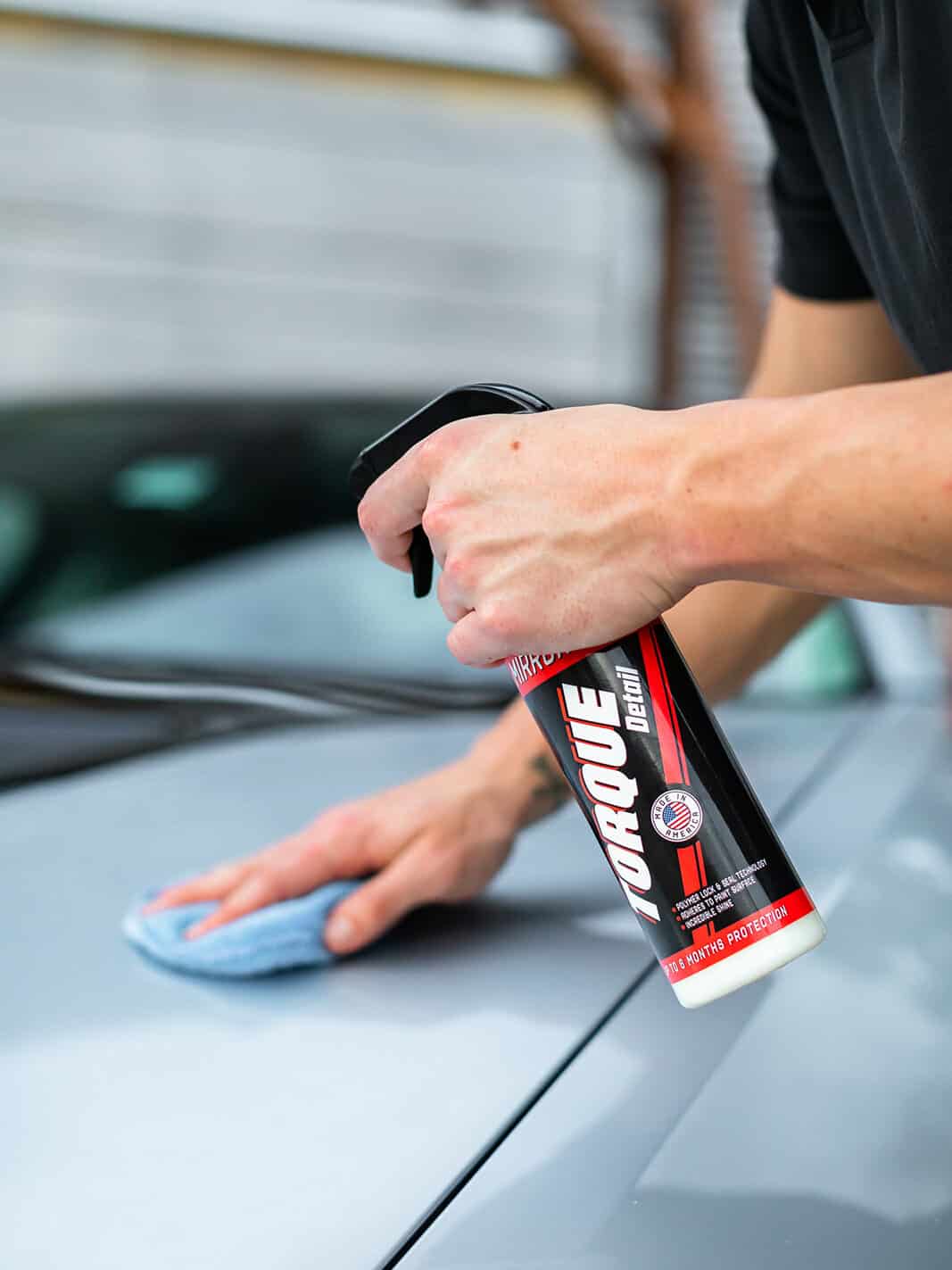 Step 1: Before applying any spray wax, such as Torque Detail Mirror Shine, you must carefully clean the surface of your car to remove any dirt, dust, or pollutants. Because it can do a decent job, washing the car is preferable to cleaning hard-to-reach surfaces.
Step 2: After the automobile has thoroughly dried, the detailing product can be sprayed on, and it is then simple to rub with a clean microfiber towel.
Step 3: For the most significant results, use circular motions to apply the product, one piece at a time, until the paint is thoroughly sealed. You can apply another layer if you desire more shine after buffing the original layer.
Advice on applying spray wax
Keep away from the sun
Applying spray wax outside is a disaster waiting to happen, just as using paste or liquid vehicle wax indoors. Before you have a chance to wipe the paint off, ideally, the radiation from direct sunlight can bake the substance into the paint.
Don't mistake a fast detailer for a spray wax
They are two incredibly dissimilar products. While quick detailers frequently work on filthy paint, spray waxes are typically intended for use after a car wash on a clean vehicle. Use them appropriately to shine autos because they each have a different purpose.
The best choice is to use clean microfiber towels
If you pick up any dust, replace your microfiber towels. You don't want to utilize a filthy microfiber cloth to brush dirt onto your clear coat, do you? Certainly no.
The Best Spray Waxes: Our Choices
Our selections for the best car waxes available in the market today are listed below.
1. Top Pick: Torque Detail Mirror Shine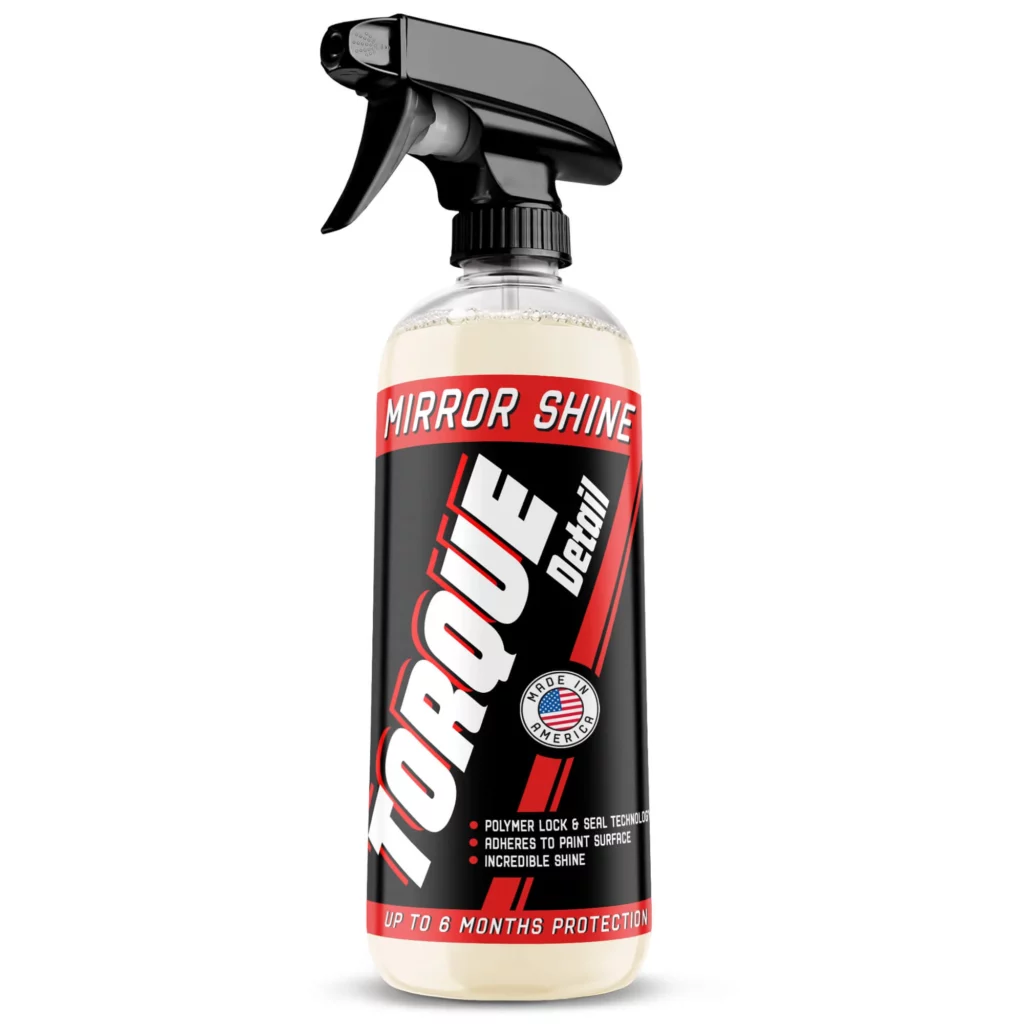 Torque Detail Mirror Shine is undoubtedly one of the most liked spray waxes by car enthusiasts. The three-in-one product coats polish and cleans your car without water. Along with cars and trucks, boats, motorcycles, RVs, and four-wheelers can all be covered with the Mirror Shine finish.
The spray application requires 10-15 minutes, according to Torque Detail. Before applying the spray wax, ensure your car has been well cleaned, ideally with a pH-balanced shampoo. It is effective on your vehicle's clearcoat, rims, windshield, and mirrors.
This spray wax gives your car shine a glass-like finish and gloss using SiO2 polymers, frequently silica nanoparticles. Once the spray wax has dried, these polymers also aid in water resistance and sheeting.
Consumer studies show that this product is high-quality, beautiful and durable enough to survive inclement weather and potent chemical solvents. Only two to three sprays, a wipe with a microfiber cloth, and a 24-hour curing period are needed to apply this spray wax.
2. Adam's Polishes Spray Wax

Hardcore detailing fans have long favored Adam's Polishes, but the company's goods are now more widely used and liked by regular consumers. Its spray wax, which contains carnauba flakes, can be used on paint, windows, chrome, fiberglass, plastic, metal, and vinyl without causing damage. In other words, Adam's Spray Wax can be applied to your car's outside surfaces to protect them.
After cleaning your automobile, spray on a coat to prolong the effectiveness of any previous protection you may have used. The spray wax can be applied to damp or dry surfaces, and your automobile doesn't necessarily need to be in the shadow for it to work. It even leaves a tangy raspberry aroma in its wake.
3. Griot's Garage Best of Show Spray Wax

Choose Griot's Garage's Best of Show Spray Wax for enduring protection. According to the manufacturer, rich carnauba wax and special polymers give this spray wax 2 to 3 times the longevity of comparable spray waxes. In fact, out of all the spray waxes made by Griot's Garage, the Best of Show Spray Wax has the most carnauba.
This is an excellent car care product if you've already taken the time to apply a coat of wax or sealer to your automobile. Regular application of this spray wax will assist any current wax or sealer last longer, allowing you to go longer between intensive detailing sessions.
4. Turtle Wax ICE Spray Wax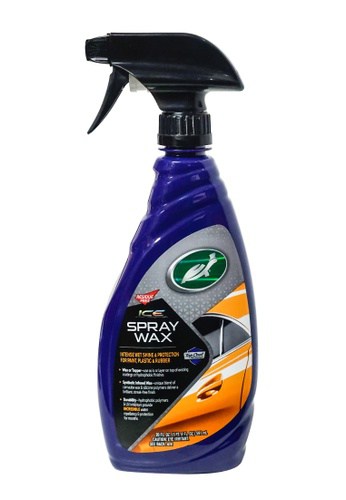 Turtle Wax is a well-known and well-liked company in the automotive care sector and offers a variety of spray waxes. ICE Spray Wax is strengthened with "Smart Shield" polymers to provide durable protection.
If you have the time to apply spray wax after each wash, this is the choice because it offers excellent water beading and UV rays protection. It is designed to operate safely on all your vehicle's external surfaces, including the rubber and plastic trim. You may also apply it to the glass to add water-resistance coating to your windows and glass.
5. Meguiar's Hybrid Ceramic Wax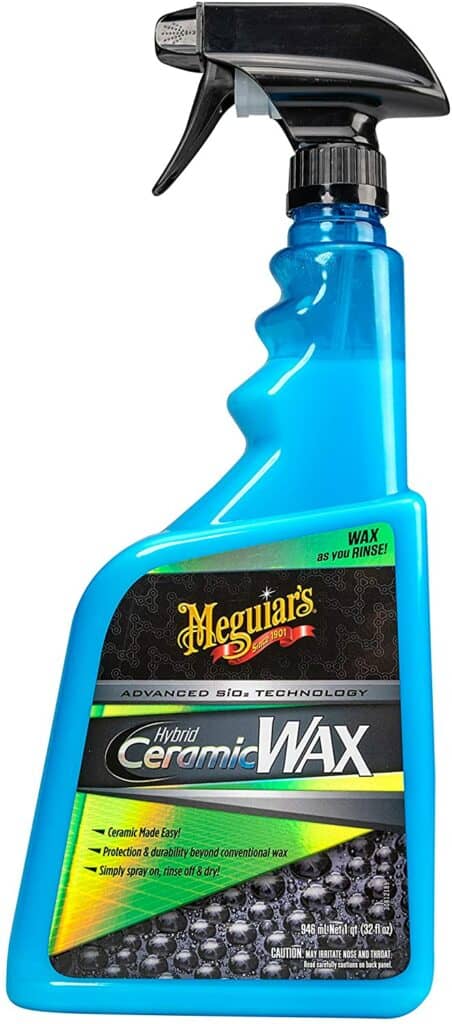 Meguiar's Hybrid Ceramic Wax offers ceramic wax preservation with a simple application method and sophisticated SiO2 hybrid technology. You splash the spray on the ceramic wax, remove it with water, and clean your car after thoroughly washing and rinsing it. That means there is no need for rubbing, curing, or buffing. What's more, there won't be any mess to clean up.
Recently, more automotive care firms have offered hybrid ceramic detailing products as ceramic wax protection has grown in popularity. Ceramic wax protection adds a layer of protection to your car's finish that goes above and beyond regular wax. It produces excellent water-beading action. Meguiar's Hybrid Ceramic Wax is the perfect option for individuals who lack time to wax their car thoroughly.
6. Lucas Slick Mist

Lucas Chemicals is best known for its oil additives, an established company with a good reputation, but it has expanded into the auto maintenance market. Except for vinyl decals and wraps, their Slick Mist Speed Wax polymeric paint gloss intensifier can be applied to any paint job. It can be used to apply a long-lasting gloss and Ultraviolet protection to either wet or dry areas in shade or direct sunshine.
Lucas Slick Mist can be applied on glass, chrome, or metal and painted surfaces. Using Slick Mist on pedals, floors, motorbike seats, or other areas where slickness can create a hazard is not advised by the manufacturer.
7. Lithium Color Crush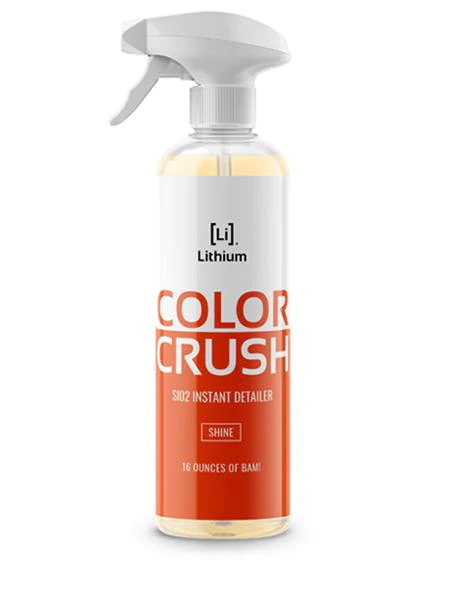 Lithium Color Crush is the solution if you're looking for a simple and quick approach to detailing the outside of your car. This fast ceramic spray offers a smooth, shielding coating that helps keep water and dust stains at bay. In addition, Lithium boasts that even after traveling through the rain, your car will continue to seem cleaner for longer.
It comprises SiO2 and a Cross-Linked Pre-cured Polymer, claims Lithium. To comprehend what it means, you'll need a background in chemistry, but according to Lithium, this mixture is made to stick to paintwork and other surfaces unlike anything else.
Even any ceramic materials or sealants you currently have on your automotive are made more durable. It takes no time at all to apply and remove Color Crush. A lustrous, protective finish can be achieved in a matter of minutes.
8. Autoglym Rapid Aqua Wax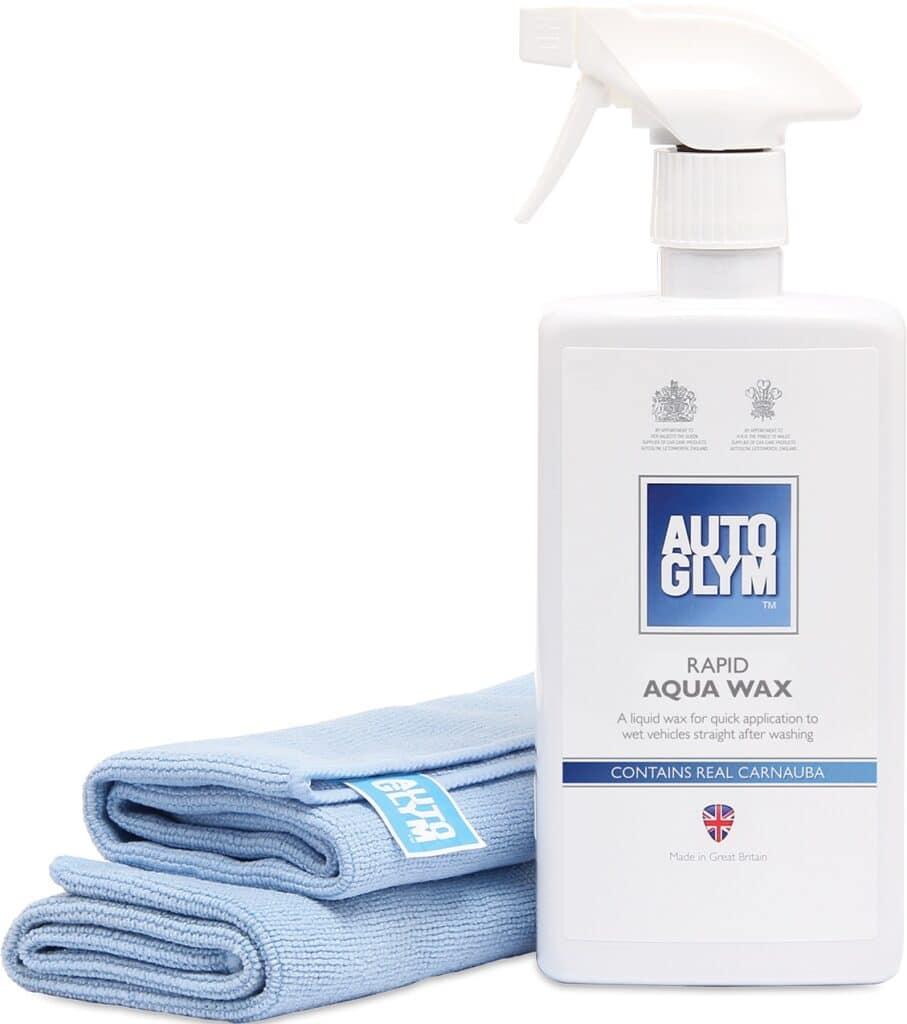 Another well-known detailing business with a lengthy and impressive history is Autoglym. Rapid Aqua Wax, one of their protective products, is the simplest to use.
Aqua Wax is a kit component intended to be used on damp vehicles. Two microfiber cloths and the wax itself are included in the kit. It has a straightforward method of application. It takes no more than one polish spray to cover an entire panel. The wax is applied to the panel with one microfiber cloth, then removed with the other.
Rapid Aqua Wax is a fantastic, reasonably priced product that works well as a drying aid. Super Resin Polish, another product from Autoglym, also pairs well with it.
9. Armor All Speed Wax Spray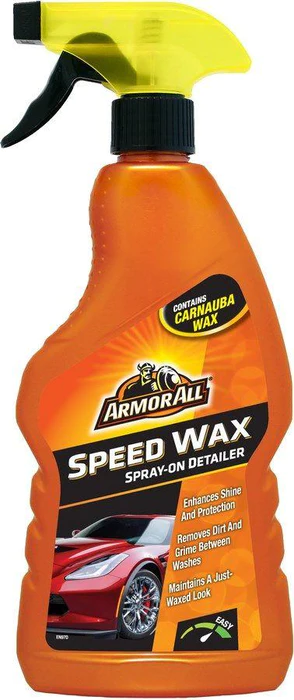 Consider Armour All if you want successful outcomes but don't wish to spend a lot of money on what is essentially a top-up solution. This wax is excellent since it contains carnauba wax and gives your paintwork a lovely, high gloss. Because the paints may be applied damp or dry and under direct sunshine, it is effortless to use.

★★★★★ 
2500+ 5-Star Reviews 
Join the 561,000+ auto enthusiasts already getting the glossiest,deepest shine and lasting protection from applying Mirror Shine to their vehicles! It prevents water spots, repels snow and harsh weather, and gives you a gorgeous shine that brings your ride endless compliments.
The Final Verdict
In recent years, spray wax solutions have grown in popularity. None of those above-mentioned items are bad additions to your armory for car detailing; car wax spray are fantastic. There are many different spray waxes in the market, some of which are superior to others.
Generally speaking, spray waxes are pretty simple to apply. However, brand-specific instructions may differ. We recommend choosing Torque Detail Mirror Shine so that you may save time and maintain the excellent appearance of your car's paint!
Related Auto Detailing News Articles:
Published on

Sep 26, 2023