Don't Buy SPS Graphene Coating Before Reading This Review
Looking for SPS Graphene Coating? Something better than a ceramic coating, perhaps?
We'll go over the features of the product and what it's designed to do. We'll also provide you with an alternative if you're shopping around. Check out the full review below. 
SPS Graphene Coating Review – Let's Find Out What's What
We'll be taking a look at SPS Graphene Coating. If you are considering the idea of purchasing a graphene coating for your vehicle, this may be one of the leading options. Aside from its features, we'll also be pointing out some of the flaws that we've discovered.
If you feel like you can't seem to find a good graphene coating anywhere after finding out more about SPS Graphene Coating, don't despair. That's because we have the alternative for you to check out. 
Let's dive further now into this review and discuss the following features.
SPS Graphene Coating: The Features
SPS Graphene claims to be one of the best in terms of auto-detailing graphene coating. But is it something worth buying? Let's take a look at the following features down below:
Decreased water-spotting: One of the major intents and purposes of graphene coating is to prevent water-spotting and beading on automotives. SPS Graphene Coating is said to have one of the most hydrophobic properties of its kind on the market. At the same time, it says it can also keep stubborn etchings and corrosion at bay.
5-Year Durability: Another one of the features is that it can last up to five years. However, there's a catch: it has to be professionally installed. If you are nowhere near a professional in terms of installing graphene coating, you may want to skip to the next section for an alternative car care solution.
Stain resistant: Indeed, you want your vehicle to have stain-resistant properties for as long as possible. We're talking about stains created by dead bugs, bird droppings, various harmful chemicals, and more. These are elements that can penetrate and even damage your exterior. That's one of the best features you can find on any graphene products on the market.
High strength: If it's stretched, this SPS graphene detailer won't break. This is common in graphene since it's said to be much stronger than steel.
Self-cleaning: If you are looking for something better than a ceramic coating that might be easier to clean, SPS Graphene might be it. It may even give you excellent surface protection film against the sun's UV rays.
Downsides of SPS Graphene Coating to Consider
SPS Graphene coating is an incredible product but it's surely not for everyone. Let's go over some downsides to consider.
Not publicly purchasable: If you're a DIYer, you might be scratching your head trying to find the buy button on the SPS website. They only sell their 'SPS Detailer' product publicly. It's an easier to use product but only provides 4 months of protection. Their main 5-year graphene coating is professional grade and they only want certified professionals to apply it.
Difficult / Expensive Installation: If you get your hands on the coating, it is quite difficult to apply for the novice. Not to say it can't be done, but it's going to take a lot of care to apply. Professional detailers charge high prices for a reason. Yes, the 5 year surface protection is kind of nice, but it comes at quite a cost. That's the cost of a professional-grade install (and not to mention the special equipment that comes along with it). If you're going the route of hiring a pro, it's going to be expensive. Remember, it's not just the coating you're paying for. They can't just slap the coating on. They have to wash your car thoroughly, apply paint correction, polish, and then apply the coating. That's going to cost you over $1,000 at a reputable detailer.
There are other easier, more affordable options for even those that are complete newbies to installing graphene coatings
Not only that, you can't find this car detailing product anywhere in stores. And for a small amount, it's quite hefty in terms of price. The good news is that we have a solution that doesn't require professional installation, special equipment, and it's right in your price range.
In fact, we will guarantee that you will get a professional finish down packed in about 15 minutes. All you need is a towel like our High Quality Microfiber Towels for Professional Detailing and this next-level car detailing product.
SPS Graphene Coating Alternative That Any DIYer Could Apply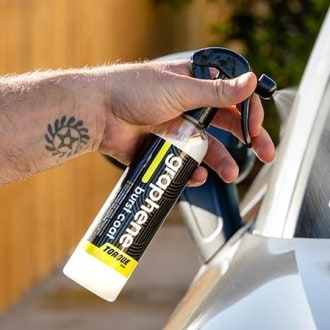 ★★★★★ 
High Rated Reviews from 150+ Customers 
After a simple spray and wipe down using a microfiber towel, your car's paint job will be protected for up to an entire year. Your car's top coat impenetrable to any chemical, liquid, or environmental contaminant there is. In a matter of minutes!
Yes, Graphene Burst Coat by Torque Detail's is the best alternative for DIY detailers. And we have the proof to back it up. No, you don't need professional-grade installation to apply one of the best next-generation graphene products for your car detailing. And it will last up to one year.
It's a DIY friendly coating spray that you can apply onto your vehicle in about 15 minutes. It's so easy, we think a grade school kid can do it. So how do you apply it onto your vehicle? Well, here's how.
How to Apply Graphene Burst:
You can apply a prep spray, which is optional but we recommend it. This will help you remove anything that may hinder the job. We recommend Turbo Waterless Detailer.
Apply Graphene Burst Coat on your vehicle's exterior. Make sure you cover as much as you can.
With a microfiber towel, buff it off. And at this point you are done.
For an even more professional job, give your car a two bucket car wash and then dry it before applying.
You see, it's as easy as 1-2-3. No need for professional-grade installation. Plus, you can get this at a price that you can afford.
Reasons Why Graphene Burst Coat Should Be Your Choice
If you are not too convinced about purchasing Graphene Burst Coat quite yet, we have a few ideas why you should. By the time you finish reading this, you might be sold on that as opposed to SPS Graphene Coating.
Let's take a look now at why our product is the best option for you:
A year-long shine: We get it. It's not going to be the five years that you've been wanting. But you will get a year-long shine from us. That's because it has nano silica dioxide. This is what you'll find in crystal quartz. This will be in our proprietary formula with "miracle materials" that is guaranteed to give you that shine you're looking for. If that isn't impressive enough, we're not sure what will. But there are a few more reasons.
It's as hydrophobic as it gets: If you want something that repels weather, contaminants, chemicals, and everything else in between then you've got to try this. In fact, it may be as hydrophobic (if not more) compared to SPS Graphene Coating. You'd be hard-pressed to find anything quite like that. You'll have one heck of a rain protector for your vehicle. 
No professional installation necessary: Did we mention that you don't need a professional to do this? It's true – you don't. All you need to do is spray on Graphene Burst Coat and buff it off in just 15 minutes. Once finished, you'll get the shine you want and then some. By the way, it will give you the best protection against stains and scratches. It's no doubt one of the legitimate graphene products with a high tensile strength on the market.
Harder than steel: How hard exactly? 200 times harder. Graphene is as tough as they come. With its next-generation strength providing high contact angle it is further proof of why our formula should be applied to your vehicle instead of the competition's. They claim to have the true graphene coating spray with new products launching frequently on the market. But somehow, someway…they fall short in various areas.
Made in the USA: It's one of the highest quality graphene coatings with its surface protective solutions made right here in the United States. Made right in our home state of Florida, you get nothing but the best auto detailing product with "miracle material" guaranteed.
Affordable: Why spend money on professional installation for graphene coating? How about a DIY solution for a fraction of the price? That's right, one bottle of Graphene Burst will be cheaper than professional services. And, you can even get a bundle of three bottles for a steal of a deal. How's that for 'not so expensive? 
1600+ Happy Customers: Our product may have shown up on the market recently. But we have plenty of happy customers. They applied it onto their vehicles and they are satisfied with the results. What better way than to put it to the test yourself than finding out what other people are saying? 
Customer testimonials for Graphene Burst Coat
What else do we recommend?
Frequently Asked Questions
These are some frequently asked questions asked by our customers:
I live in Texas, will it work in the hot weather?
You can bet your ten gallon hat on it. It can be sunny and 100 degrees. And you can still get the best heat and sun protection from your car. It's that damn tough.
I have a Ford F-150 Diesel, can it work for me?
It's a big truck. But that doesn't mean you can't use Graphene Burst Coat to make it shine. Put it on that big boy, buff it off, and you'll make it look mighty fine. The other truck guys might get a little jealous.
Will it clean off water spots?
Actually, it will prevent them from happening. If you need to clean off water spots, consider using our Water Spot Cleaner.
Can I use this on other vehicles I have?
Of course you can. It's your bottle. And it's your vehicle. You do what you want with them. But our recommendation is to give them some love. Oh and don't forget, one bottle can do at least four different detail jobs. 
What if I hate the product? 
That's the last thing we'd want to hear. But it can happen. If you are not happy with the product, send back the bottle and we'll give you your money back. 
Summary – Is SPS Graphene Coating a Good Buy?
Torque Detail's Graphene Burst Coating is your best choice when you want your vehicle to look its best on the outside. Apply this and you'll get a shine the whole year. You can wash your car, deal with the weather, and even the occasional bird poop.
But you can bet your bottom dollar that this will be the only graphene coating spray you'll find on the market. SPS Graphene coating is hard to come by and is only professionally installed. Why deal with that at all?
Don't wait. Order your bottle of Graphene Burst Coating now at this special price. You can get it here.  
Related Car Detailing Articles:
Published on

Jan 01, 2023